OUT ON THE WEEKEND - SEAWORKS, WILLIAMSTOWN - 12 /10/19
OUT ON THE WEEKEND
SEAWORKS, WILLIAMSTOWN
OCTOBER 12, 2019
CADD SHINES LITTLE RAY OF SUNSHINE
"I can sing Desperado , I still walk in the Purple Rain " - Everybody's Leaving - Brian Cadd.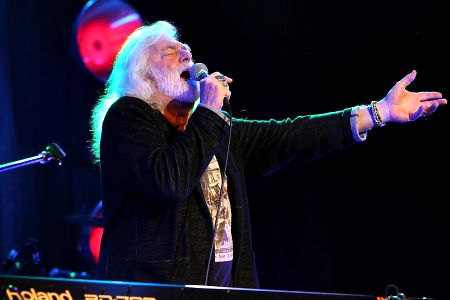 Photo credit Darren Burns Photography
It seemed fitting that the ease of finding a parking spot within walking distance of the Seaworks was a good omen for this yeoman.
So was the courtesy extended to this septuagenarian by the wrist band-wranglers at the entree passage.
Timing is essential in music marathons so I opened the batting with an older man Brian Cadd and his hot band before working down through the demographics.
Bearded Brian, a young 73 in November, emphasised fitness by playing his keyboards by standing tall on the main stage.
Cadd sported a grey mane, untamed by fashion or the years, and a posture denied to his drummer Geoff Cox who settled for gloves and elevated seating befitting his energised playing and view from above and behind the artist.
The singer emphasised the mortality of recently deceased peers as he introduced a newer song Everybody's Leaving from his 17 th solo album Silver City with plentiful pedal steel accentuating the pathos by name checking Glenn Frey and Prince in the lyrics.
"This next song is at the other end of the scale when we arrived," Cadd explained as he introduced classic hit A Little Ray Of Sunshine .
It was a jam-packed punchy performance that ended with signature song Ginger Man before the singer packed up before a guest role on the Gram Parsons- Flying Burrito Brothers Gilded Palace Of Sin tribute on another smaller stage much later in the day.
That also seemed fitting as Cadd once graced the Burritos reincarnation during his international career.
In 1991-1993 he joined Jon Beland, Gib Guilbeau, Chris Etheridge, Poco drummer George Grantham and the late Sneaky Pete Kleinow for albums and live shows.
Sneaky Pete also played on White On White - the 1976 solo album by Cadd who blazed his trail here with Axiom, The Groop, Bootleg Family Band and Avalanche .
Meanwhile we'll move onto some younger artists of another gender.
MOLLY TUTTLE FROM CALIFORNIA VIA CAPRICORNIA
"Called the cable man because my screen was blurry/ seems the more I rush all I do is worry/ I am too much like my mom/ all she does is hurry/ what's a girl to do today/ gonna let the ocean flood underneath my door/ and carry me and my couch away." - Million Miles - Jewel Kilcher-Steve Poltz-Molly Tuttle.
Californian bluegrass belle Molly Tuttle debuted live at Seaworks after a sneak preview on Nu Country TV on June 15 with some porch picking pals on her original Good Enough .

This afternoon Molly, just 26, was solo and like most artists thanked Love Police festival promoter Brian Taranto for bringing her down under.
The Santa Clara County chanteuse proved cutting an album with her dad Jack at 13 was good grounding but not enough for her first animal encounter here.
"Some kangaroos darted in front of my car, I was shocked," Molly joked, "so I photo-shopped myself with a koala."
It was fitting she performed Million Miles and Save This Heart early in her set that enabled her to showcase her slick picking and crystal-clear vocals.
Equally accessible were Good Enough, The High Road and Light Came In (Power Went Out ) that wasn't life imitating art today.
Her revamp of the late Texan Townes Van Zandt's White Freight Liner Blues seemed to impact more than her cover of Zero by The Yeah Yeahs.
But she proved art imitated her life on Take The Journey as she gave a shout-out to West Virginian Sierra Farrell who was to follow at sunset in the Shed.
Farrell, adorned with a tattoo on her arm and white ribbon in her hair, was equally accessible as a solo artist armed with just an acoustic guitar.
The former Charleston busker impressed with a vibrant vocal range that ignited diverse shades of romance with beaus and cads in Why Did You Do It, In Dreams, Little Bird and Snake River Wine.
A note in a drawer in an old antique store fuelled a previous partner's promises in Give It Time as Candy In My Dish provided sustenance in the absence of another lover.
The singer fought a battle for women spurned by a lecherous lothario in Oh Jeremiah and shared a fantasy of sorts in what she described as "my dirty song," replete with oral act designed to obviate dental pain on the recipient.
But the fitting climax of her energised set was finale Rosemary where the character kills the wicked witch on her back with a double murder in the mountains.
A true reflection of her rich dirt Appalachian roots that began a journey across her home country on freight trains, truck stops, and the dying art of hitch-hiking.
The journey so far has produced a 11 song self-released Pretty Magic and a new 13-song album for Rounder in 2020.
Equally accessible on the same stage was Alabama singer-songwriter Dee White whose duo act ended with a Bill Monroe homage.
TAMI NEILSON – LIKE A TORNADO
"A woman stays home to raise the babies/ must be nice to do nothing, must be lazy/ so she goes out to make the money/ how can you leave your babies alone? You're a bad, bad mommy!" - Stay Outta My Business - Tami Neilson.
nadian born latter-day Kiwi singer-songwriter Tami Nelson proved a not so surprising show stealer with her female empowerment set.
It was not just her shotgun wedding of country, R & B, soul, rockabilly with a jazz infused chaser.
The soulful senorita fired up her audience with a detailed explanation of the source of Stay Outta My Business after a treacle beak criticised her singing while her two young sons Charlie and Sam, now seven and five, were at home - but not alone.
"I had just turned 40 and was asked who was looking after the children," Tami revealed.
"I explained it was my husband. It wasn't a virgin birth. We share the parenting. I got knocked up. It's the age of equality. I don't give a shit anyway."
But she landed punches with Smoking Gun that exposed Harvey Weinstein "a predator creeping in the pool. The king of the casting couch where he rules."
Neilson reloaded with "the judgment day has finally come, for the man who holds the smoking gun."
She explained that another vitriolic volley in Kitty Cat was directed at a certain "orange skinned politician" - the Trump chump.
Tami paid homage to the late Sharon Jones and her Dap Kings in Miss Jones and further kicked goals with A Woman's Pain.
She also revamped the late James Brown's This Is A Man's World with gender reversal lyrics and credit to New Zealand Prime Minister Jacinda Ardern's achievements.
Equally accessible were Devil In A Dress and Walk (Back To Your Arms).
Tami ignited other crowd pleasers Big Boss Mama and You Were Mine and gave ample credit to her dynamic band - Neil Watson on guitar and pedal steel, Brett Adams on guitar, bassist Mike Hall and long-time drummer Joe McCallum.
It might be premature expectation but I suggest Neilson stole the show for artists beyond the main stage where Jim Lauderdale reigned.
But credit should be given to Joshua Hedley, here on his 10 th Australian tour and Jonny Fritz, the eclectic Felice Brothers, Pokey LaFarge and expat Ruby Boots who engaged her audience with some ribald repartee.
LAUD JIM – DOWN IN THE DALE
"Different deck of cards/ a different pair of hearts/ the way you light a room/ is going off the charts/ from a different place/ I see it on your face it makes me wanna smile/ are we in outer space/ you're like people from another world, and that's good." - Like People From Another World - Jim Lauderdale-Mando Saenz.
When Jim Lauderdale and his hot band hit the main stage it was indeed like people from another world as the audience multiplied pronto.
Lauderdale, 62, announced he was making his eighth Australian tour but first as a headliner.
It was also a down under reunion with his Australian manager and video director Jeremy Dylan - son of our late TV show benefactor Rob Potts.
Lauderdale revealed he first met Dylan when the latter-day partner in Chugg-Rob Potts Entertainment Edge promotion company when Jeremy was just 12.
They promoted Lauderdale, a seasoned Nashville TV and radio show host with Buddy Miller, at their wildly successfully CMC Rocks Queensland festivals at Ipswich.
And, unlike the St Kilda Palais concert by Texan star Kacey Musgraves, Dylan was not required to serve Jim a silver slipper of Tequila or gin as a shoey.
Lauderdale's dynamic show precluded me catching a full set by fellow Nu Country TV video guest Dee White on a nearby stage.
Jim announced his 16-song show was a shorter version of his other gigs set for the Caravan Club and Spotted Mallard.
So, to avoid our loyal web mistress Anne Sydenham having to lay out two Jim concerts we will give you the link to our review of his Caravan Club show with Imogen Clark who shares Jeremy as her manager and video director.
CLICK HERE for their Caravan Club concert review.