Oh Susanna - The Basement Discs - 6 December 2007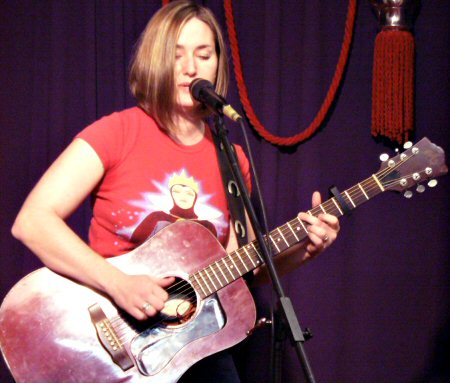 Oh Susanna live at Basement Discs - 6 December 2007
Canadian singer songwriter, Suzie Ungerleider is currently in the progress of making her second tour of Australia performing a limited number of shows across the country with Mick Thomas whose label Croxton Records has licensed her latest CD Short Stories for local distribution.
The Basement Discs managed to secure Oh Susanna for their last in-store mini show for the year and it was a beauty.
Performing solo, Oh Susanna treated the crowd at Basement Discs to an engaging set of eight songs, most of them drawn from her new album. The songs on Short Stories, as the title suggests, are vignettes of characters caught in transit. A lot of the inspiration came from her family and personal life.
She started with "Pretty Face" then followed with "Miss Liberty" and "Greyhound Bus" the latter a song about freedom and the itinerant life versus settled family life.
She introduced "Bullies", another track from Short Stories, by saying it was a song for kids. She wrote it some years ago, when she had none of her own, though now she is mother to a young son. It is an affirmative song of support against the injustices children face in the schoolyard, a sentiment echoed in "Schoolyard" which she sang later.
"River Blue", a sad and affecting ballad was the only back catalogue song she performed. It is on her 2001 album Sleepy Little Sailor.

Suzie remarked when introducing the next song "Pretty Penny" that she comes from a long line of gamblers. The song was inspired by her grand parents who were devoted to horse racing. Her grandmother recently celebrated her 95th birthday at the racetrack.

Oh Susanna has one of those really great voices that are so expressive and affecting. It is a powerful voice, that can sound piercing then break with tenderness in an attractive vibrato.
Melancholy is the word that describes her voice and music. It is languid in the main, and even the livelier songs have that sad and lonesome quality. She has been compared to Gillian Welch and her style of old-time music, newly interpreted, is very similar in sentiment.
After a generous half hour or so, Suzie finished with a song she dedicated to musicians everywhere. It was the lovely closing track on Short Stories, "Filled With Gold" and totally appropriate in that her short set at Basement Discs left the audience feeling blessed and enriched to have seen her perform in person.
She will be performing her only Melbourne concert at the Toff In Town on Tuesday 11 December.
Review and photos by Anne Sydenham