NANCI GRIFFITH - NATIONAL THEATRE - 10 MARCH 2010
NANCI GRIFFITH
NATIONAL THEATRE - ST KILDA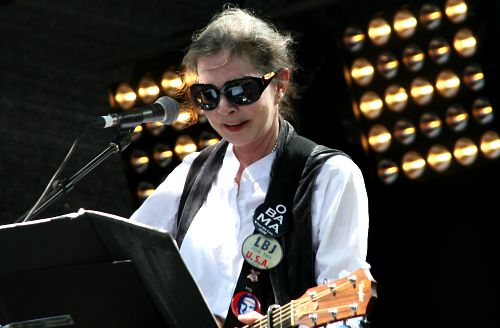 Nanci Griffith live at National Theatre - photo by Carol Taylor
It's not clear if the ladies of the night accepted Seniors Cards in the red light district of St Kilda.

They had plenty of competition on this cool autumnal evening at the majestic National Theatre.

The National is a grand old dame who may have frowned upon sinful gutter crawlers taking up her arts patrons' parking spots.

But these Seniors were seeking a much different rhythm method where Viagra was an optional extra.

They were drawn to the flickering flame of Texan born but latter day Tennessee troubadour Nanci Griffith on her belated debut Australian tour.

It was not the flames of her tour manager Phil "Road Mangler" Kaufman that once lit up Cap Rock near Joshua Tree when he ignited a cut-rate cremation of Gram Parsons who died at 26 on September 19, 1973.

No that was then and this is now and the spritely septuagenarian, who survived prostate cancer in 1996, was selling autographed copies of his Concert For Mangler Desh benefit CD on the first landing.

That was the National's first landing - not the Neil Armstrong moon walk eulogised in song by Phil's recently deceased mate John Stewart who first kissed fame with The Kingston Trio.

There were no copies of tell-all Kaufman autobiography Road Mangler Deluxe or the Johnny Knoxville Grand Theft Parsons movie DVD, now available in local video stores.

But both Kaufman and employer sang the praises of young local support act The Little Stevies, fresh from their Memphis tour.

With parking finally found, it was time for Griffith whose first gig down under was way up north in sunshine at Thredbo at the CMC Rocks The Snowys festival.

PRINE TIME
Griffith, sporting facial dressing, limped on stage with guitarist Thomm Jutz - also her producer - last seen here with Mary Gauthier.

It's not clear if the Louisiana born orphan was also beneficiary of a forehead gash from Thomm like the Texan headliner.

But the wound, fresher than a Texas bluebonnet, was the visual and verbal prop to punctuate tales of Griffith's travels and travails.

"You might be wondering why I'm wearing this bandage on my forehead but we were out sightseeing yesterday and we stopped to look in a shop window," Griffith said.

"I walked over to see what he was looking at and I didn't realise there was a kerb there. It was a little change in the concrete - so the concrete met my head. So much for the Southern Cross."

She kicked off with oft-recorded John Prine tune Speed Of The Sound Of Loneliness.

She also revealed how she recorded the Julie Gold song From A Distance when no other artist was interested.

"It was a global anthem of peace and went worldwide," Nanci said.

"It was probably the strongest global anthem I heard in my life time as a songwriter."

She prefaced Love Conquers All with satirical comments about TV soapies Neighbours and Eastenders and American Idol and George Dubya Bush before Across America.
ELIZABETH COOK
Photo by Carol Taylor

Griffith credited Elizabeth Cook for collaboration on Simple Life from 2004 album Hearts In Mind - not the song with same title she wrote early in her career.

"Elizabeth Cook is a great writer, she wrote the title track of her latest album Balls with an Australian writer (Melinda Schneider) - some times it takes balls to be a woman.

She comes from the panhandle in Florida from a family of bootleggers. One of them still is. This is a song about mothers. My mother passed the day after I wrote this song. Elizabeth's mother passed last spring.

They're sitting up yonder, with a lot of women I know, at a table drinking bootleg whiskey."

Homespun homilies were Griffith's strong suit - she introduced Love At The 5 & Dime (a hit for Kathy Mattea) with a reference to local Woolworths' signs.
THE LOVING KIND
And, of course, the title track of her 19th album The Loving Kind also earned a lengthy intro.

"This song is about a brilliant couple who should be American heroes whom I didn't know about until I read about Mildred Loving's passing in the New York Times," Nanci revealed.

"Why don't these two people have an American holiday of their very own - what does Valentine's Day really mean? She was black and he was white. They grew up together in the same neighbourhood in Virginia. They went to church together on Sundays from the time they were children. They sang on front porches together on Sunday afternoons. In 1958 they decided to get married. In the state of Virginia it was illegal to get married. They went to court and they won against the ban on inter-racial marriage in America. Before she passed on, she said she hoped her case would be a cornerstone for the future. She said she hoped the government would get out of the loving business and especially the Loving's business."

There was no shortage of elongated entrees - a tribute to Gale Trippsmith for Money Changes Everything from her new disc, Rick West for Trouble In The Fields and Loretta Lynn for the inspiration for Listen To The Radio.

The singer listed duet partners Willie Nelson, Jimmy Buffett, Darius Rucker and Emmylou Harris for equally memorable Gulf Coast Highway.
KATE WOLF
Griffith also praised Kate Wolf for Across The Borderline.

"This song is by my great friend Kate Wolf who passed in 1986," Griffith added.

"This song carries on my life for her. The more songs they hear up yonder at that table the more bootleg they're consuming."

The singer enlisted the support of the sisterhood for embryonic road song Ford Econoline.

"This is a mini-biography of Kate Wolf and my dear friend Rosalie Sorrells who both left abusive husbands in the vehicle their abusive husbands were stupid enough to purchase for them. If you need this vehicle the keys are still in the ignition. Rosalie is still alive and singing like a mockingbird. My road manager turns 75 this spring and Rosalie is well beyond that in years and she still has the best legs in the business."

Griffith also praised Dee Moeller for reviving her songwriting after a drought during the Bush era.

"When I was a teenage girl growing up in Austin, Texas, there was one or two women songwriters who hung out with outlaws like Johnny Cash, Kris Kristofferson and the whole gang. Her name is Dee Moeller. I would drive for hours with my friends to see Dee Moeller.

She would take on a barroom full of cowboys, throwing up on one another in there, just to hear her songs. Her songs were so perfect. Dee Moeller is retired now - I called her up and asked her for a couple of songs. It opened up my heart and opened up my mind and I started writing again. I couldn't resist putting two songs that she sent me on my new record - The Loving Kind. I really owe it to her that I got back to my songwriting. This song is about a substance that is genetically banned in the Griffith family due to the fact that my father and I almost went to jail together in Mexico after having partaking this particular fluid - Tequila After Midnight."
PETE SEEGER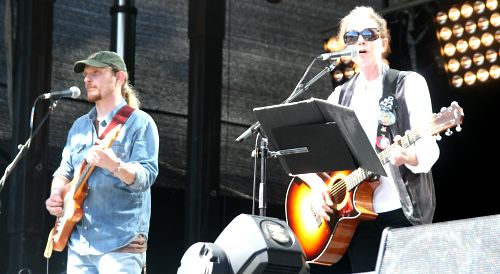 Thomm Jutz & Nanci Griffith - photo by Carol Taylor
At the 14-song mark there was a brief pause before obligatory encore that featured folk and rock classics.

"The godfather of American folk music and one of the greatest singer-songwriters we've ever had in America and his name is Pete Seeger," Griffith recalled.

"He turned 90 this year and one of the most fantastic things about the inauguration was this concert the day before all these people - from Beyonce and Rhiannon to U2 and the Obamas - everyone had on overcoats, caps, gloves and scarves. At the end of the concert they brought out the 90 year-old Pete Seeger to close up the show and he walked out in nothing but a flannel shirt and a pair of blue jeans. I want to be that 90 year old some day.

Every generation since this song was written in 1948 has adopted it as their own. The lyrics never change and meaning never changes."

Like Viagara, it was optional for audience members to join in the choruses and climaxes of If I Had A Hammer.

The singer punctuated her encore with a request before finishing with Well Alright - her tribute to the late Buddy Holly, his band and her former touring partners The Crickets.

On a sporting note, traffic soon returned to normal on the streets of St Kilda with no sign of flannelled fools or a Bingle.

And the verdict - it was a tough night at the office for Griffith whose wound may have destroyed her stage balance at times.

She drifted on and off her vocal mike - lyrics of some songs may have been hard to discern for those not familiar with her deep catalogue.

Her sidekick Jutz played restrained guitar and was the silent butt of flesh wound jokes and duetted on Gulf Coast Highway without threatening to upstage Shotgun Willie or Rucker.

But the 56-year-old survivor of two major bouts with cancer was a true trooper on memorable songs dating back to her Australian debut on our High In The Saddle on RRR-FM in the eighties and David Heard's countrified folk soirees on PBS-FM.

Review by David Dawson with photos by Carol Taylor