THE MILK CARTON KIDS - THORNBURY THEATRE - 6 JUNE 2013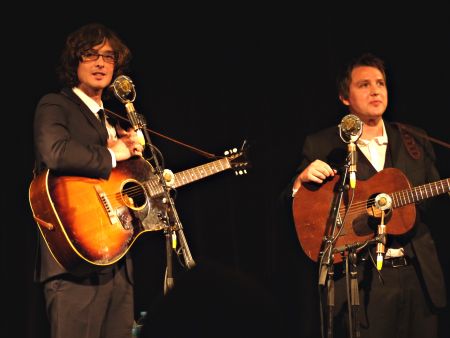 The Milk Carton Kids - live at Thornbury Theatre - 6 June 2013
L to R - Joey Ryan & Kenneth Pattengale
The Milk Carton Kids are Joey Ryan and Kenneth Pattengale, who through some freakish chance have an extraordinary musical symbiosis. They each had low key solo careers before they met, both being folk singer-songwriters who had largely gone unnoticed. Since teaming up in 2011, their star has risen to such an extent that their shows in the USA are sold out as soon as they go on sale. They both hail from Eagle Rock California, but their musical style could be from the remote Americana backwoods.

Musically, they are an interesting blend of Simon & Garfunkel/Everly Brothers/Jayhawks and Gillian Welch and David Rawlings. Their voices sound as if they were brothers, blending so beautifully that they sound like one voice. They play ancient guitars; Joey's is a 1951 Gibson J45, and Kenneth's is a 1954 Martin 0-15, and complement each other's playing, Kenneth being the more ornate guitarist of the two, sounding very like David Rawlings, which is no bad thing. Despite the comparisons these guys manage to create a totally individual sound if you listen long enough.

I admit I had not heard of them until a month ago, so was surprised that the show at the Thornbury Theatre was almost a sell out. Apparently they have been receiving quite extensive play on independent radio and gathering a base of dedicated fans. It must be noted that quite a few of those in attendance at Thornbury, were there for the support act - NSW singer Melody Pool.

This was The Milk Carton Kids first tour of Australia, and I'm sure, if their show at Thornbury Theatre was anything to go by, it was a great success and won them many new fans.

For a so called minimalist duo The Milk Carton Kids are hugely entertaining, not only musically beguiling, but very funny as well. Joey Ryan does the duties of speaker and his dry, deadpan wit had the crowd in stitches as he mused about typography and grammar and other odd topics. I never in my wildest dreams would have imagined that I would hear a dissertation on the origins of the ampersand at a concert and find it so amusing.

They have released three albums, the latest being The Ash & Clay, and have made their first two recordings Retrospect and Prologue available for free download on their website. They also offered those two CDs for sale on their merchandise table, placing the fan in a moral dilemma - to buy or download. Apparently some fans do buy the "free" CDs as an act of support for the band.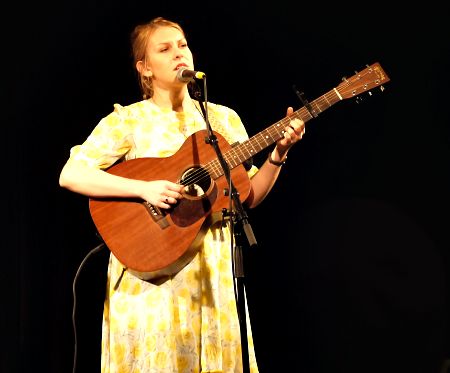 Melody Pool - live at Thornbury Theatre - 6 June 2013
Melody Pool, who hails from the Hunter Valley, and has recently released her highly acclaimed debut album The Hurting Scene, opened the show and performed a riveting set of songs from the album. She is a skilled musician for one of her tender years and possesses a powerful and affecting voice somewhat reminiscent of Joni Mitchell. It is passionate and very suited to the sad songs she specialises in. The highlight was the gut wrenching breakup song Henry. She was a quality opener and worth the price of entry alone.
The Milk Carton Kids were scheduled to perform at 9.30, but they took everyone by surprise, ambling onto the stage a quarter hour early. The audience scurried back to their seats to catch the opening song Hope Of A Lifetime, the first track on The Ash & Clay.
In introducing what Joey Ryan termed the eponymous title track, he stressed that the ampersand between the words "ash" and "clay" was a deliberate design decision. He expanded on the origins of the ampersand later on.
The typographical references continued in the intro to Honey, Honey, Joey commenting on the deliberate placement of the comma between the two honey's. All this was - amazingly - highly amusing.
By this time the 'Kids' had the audience totally enthralled. Their act is magical - quirky, funny, endearing and musically enchanting, demonstrating as it does, a marvellous sympathy between the two young men, entwining melody on their guitars as they harmonise their voices singing their original songs, which have a haunting beauty and wonderful lyrics.
It was a night to remember with affection. I'm still buzzing several days after the show.
The success of this original tour will hopefully bring The Milk Carton Kids to these shores again. Australian audiences I'm sure fell head over heels in love with them. I certainly did.
Set List

1. Hope of A Lifetime
2. The Ash & Clay
3. Honey, Honey
4. Years Gone By
5. Charlie
6. Maybe It's Time
7. Girls Gather Around
8. Snake Eyes
9. Heaven
10. Michigan
11. Stealing Romance
12. I Still Want A Little More

Encore

1. New York
2. Memphis

More info at www.themilkcartonkids.com
Review and photos by Anne Sydenham