ST KILDA PALAIS – OCTOBER 1, 2014.
MAVERICKS-GARY ALLAN-BLACKJACK BILLY
BLUE COLLAR MOON OVER ST KILDA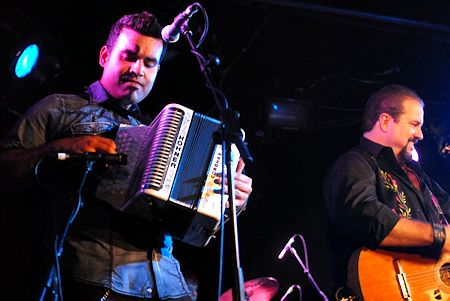 Mavericks live at the Palais Theatre 1/10/14
Photo by John Karpik
It was dusk on the bay when rural refugees battled with suburban and city commuters to find parking spots for this triple bill concert featuring the most unique country band to boomerang for its third Australian visit.
Mavericks ' singer Raul Malo and bassist Robert Reynolds have also toured here before with different partners in rhyme.
But this was the belated Victorian debut for the Grammy winning warriors whose eclectic music was a cool catalyst for a dance party too contagious for security soldiers.
High profile AFL footballers diverse as St Kilda captain Nick Riewoldt and Carlton stars Andrew Walker and David Ellard were at the Dierks Bentley-Lee Kernaghan concert at the same venue in 2012.
But this time your reviewer is indebted to Nu Country TV Vice President and Williamstown luthier Rod Browne for catching Port Melbourne 150 game veteran and Liston Trophy 2104 Top 4 vote winner Toby Pinwill among the dancers.
Having dodged an on-field spray by Hawthorn premiership coach Alistair Clarkson during a 2013 VFL game against Box Hill the Oakleigh Chargers graduate was obviously light on his feet.
Nashville quartet Blackjack Billy , not to be mistaken for seventies Melbourne outlaws Billy Jack whose singer Colin Jones was among attendees, kicked the dew off the glass at 7 pm.
It was a tough task but the energised band hit top gear as it roared through a set that owed more to rock than country with songs from their debut EP, recently rebirthed on spring release album Rebel Child .
They opened with Blood Sweat and Beers with "there's a deer stand in my family tree/ a hell raisin' boy but momma taught me/ Yes sir, no mam, serving the Lord and Uncle Sam/ Hot damn Sally grew up and old Roy still tearin' it up/ Delta fair time to throw down/ Lord I love this town."
Other songs expanding that blue collar theme in the 11 song set included Working On You, Sugar Cane, Slow Dancing Under the Sheets and God's Country .
Familiarity may have been a handicap for older music buffs but the dancing divas front and centre exuded enthusiasm for EP staples Born To Ride and Drinkalong .
Missouri raised singer Noll Billings, whose external writing credits include Texan Kevin Fowler's album title hit How Country Are Ya , emulated Pinwill with a 50 metre sprint into the audience to hug a winsome wench in row K.
But it was not his gospel gripped mama whom he credited in the intro for Sneaky Jesus .
Equally accessible was Get Some - one of several tunes he penned with Mississippi born bassist Rob Blackledge and prolific Canadian bred guitarist-producer Jeff Coplan.
Fishing buffs drifting in from the bay may have enjoyed hook heavy Got A Feeling penned by Billings , Coplan and fellow Canadian Tim Hicks.
The quartet may be best known through community and PAY-TV for its raunchy material but the highlight for narrative driven fans was maternal ballad One Can Be A Lot delivered in acoustic mode.
That may not be the song title - sadly, I don't have the album so can't verify that.
A predictable finale was career catalyst The Booze Cruise.
MAVERICKS – PALAIS DE DANCE
The arrival of The Mavericks on stage, replete with two piece sax and trumpet section, transformed the majestic theatre back to days of yore when genteel denizens of the once grand suburb waltzed the night away.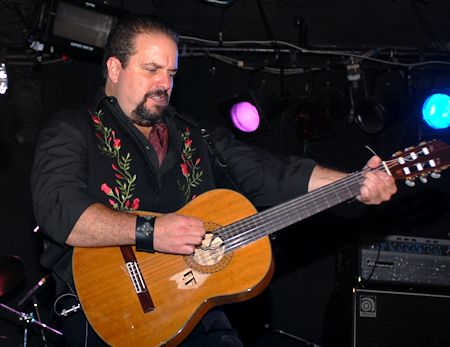 Photo by John Karpik
Time travel is a tantalising trip when your tour leader is suave singer Raul Malo leading his octet through the mists of time from classic entrée Back In Your Arms Again, All Over Again and There Goes My Heart .
By song four there was the obligatory apology for their belated Melbourne debut and promise to return and introduction of guitarist Eddie Perez who graced the same stage earlier in the millennia with Kentucky born singing actor Dwight Yoakam.
The accordion fuelled revamp of the late Richie Valens hit La Bamba ignited a perfect storm of dancing in the theatre and a futile attempt by security to curtail it.
"Security, do me a favour, let them dance," Malo, 49 and father of three sons, bellowed mid-song, "that's bullshit, what is this - Footloose ?"
So it was natural the next tune off the rank was Dance In The Moonlight followed by As Long As There Is Loving Tonight with pianist Jerry Dale McFadden showing he also loved the spotlight.
Not enough to grab a mike and reprise his song Country Beats The Hell Outta Me from his 1985 solo album Stand And Cast A Shadow that featured the memorable lyric " I love listening to Hank while I'm being spanked."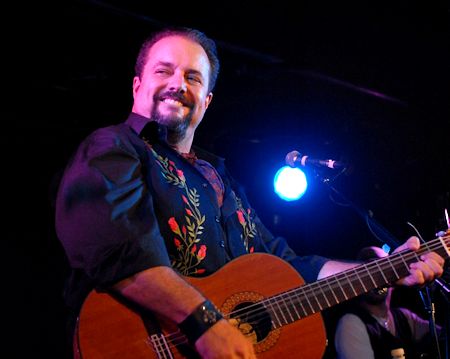 Photo by John Karpik
Jerry Dale teased the fame flame as Malo slowed the tempo to showcase his superb vocals in O Sole Mio , Blue Moon and "one we haven't played for a while" - Blue Bayou .
Yes, the same venue the late Roy Orbison trod the boards in the sixties on an exotic bill with the Rolling Stones .
The fullness of time was surpassed only by the lush sound of a band still in its passionate prime after a decade long hiatus broken in 2012.
Perhaps fittingly the next tune Why Do I Miss You So segued into Dance The Night Away and created reciprocal reaction from the avid audience.
This time the security two step was stopped in its tracks as the song suffered coital contusions.
"Security, get out, that's enough," Malo shouted as he twisted the tables, "there's only four of them. If you all dance they can't stop you."
The singer's reward to dancers was a shower of plectrums as his orchestra performed a fitting finale All You Ever Do Is Bring Me Down.
Words are hard to convey the power and joyousness of The Mavericks music as a conduit to an audience starved of depth in a genre increasingly sinking into generic country pop as putrid as punk rock, heavy metal and techno tripe.
It's a shame mainstream radio missed the boat here with ABC, community radio and TV and PAY-TV filling the vast void.
GARY ALLAN – KILT BY SEA
Californian surfing cowboy Gary Allan chose an open neck shirt with a suit for his Melbourne return and guitarist Jaime Hanna - son of Nitty Gritty Dirt Band bassist Jeff - opted for a multi-coloured kilt, boots and dark glasses, perhaps to soften the glare.

Jaime and cousin Jonathan McEuen - son of Nitty Gritty Band co-founder John - released a 2005 album as Hanna-McEuen.

For a singer of sad songs it's always hard to follow a joyous combo but thrice wed Allan, 46, and his turbo tonking band gave it their best shot.

They kicked off with Tough Goodbye and segued into A Feelin' Like That - a song with a Great Barrier Reef metaphor for a wondrous woman penned by frequent Australian tourist David Lee Murphy, Kim Tribble and former Trick Pony guitarist Ira Dean.
The completion of Right Where I Need To Be , featuring a guitarist doubling on fiddle duties, was an appropriate time to reveal "I've had a blast in your town this week, what a beautiful room."
It was clear he was referring to the Palais not adjacent Luna Park where The Mavericks were photographed shortly after the death of Montana born rancher and world's oldest performing clown Floyd "Creeky" Creekmore at 98.
Allan surfed effortlessly through his 18 song set that included first #1 hit Man To Man , embryonic Australian release Smoke Rings In The Dark , aided by stage smoke machines, Pieces and biblical parable It Ain't The Whiskey .
The escapist beach tune Sand In My Soul enabled his fiddler to again cut loose before he rhymed from Get Off On The Pain to the self-explanatory Songs About Rain .
His precipitation passion enabled sultry Nothing On But The Radio and sardonic Allan-Hanna-Jon Randall tune She's So California to precede another - Every Storm Runs Out Of Rain - a song about freedom that may be prophetic for local sons and daughters of the soil anxiously awaiting their spring break .
Drought relief came in a plectrum shower in the vitriolic Bones and the evocative Watching Airplanes that found the singer revealing that, like The Mavericks, he planned to come back here soon.
Arrival of two bubbly blondes on stage with mirror balls inspired Hanna, aided by his pianist holding a loud speaker, to revive the Port Adelaide pre-game tune-up tune Never Tear Us Apart from the INXS catalogue.
By now we had a mobile pedal steel show, replete with bottle replacing the tuner, for animated encore Drinking Dark Whiskey Telling, Little White Lies with another plectrum shower.
It was too early for patrons to join a Mavericks midnight choir but fans may have the chance if the gaucho grapevine spreads the word beyond the narrow corrals of our mainstream media.
Review by David Dawson with Mavericks photos by John Karpik and Gary Allan photo by Denise Kuhl