MARY GAUTHIER - EAST BRUNSWICK CLUB - 2 DECEMBER 2010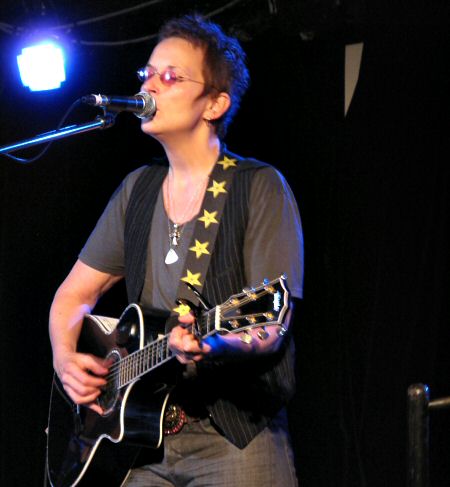 Mary Gauthier live at East Brunswick Club - 2/12/10
Each time I have had the privilege and the pleasure of witnessing Mary Gauthier live, she has been accompanied by a different musician. Back in 2007 wonderful guitarist Thomm Jutz provided superb backing, and earlier this year she was accompanied by Ed Romanoff.
This time round young five string violin maestro Tania Elizabeth, was her partner on stage, so once again the vibe was different.
I had been steeling myself all day for a night of standing at the East Brunswick Club, but surprise, surprise, limited seating was provided this time, so we had a great position up the front at a small table. One brave soul parked himself on the sticky carpet, drawing even Mary Gauthier to remark on the adhesive quality of the flooring at the East Brunswick Club.
It was an engaging show, Mary singing a range of songs from her back catalogue, understandably interspersed with songs from The Foundling, released earlier this year and performed in its entirety when Mary was last here in March.
She began the night with her fabulous cover of the beautiful For Rose, a song written by Jonathan Pointer. She took a request for I Drink - naturally - and obliged me by performing one of my favourites from her album Filth and the Fire, Christmas in Paradise. In fact she sang several songs from that album including Camelot Motel and Sugarcane, and the aforementioned For Rose.
In the leisurely, gently paced show, Mary paused between songs to explain how the songs came to be written, declaring at one time that some songs come from nowhere, some come as a gift.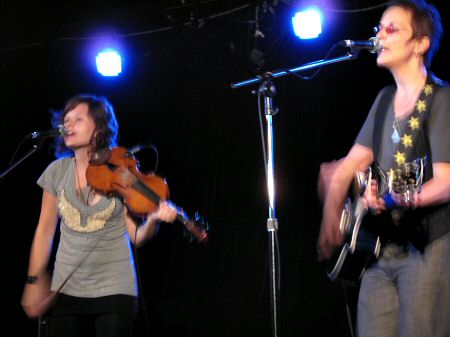 Mary Gauthier and Tania Elizabeth live at East Brunswick Club
Tania Elizabeth added another dimension to the performance with her otherworldly, eerie violin accompaniment and spooky harmony vocals. She is a Melburnian by birth but now lives in Canada and is a former member of the Canadian band The Duhks. She was also one of the collaborators in the production of The Foundling and gave a demonstration of her consummate skill on the fiddle, playing solo in the first encore.
Very down home, post show, Mary and Tania Elizabeth manned the merchandise table themselves, selling CDs and what Mary called her new line in jewellery - a pick on a chain inscribed with "Mercy Now", and a dog tag with the same message.
Set List
1. For Rose
2. Walk On The Water
3. I Drink
4. Christmas In Paradise
5. I Ain't Leaving
6. Sweet Words
7. Camelot Motel
8. Sugarcane
9. Mama Here Mama Gone
10. Goodbye
11. Sideshow
12. Blood Is Blood
13. The Orphan King
Encore:
Hangman's Reel - Tania Elizabeth solo
Mercy Now
Review and photos by Anne Sydenham