LUKE DOUCET - BASEMENT DISCS - 1 APRIL 2005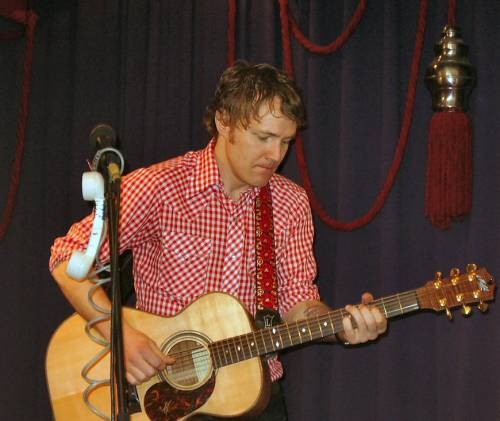 Luke Doucet at Basement Discs - 1 April 2005
No doubt you are wondering, as I was - who the hell is Luke Doucet?
Luke Doucet is a Canadian Singer/Songwriter who has just completed his first tour of Australia.

He is better known in Canada as the vocalist for the band Veal and is also in demand as a session musician for various artists including Oh Susanna. He has extensively toured as a guitarist with Sarah McLachlan.
Described by the Canadian Press as "the lost love bastard of KD Lang and Tom Waits" his songs and performance are a charming and individual experience. Originally from Winnipeg he is now based in Vancouver.
I caught up with Luke Doucet at his "In Store" performance at Basement Discs.

An amiable and engaging performer, he played a total of six songs for the lunchtime attendees, interspersing the songs with short dissertations on his travels and his past and his present circumstances.

The songs were mostly taken from his Aloha Manitoba CD which is locally available.

He started his performance with "Mitzi's" a song from the Aloha Manitoba CD, initially singing through a telephone hooked up to the sound system. It gave his voice a distorted, echoing effect.

"Vanessa" was next, an amusing song about cigarettes and kissing. As Doucet explained it could have sexual connotations depending on the time of day and the level of intoxication of the listener.

Third up was a song about a young transvestite, claimed by Luke to be a character from his past. Apparently, across the road from his childhood residence in Winnipeg there lived an 11-year-old Indian boy who loved dressing in his mother's clothes. He spent most of his time at the Doucet residence being friends with Doucet's sister. The punch line of the song is "you see stranger things in New York".
The next song was written at the time of the American elections and is not released on CD as yet. Called "I Wish I Was American", it is an expression of what the rest of the world was thinking at the time.

If only we could vote, we could make a difference.

Another song from the Aloha Manitoba album, "New Orleans", expressing Doucet's fascination with America and American culture followed.
The breezy half hour performance was concluded with an unreleased song "Broken One" which was written a year ago after Doucet broke up with his girlfriend. The acerbic lyrics "you've got to have a heart to have a broken one" expressed the bitterness of the break-up.
SONG LIST:
1. MITZI'S
2. VANESSA
3. NEW YORK
4. I WISH I WAS AMERICAN
5. NEW ORLEANS
6. BROKEN ONE
Visit Luke Doucet's Web Site for more information
Review and photos by Anne Sydenham