LUCINDA WILLIAMS - HAMER HALL - 1 APRIL 2009
Real Live Bleeding Fingers and Broken Guitar Strings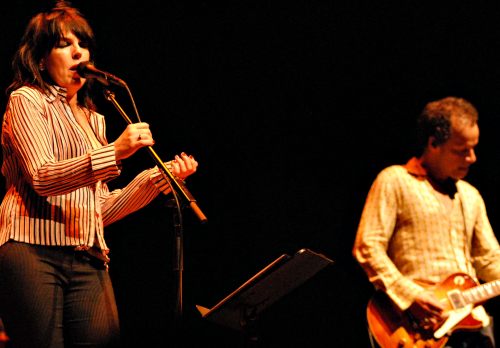 Photo by John Karpik
Lucinda Williams, starting off her first tour of Australia after sixteen years, at Hamer Hall on April Fools Day, startled many of her fans with her rock 'n roll attitude. Though there were no real live bleeding fingers or broken guitar strings it was a sizzling acid rock concert rather than the country rock some of her fans expected. There was hardly a twang heard all night.
Much disagreement and diametrically opposed views centre round her accompanying band Buick 6 who performed a warm up set before Lucinda's main show. It was all instrumental and raw rock n roll which put several concert goers off-side, this reviewer for one.
Before Buick 6 though, local duo Luluc performed a quiet short set of low key folk songs. What a contrast to the rest of the show!
By the time Lucinda took the stage, the audience was, I felt, torn in two, though ready to forgive the star attraction.

Reaching way back into her repertoire Lucinda started the night with a trio of old songs, I Just Wanted To See You So Bad from her 1988 self titled album, Happy Woman Blues from the 1980 album of the same name, and Can't Let Go the sole cover song on the Car Wheels CD, Lucinda acknowledging the songwriter as Randy Weeks.
Photo by John Karpik

Lucinda made it easy for reviewers to note the song titles, in most cases introducing them by name and providing some background on how and when the song came about. She had a music stand in front of her and was observed by this reviewer referring to it often. This however does not infer that she had forgotten her lines. I have since been advised by someone who spoke to her after the show, that she uses the music stand as a sort of emotional crutch.

As the concert continued Lucinda covered many of her songs from various albums. I was very taken with her song Drunken Angel about Blaze Foley, murdered in 1989 and famous for being a drinking buddy of Townes Van Zandt. Also impressive was Pineola another song about the tragic suicide of a friend from Sweet Old World.
The concert was not relentlessly heavy rock. Halfway through the evening Lucinda had a stripped down segment, promising to rock out later. During this interval she sang such classic numbers as Side of the Road, Jackson and Over Time.
Lucinda repeatedly remarked on the quality of the acoustics in Hamer Hall and I must admit the sound was good, though the band was almost as loud as a Steve Earle & The Dukes concert and occasionally drowned out Lucinda's vocals. They really rocked out on songs like Essence, Come On and Honey Bee which Lucinda reckoned was the best live version she and Buick 6 had ever done.
The main show ended with Righteously, but Lucinda and the band returned for an extended encore, playing five songs, all covers - Disgusted (Lil Son Jackson, I Lived My Life (Fats Domino) Guitar Slim's Things I Used To Do and Every Picture Tells A Story (Rod Stewart/ Faces)
Not so successful was the cover of Long Way To The Top - the iconic ACDC song whose own version is burned into psyche of all Australians, so no matter how Lucinda and band performed the song it would never match the original.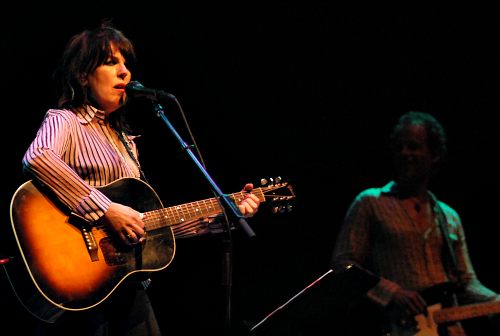 Photo by John Karpik
As a concert, it certainly did not impress me as much as Leonard Cohen or Ryan Adams, say. I'd take the Cardinals over Buick 6 any day. Perhaps my expectations were too high, but I must admit to a feeling of disappointment with the evening though there are others who would disagree.
I have no complaints with Lucinda Williams' performance - her distinctive soulful voice was spot on and it was good to see her having such a great time rocking out with her band, but there was some missing ingredient, and that vital something failed to make it a great concert.
Set List.
1. Just Wanted To See You So Bad
2. Happy Woman Blues
3. Can't Let Go
4. Circles And X's
5. Well, Well, Well
6. Drunken Angel
7. Pineola
8. Side Of The Road
9. Jackson
10. Over Time
11. People Talkin'
12. Real Love
13. Tears Of Joy
14. Changed The Locks
15. Real Live Bleeding Fingers And Broken Guitar Strings
16. Come On
17. Essence
18. Joy
19. Honey Bee
20. Righteously
Encore
1. Disgusted (Lil' Son Jackson Cover)
2. I Lived My Life (Fats Domino Cover)
3. Things I Used To Do (Guitar Slim Cover)
4. Every Picture Tells A Story (Faces Cover)
5. Long Way To The Top (ACDC Cover)
Review by Anne Sydenham, photos by John Karpik