Leonard Cohen at Rod Laver Arena - 10 February 2009
A Night of Tasteful Music and Beautiful Vibes

I cannot really add to the accolades already accorded the remarkable Leonard Cohen during his tour of the Antipodes, other than to say that everything written previously is true and correct. Reviews of Cohen's Australian tour have been universally glowing - it was truly a great concert.
My enjoyment of the concert was spoiled somewhat by my front row seat, which I thought would be the pick of the arena.

Not so.

My view was hampered for the most part by a pesky cameraman, videoing the show for the big screens on either side of the stage. Leonard stationed himself predominantly on the (facing) right hand side of the stage and I was sitting sort of to the left of centre.

I had an excellent view of Sharon Robinson and the Webb Sisters, but only got a good look at Leonard when he ventured over to their side of the stage.
The *band was excellent; all of them master musicians, especially the delightful Javier Mas, who played a variety of interesting ethnic instruments. They were an essential component in what was evening of extremely tasteful music.

Leonard Cohen, as has been remarked by all who have seen him perform on this tour, is the consummate entertainer- age certainly has not withered him nor has custom jaded his famous songs. Each was greeted with thunderous applause by the appreciative audience.
Very spry and dapper in his grey suit with fedora, Cohen put many a 50 year old to shame with his liveliness and indefatigability. He had no trouble rising gracefully from a crouch and skipped off stage with the sprightliness of a schoolgirl.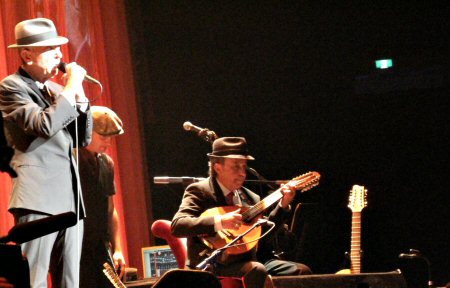 Leonard Cohen with Javier Mas
The three hour show covered the whole gamut of Cohen's back catalogue, and if there were no real highlights it was because every song was executed perfectly, Cohen's ragged baritone coupled with the angelic vocal harmonies of the Webb sisters and Sharon Robinson, making each song its own best version. This included the much covered Hallelujah.
I realised, listening to Leonard Cohen singing his songs, how witty many of them are - a far cry from his early reputation for writing songs to slit your wrists by. Cohen in person comes across as a warm and humorous individual of immense charm.
A generous soul, Leonard Cohen, introduced his band not once but twice through the evening, with warmth and reverence for their musicianship. It was quite a contrast to Ryan Adams who acknowledged his band in his recent concert in a cartoon character voice.
He also paid to tribute to the Victorian bush fire victims - he has joined with Frontier Touring and Paul Kelly in donating $200,000 to the appeal. He also expressed appreciation for his Australian audiences, stating that his sojourn on these shores had been wonderful, though, understandably considering his age (74), he didn't make any hard promises about returning.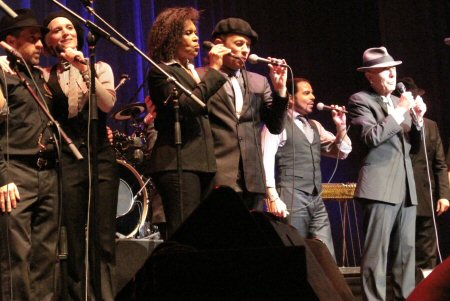 The Whole Band singing
Wither Thou Goest
So was the concert worth the price of tickets? Absolutely! As many have fervently averred, it was one of the best concerts I've been fortunate to witness.
Mention must also be made of the short but excellent opening set by Paul Kelly. Certainly, it was a higher quality opening act than the Clip Clop Club at the Ryan Adams concert.
*The Leonard Cohen Band
Rafael Gayol - percussion
Roscoe Beck - musical director, bass, background vocals
Neil Larsen - keyboards
Javier Mas - bandurria, laud, archilaud and 12-string guitar
Bob Metzger - guitars, pedal steel, background vocals
Sharon Robinson - background vocals
Dino Soldo - saxophone, wind instruments, harmonica, keyboard and background vocals
The Webb Sisters - background vocal, harp & guitar
SET LIST
Set 1
1. Dance Me to the End of Love
2. The Future
3. Ain't No Cure for Love
4. Bird on the Wire
5. Everybody Knows
6. In My Secret Life
7. Who By Fire
8. Chelsea Hotel #2
9. Sisters Of Mercy
10. Hey That's No Way To Say Goodbye
11. Anthem
Set 2
12. Tower of Song
13. Suzanne
14. The Gypsy's Wife
15. The Partisan
16. Boogie Street
17. Hallelujah
18. I'm Your Man
19. A Thousand Kisses Deep [recitation]
20. Take This Waltz
Encore 1
21. So Long Marianne
22. First We Take Manhattan
Encore 2
23. Famous Blue Raincoat
24. If It Be Your Will
25. Democracy
Encore 3
26. I Tried to Leave You
27. Whither Thou Goest
Review and photos by Anne Sydenham