LEE KERNAGHAN - THE WOLFE BROTHERS - PALMS AT CROWN CASINO

VAN DIEMENS LAND WOLVES HOWLING AT CROWN MOON

It would seem a timely ascension from the Deep South rock n roll pubs and B & S balls of the land time forgot to reality TV to the plush palace on the Yarra.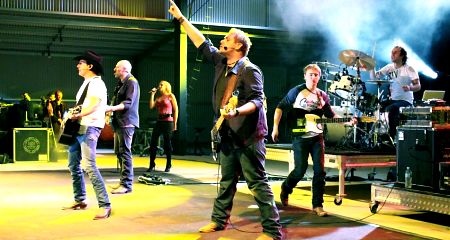 The Wolfe Brothers, vastly ignored by trapped in time Tassie country taste makers but greeted with glee by Australia, You've Got Talent viewers, proved they deserved their break on the mainland.

Luckily the diverse demographic spread across this superior viewing enclosure was treated to accessible country music - not rock refuse - on the pre-concert sound system.

This made it easy for the Wolfe Brothers - yes, guitarist singer Nick and bassist Tom are siblings - and younger guitarist Brodie Rainbird and drummer Casey Kostiuk are kinfolk in an islander sort of way.

It may have been fierce island pride or just natural talent but the quartet wrote all 10 songs on their debut album It's On and only included one cover in their live set.

They kicked off with the autobiographical One Way State Of Mind and the exultant escape from a ruptured romance in Highway Sky.

The sympathetic sound mix enabled singer Nick to massage messages as a concise conduit to an audience unlikely to have been made word perfect by a mainstream radio medium.

Sure, some of the audience may have heard The Wolfe Brothers on community and ABC radio and CMC Pay TV but touring with the Aussie country king was their most vibrant vehicle for exposure.

They punctuated their tunes Loving In The Summertime and their joyous living for the weekend anthem All We Wanna Do with homespun homilies.

"Nick dropped out of uni and worked in a fish factory," bassist brother Tom - a carpenter by trade not a novelist - revealed between songs.

Nick returned fire by revealing Wake Up was penned with Tom after two sleeping pills laid him low on the eve of a writing session.

The sweet sibling harmonies, aided by the mixer, ignited Dangerous and a "romantic misadventure" suffered by Tom ensured a "great song was born" in The Girl, The Bottle, The Memory.

It's quite clear the quartet were chasing the dreams of expat Australasian superstar Keith Urban when they honoured him with his hit Somebody Like You.

The enthusiasm of young guitarist Rainbird and drummer Kostiuk complimented their older band colleagues - especially energetic bassist Tom.

Their fitting finale was the album title track It's On - another rural rooted freedom chasing living for the weekend anthem of sorts.

The Wolfe Brothers captured the spirit of country music with a light rock overcoat without diluting their blissful island innocence.

Rejection by folks stuck in a tawdry time warp may be the blessing in disguise they need to swim in a much bigger pond here and maybe overseas.

Will the wolf survive?

Well, the strength of their future original songs will be a bucolic barometer.

But at least they have their touring partner - Aussie country king Lee Kernaghan - as a kind and generous benefactor on that journey.

It's a similar altruistic gesture to that enjoyed by The McClymonts in their embryonic touring genesis.
BEAUTIFUL NOISE WAVES PALMS
Australian country king Lee Kernaghan didn't need an introduction so he didn't receive one but he introduced his touring band The Wolfe Brothers - also his backing group - after they kicked the dew off the glass with his 9th album title track Beautiful Noise.

Lee's singing spouse Robby also played piano on Something In The Water from his Electric Rodeo album that also shared title with a Shooter Jennings disc.

The singer reached back to his Riverina roots - including grandfather Patrick's droving of sheep and cattle - and Albury for his Bachelor & Spinsters Balls birth for Boys From The Bush.

Then, after referencing recently fire ravaged Harrietville, he dug up Dirt.

But, then it was time for a little audience interaction, with Nick Clarkson from Geelong who had asked Lee on Facebook for a little help with a begging question.

Yes, you guessed it - almost as gripping as Geelong winning a premiership every two years.
Nick got down on bended knee front and centre of the stage with an engagement ring and said he had a question for Jess's birthday - a proposal.

Luckily, she accepted and the newly engaged couple were rewarded with a chilled bottle of champers from the star and the show went on with apt love song Goondiwindi Moon.

This enabled the singer and band to return to eighth album title track Planet Country, She's my Ute and the timely Love In The Time Of Drought.

Now it was time to introduce Robby as a duet partner on Springsteen classic Fire.

"She's working on a new album," the singer revealed before he returned to the piano for a rollicking version of Jerry Lee Lewis's Great Balls Of Fire.

Kernaghan announced he spent the previous day at a Sydney airport working on his video for new single Flying With The King - his latest eulogy to the late bush balladeer and mentor Slim Dusty.

After an evocative delivery of the historic song that also paid tribute to Reg Ansett it was time for more audience reaction.

"I autographed a young boy's bald head today," Lee revealed as he introduced some young cancer patients in the audience with a little help from the Make A Wish Foundation.

"He's only nine and wrote a great song in hospital."

Supporting the less fortunate has long been a trump card in the Corryong born, Albury raised star's deck so it was a perfect segue to I'm An Australian Boy.

Kernaghan then honoured novelist Tim Winton with Dirt Music and rewarded two buxom lasses with Ute Me tank tops during his delivery of that recent single.

"I visited Horsham in the middle of the 2008 drought and me this farmer told me he had lost his house, his farm and almost his mind but he never gave up," Kernaghan recalled.

"He never lost his family but he gave me the source of this next song Spirit Of The Bush."

By song 17 it was time for Outback Club and the joyous Texas, QLD.

"I've got this other new guitarist," revealed as he introduced former Chasing Bailey young gun Dan Conway, just 21, who also soloed on harmonica.

"Dan is living in Melbourne and he has his own new CD."

The 18 song finale encore was another Slim Dusty tribute - Joy McKean penned Lights on The Hill that segued into Slim singing Waltzing Matilda and shock horror the AC-DC classic It's A Long Way To The Top on the house PA.

It may have been the end of the show but the star had another interactive task - an hour of autographs for the boys and girls from the bush in the crowded foyer.

Yo, it's a vast contrast to the rapacious rock stars who flee their audiences in stretch limos.
Review by David Dawson