It was a holiday for Australia last Wednesday to mark ANZAC day, but for the Kane, Welch & Kaplin quartet it was the last performance on their current tour, so they had to soldier on, for a few more hours at least.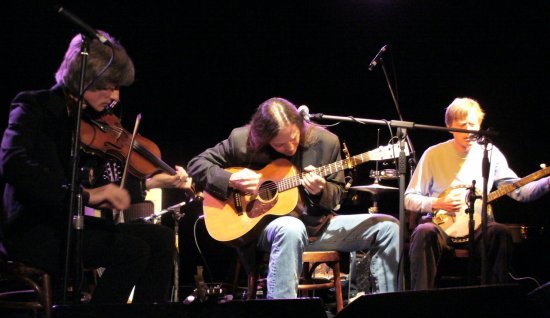 From L to R - Fats Kaplin, Kevin Welch Kieran Kane
Live at New Capers - 25 April 2007
The show was at New Capers, a relatively new venue on the corner of Power and Burwood roads. I had not been there before, but was pleasantly surprised by the laid-back atmosphere of the place. We all sat at tables on bentwood chairs, some, myself included, being more lucky than others, being right in front of the stage. That being so, I managed to get some reasonable photos of the boys. It was a sold out show, by the way, much to the surprise of the venue manager, who had previously not heard of them at all.
After a bumbling introduction by the venue management, the band kicked off the show at about 8.30. They appeared to be dryly amused by the mangled intro and launched without more ado, Kieran Kane on vocals, into the first song of the evening, which was Monkey Jump, the first track on their latest collaborative CD Lost John Dean.

They played several songs from Lost John Dean - the title track, To the Harvest, Look Ahead, Heaven Now and Mr Bones, but also made room for audience requests from their back catalogue. They tried out some new songs too.
There was an astonishing array of musical instruments played by different members of the group. Kieran Kane alternated between banjo, mandolin, drum and guitar while Fats played fiddle, accordion and guitar in succession. Lucas Kane, Kieran's son contributed with tasteful subdued drums. Kevin stuck mostly to guitar.
As has been their format for many years, Kieran and Kevin took turns leading the singing. The added addition of Fats Kaplin and Lucas Kane to the mix, certainly enhanced the overall sound, though Kieran's artistry on his various instruments was, as usual, thrilling to witness and hear.

This being the final show of the current tour there appeared to be a longing, in particular on Kieran's part, for home. He said he was looking forward to sleeping on his own pillow again - the blue ticked feather pillow featured in his song, Eight More Miles, which was played at the end of the main show.
The new songs sounded excellent, particularly Dark Boogie, a weird semi spoken story song, performed by Kevin. It reminded me of the song, Waiting for the Assassin on the Dead Reckoners 1997 disc Night of Reckoning.
It was pleasant also to hear the old songs as well, like Kieran's classic Town This Size and Four Questions, and Kevin's renditions of Queen of the Slipstream and Train to Birmingham.
The show lasted for about three hours, with a short break in the middle. The boys returned for an encore of two songs, ending with Kevin Welch's Till I'm Too Old to Die Young.
The full house audience at New Capers were treated to a remarkably fine evening of music. It was a great way to end ANZAC day, a day to commemorate the fallen in battle, but the superb entertainment provided by Kane, Welch and Kaplin was as life affirming as it comes.
Song list
1. Monkey Jump
2. To The Harvest Look Ahead
3. Lost John Dean
4. I Can't Wait
5. Mr Bones
6. Heaven now
7. Instrumental composed by Fats Kaplin
8. Postcard From Mexico
9. Flycatcher Jack & The Whippoorwill Song
10. Shadows On The Ground
11. You Can't Save Everybody
12. Queen of the Slipstream
13. Them Wheels Don't Roll
14. Ain't Gonna Do It
15. I Wish I Had That Mandolin
16. Town This Size
17. Train To Birmingham
18. Dark Boogie
19. Eight More Miles
Encore
1. Four Questions
2. Till I'm Too Old To Die Young
Review and photos by Anne Sydenham 2007