KINKY FRIEDMAN - CARAVAN MUSIC CLUB - 24 & 25 jANUARY 2015
LIVE REVIEWS - JANUARY 23-24, 2015.
KINKY FRIEDMAN - A JOURNEY IN TIME
CARAVAN CLUB, OAKLEIGH
SANTA SLAYS THEM AT THE CARAVAN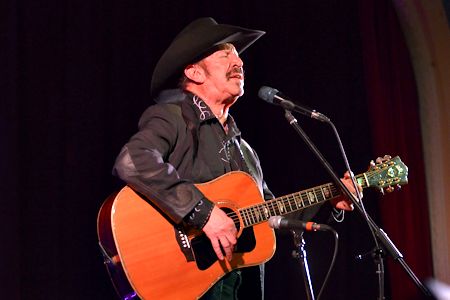 Kinky live at Caravan Music Club - photo by John Karpik
It was the week before Christmas and Santa was still loading his sleigh and whipping his reindeers into shape for the long flight to the land that time forgot.
Suddenly the phone erupted in the Nu Country TV bunkhouse in the ferny dales of Glen Iris.
It was The Kinkster calling from his idyllic Echo Hill ranch in the heart of Texas a month before his return to the salubrious Caravan supper club due south in ancient Greece cultural oasis - Oakleigh.
Kinky was extremely agitato.
Should he fold his two night Australia day weekend Caravan season into one as he feared bookings were slower than a Red Sea pedestrian?
Hold your nerve, I advised the 70-year old world weary traveller with paternal patience.
Your tour will be a financial pleasure, thanks to your promoter Peter Foley and his cosmic community culture contacts.
That prophesy soon erupted with a vengeance.
And it wasn't just the five concerts featuring the singing Texan crime novelist.
Shortly after being hosted by famed former L.A. flat-mate and latter day Sydney media Czar Piers Akerman on the Pittwater high seas during a two night season at the Vanguard Hotel in Newtown the Kinkster headed north to BrisVegas for a one-night stand at the New Globe Theatre in Fortitude Valley.
It was there the Kinkster and his Tel Aviv tour manager Zoe tested their fortitude and invaded the pokies - first at a local inn and later at the city casino.
And, yes, The Kinkster's ship came in.
He soon supplemented gig loot with a splurge that earned him a four figure surplus on his balance of trade.
It kept him in Cuban cigars, well almost.
By the time he boarded his Melbourne flight from Brisbane he was down to two with no relief in sight until he hit Hawaii at tour end.
But he still had his trusty cigar hatchet - the cutter that divided and conquered his choice of smoking weapons to prolong longevity.
Not his - but the chubby Cubans.
Unfortunately Kinky's cutter was in his carry-on luggage and Prime Minister Rabbit's terrorism security alert had been heightened since the Lindt Martin Place siege and Charlie Hebdo Parisian massacre and long before Phil The Greek's knighthood.
JE SUIS CIGAR CUTTER
Je Suis Cigar Cutter was not the down under Virgin Airlines mantra.
Like the late Jim Reeves hit He'll Have To Go so did The Kinkster's weapon of choice as it was seized by airport security with a promise to return at tour end by Fed-Ex to Texas.
Such a culinary by-pass was not a show stopper, well not yet.
As a Caravan curtain raiser The Kinkster and Zoe, accompanied by Chadstone raised bodyguard and singer Tracey Miller, visited salubrious LeighOak Club pokies palace on the Princes Highway, a mile due north.
Miller, mature age mother of three and singing spouse of fireman Paul - brother of fellow singer Lisa Miller - was perfect baby sitter and flame blanket.
There were no immediate problems for the daylight invasion of the Pokies.
The Kinkster and Zoe skipped their sound check and cleaned out a neat $900 profit each from moaning machines.
This was indeed a financial pleasure as The Kinkster's entrée for his trip down the meandering memory lane of hits dating back to his Kerrville childhood when he penned Old Men Lucas as an 11-year-old.
Now, as a "70 year old who reads at the 72-year old level", he attracted a celebrity audience.
First there was ABC-TV comedian-author Bryan Dawe, who released Kinky's 1973 debut disc on Astor Records in Australia before latter day Siem Reap scribe-author J.J. McRoach ran as Victorian Australian Marijuana Party candidate in the 1997 Federal election.
McRoach , like The Kinkster , did not leave the private sector for public office.
But he used Kinky's music as his soundtrack on election-day when propelled in his limo by private chauffeur Fast Bucks to Kooyong's wealth belt polling booth where he shook hands with Prime Ministerial protégé Andrew Peacock.
From there it was a tuneful trip due south to Station Hotel, Prahran, where he shared stages with Richard Clapton before a late afternoon climax at a Brighton polling booth where he promised men in white returning from fields of battle he would decriminalize cricket if elected.
But I digress.
THE MILLERS TALES
Also in the gala premiere audience was Tracey's singing sister-in-law Lisa Miller and PBS-FM Acid Country host David Stumbles Heard - Wimmera warrior and Horsham deportee - leading the midnight choir.
Suburban singer-songwriter Rob Snarski of Snarski & Hutch fame kicked the dew off the glass as acoustic entree to the Texas Jewboy troubadour.

By now there was a crisis far outweighing historic battles on the Gaza Strip or oil and religion fuelled Gulf Wars, long in vogue among soldiers of misfortune.

The Kinkster's private photographer Kip Karpik had lost his wallet in a busy business card exchange with Dawe - maybe a moonlighting magician.

Karpik, brandishing a torch after mine host Peter Foley declined requests to turn on the house lights before, during and after Snarski's curtain raiser, was executing an extremely thorough emu hunt beneath the tables and behind the billowing velour wall curtains.

< photo by John Karpik
Knowing this was a dangerous crisis that may result in a picture paucity for this review and subsequent Kinkster albums, I put my hand up and enlisted in the hunt.
Had Kip, I asked with 50 years of experience as undercover tabloid magazine crime reporter, searched the toilets?
No, the photographer replied, he had not felt the need to evacuate his bladder or bowels.
That ruled out A Men's Room In L.A .
But you can never be loo sure I recalled a past editor informing me after I named him The Undertaker because he knew how to kill and bury a good story.
Despite darkness pervading the auditorium I detected shadowy figures entering and exiting a room at stage left at regular intervals.
Must be a toilet, I diagnosed.
So without further ado, in I went with haste and without analyzing any external stick symbols.
It was a clean ablutions faculty without any of those tiresome smelly urinals, condom machines or fellow abluters.
So the search didn't take long.
There was no wallet found and sadly no cigar for my efforts.
But instead a long winding queue of waiting, wailing women greeting my exit.
Yes, dear readers it was the ladies loo, and I had not read external door signs or more importantly found the wallet with its credit cards and $200 in hard earned cash.
I returned to distraught photographer Kip with sad tidings as he continued his search, resembling a Polish up-skirter, with his probing torch that spotlighted a stage side clock.
By now the big hand was on 6 and little hand on 9 as The Kinkster , replete with chapeau, cigar and Mexican mouthwash emerged, in the spotlights and nocturnal glow of the purple haze curtain.
"Time for a little toast from Texas, my favourite one - here's to honour, get on her and stay on her," The Kinkster said by way of introduction.
"This is Kinky Friedman's Man In Black Tequila . At Man In Black we salute Paladin, Zorro and Johnny Cash. We like to say this is not your father's Tequila. This is your grandfather's gardener's tequila. I call it the Barry Manilow drink because it makes you feel good for a very short period of time."
Kinky ran through a riveting repertoire of hits from the seventies dating back to We Reserve The Right To Refuse Service To You, Nashville Casualty & Life and Get Your Biscuits In The Oven And Get Your Buns In The Bed that he performed with his band The Texas Jewboys in 1973 in Buffalo, New York.
"These cranked up lesbians attacked the Jewboys on stage and I was awarded male chauvinist of the year," he recalled.
He told his audience he hadn't written a new song since the seventies - just 30 crime novels and memoirs of Texan heroes from his childhood and a compilation from his Texas Monthly Magazine columns.
But the Kinkster concede he updated one song - the favourite of former President Bill Clinton and on this occasion dedicated to your reviewer.
Waitret, Waitret Please Sit On My Face was now Waitret, Waitret Please Sit On My Facebook .
And he had an uplifting experience on a South African tour when he belatedly met the nephew of President Nelson Mandela's cell mate.
"He told me that Nelson Mandela was a big fan of mine," The Kinkster revealed.
"I asked had Nelson read my books. He said 'no, for the final years behind bars he would play your music from a smuggled tape every night before he went to sleep.' Those songs were Sold American and Ride Em Jewboy ."
That wasn't all.
"On a tour of Canada I met this teenage boy who said he envied me because I seemed so calm, little did he know I was on the brink of a bi-polar breakdown," The Kinkster recalled.
"Then I played a Jewish community centre and met this tiny, elderly Jewish woman with lips like a chicken's arse praised me. Next I was in Houston and I met a young man who said 'why did your people kill our Lord?" I said 'because that motherfucker had it coming."
It was that sort of night.
KINKSTER BREAKS POKIES BANK ON JEWISH SABBATH
Photo by John Karpik

As midnight approached the Kinkster and entourage bid adieu to all soldiers, sailors, airmen, service women and music lovers as he decamped via the front entrance of the Caravan .

This silvery moon was high in the sky due south of the old soldiers and services exit and eerie omen as the clock ticked over into the new day.

The Kinkster was about to become a big winner in the wee hours on Saturday - the Jewish Sabbath - at his new favourite locale, The LeighOak Club .

It was there Kinky and Zoe broke the bank on another pokies invasion.

The Kinkster relieved the machines of a tidy $1500 plus and Zoe upstaged her constant companion by notching up $1700.

But there lay the problem.
At Faron Young times - 4 in the morning - the humble folks of the LeighOak did not have the readies on site and offered to write out a pair of cheques.
But the banks would still be shut all Australia Day weekend and The Kinkster and Zoe were set to fly out on our Sabbath for Hawaii.
So Oakleigh tour guide Tracey was forced to seek a solution - find some money changers in the bigger smoke of the pokies capital.
The first cab off the telephonic rank didn't satisfy the Kinkster's demands so she resorted to option 2 - another money changer, replete with armed guard and female chauffeur.
They would, they promised, make the trip from the city that never weeps to the LeighOak within the hour.
So how would the money changers recognise the Kinkster and Zoe on mean streets of Oakleigh where the winners were forced to decamp after the venue's 5 am closure?
Well, the Kinkster would be identifiable by his cigar that he could not smoke within the pokies palace and, of course, his trademark African American coloured chapeau.
They were not the usual nocturnal landmarks prominent on this Lost Highway - at that dark hour - on the Jewish Sabbath due east of Caulfield and Balaclava.
It seemed the perfect plan until the arrival of a cruising Indian cabbie with an insatiable urge for passengers at the end of his shift.
And, sadly, a new hat.
The cabbie abruptly alighted his steed.
When told the pavement pedestrians were not desirous of travelling in his big Yellow taxi he decided it was time to top up his wardrobe and replace his Turban with a more exotic choice of headwear from the Lone Star State .
"I'll give you $50 for your hat," he told The Kinkster as he opened the bidding with not much more luck than when his team opened the batting in recent tests and one day series.
"My hat is not for sale," the artist told his new admirer who was prepared to up his offer by small increments from $75 to $100 and finally $200 with no success.
By now the money changers were approaching in their armored vehicle from the west on Dandenong Road as it became Princes Highway - gateway to Gippsland and beyond.
Tour manager Miller politely bid adios to the losing bidder and explained The Kinkster needed his hat for a career that was becoming even more comic as dawn threatened.
"Is he famous," the cabbie queried?
"Indeed", Miller replied rapidly with the name of the waiting artist.
With this instant info the Indian rubber man boomeranged to his big yellow taxi and Googled the man who would not sell his chapeau.
In a New York minute he was back beside The Kinkster with mobile phone and request for tediously fashionable selfies.
With the Kinkster and Zoe anxious to collect their cash from newly arrived armed money changers a short medley of selfies was dispensed.
Then it was time for the mobile temple transaction as the gamblers' cheques and chips were finally cashed for hard decimal currency.
It was indeed a financial pleasure for the Kinkster and Zoe who were scheduled for a short visit to the land of nod before an interview with Brian Wise on Off The Record on 3RRR-FM - his own Death In Brunswick brush .
And an early Chinatown luncheon date with Kinky's god daughter Pia Akerman - venerable Victorian scribe for national daily The Australian - and her sister Tess.
And, yes, another concert for all the old soldiers, seamen, air force evacuees and music lovers back at The Caravan club.
CARAVANS AND MORE GYPSIES
Dusk was fast approaching as the Kinkster ventured into the Caravan beer garden to dine and treat fans to another medley of selfies and autographs.

First house pest to evade security was a fellow Septuagenarian shuffling in a lower gear with a wheel fired frame walker and a story to tell.

"I'm Clive Williams and I have all your books," the Korean War veteran revealed by way of introduction, "it's a great pleasure to see you back here at the Caravan Club ."

The Kinkster asked where Clive travelled from.

"I came by taxi from Frankston," Clive explained, "and I'll be going home the same way."
That seemed to rule out another post-concert pokies partner - with stakes raised by threats to invade Crown Casino to do battle with James Packer's power balls.
But before entering the fray in front of the purple curtains and later on the Yarra bank there was food for thought - and dinner.
The Kinkster chose a vegetarian curry, Zoe opted for something light, Tracey ordered Risotto while this reviewer settled for a rack of lamb from the old soldiers' kitchen.
Our plan was to eat in the beer Garden of Eden with a comforting fresh breeze.
But an intemperate storm in the form of another old digger claiming to be RSL club vice president changed those culinary delights.
Our invader, hard of hearing and suffering an Australia Day weekend slur, was perfecting his Leaning Tower Of Pisa stance as he threatened to kiss the concrete.
The Kinkster , able to activate his deafness defense prior to dinner and concert, elected to eat in manager Foley's office.
It was a smart move.
The Kinkster had no trouble demolishing the vegetarian curry but Tel Aviv evacuee Zoe noticed I was having a battle with my rack of lamb.
It was not, it appeared to be, an adolescent lamb fresh from the Wimmera but more likely an ancestor of a black sheep from the Middle East.
Zoe handed me a serrated steak knife, liberated from the kitchen, so I made hectic headway with my long deceased sheep - perhaps mutton dressed up as lamb or Rack of Spam, once Georgian country soul singer T Graham Brown's band.
By now The Kinkster , anxious to slice up his cigars to last the local journey, was missing his cigar cutter.
I suggested perhaps another trip to the kitchen for a sibling of my blood stained steak knife might be answer to his fears.
It was.
The Kinkster soon had a weapon activated to ensure his cigars multiplied in number but not size.
By then it seemed an opportune time to ask the artist if he would update my phone answering machine messages from his previous utterings - real crowd pleasers.
This was not an easy task.
The Telstra tsars had determined a phone message should not exceed 30 seconds and The Kinkster soon proved succinctness was not his strong suit.
After six attempts, destined for edifying editing, I returned my tape recorder to my man-bag.
But The Kinkster , ever the perfectionist, decided to again chance his telephonic skills.
So the tape recorder boomeranged and was on the road again for a fresh dozen attempts at recording messages that would try to retain their humour within the allocated time span.
Finally we were satisfied so I suggested The Kinkster return to the beer garden where Dawe was holding court with the Chairman of The Board - luckily not the verbose vice president.
There was no sign of Sinatra as the Navigator' s son flew into a new army of selfie slaves.
By now Dawe had been joined by RRR-FM chair Geoff King - recently retired RMIT media studies lecturer and pioneer of their air waves and board at the then Carlton community broadcaster that gravitated north to Fitzroy and Brunswick.
But there was soon another distraction.
The Kinkster decided he would reward mine host Peter Foley who vacated his palatial Oakleigh digs for Kinky and Zoe with an offer he hoped he should not refuse - marriage.
It would be a financial pleasure for both parties, The Kinkster explained.
The publicity surrounding a gay marriage in Oakleigh - perhaps at the local pokies palace - would enrage the gay community and subsequently boost bookings for the next tour and sales of The Kinkster's latest crime novel - The Detective In The Hard Boiled Computer .
This prompted a flood of pre-nuptial pictures and selfies with the soon to be betrothed bridal couple, the best men who would never have a chance to prove it, the ring bearer role now being contested by Tracey, Zoe and Brian, and bridal party guests flocking to the beer garden to celebrate upcoming nuptials.
They included RRR-FM Twang host Denise Hylands, brother in-law Rick Plant - expat American singing spouse of songbird Sherry Rich, who like Denise's bluegrass beau Rusty, was in absentia and missing historic pre-nuptials.
There was, someone suggested, another reason for the large throng at the Caravan Club - a concert as rival curtain raiser Rob Snarksi winded down.
So the bridal party headed indoors for the big boomerang.
WILLIE COMES TO RESCUE OF MERLE AND THE KINKSTER
The Kinkster opened proceedings with his traditional cigar, guitar, cough and Mexican mouthwash and fresh cast of song dedications.
Korean veteran Clive and Dawe were worthy recipients as The Kinkster revamped We Reserve The Right To Refuse Service To You, Get Your Biscuits In The Oven & Yours Buns In The Bed and Nashville Casualty & Life .
There were well-travelled Shotgun Willie Nelson gags - one extremely handy when the artist could not recall his intro to former Californian convict Merle Haggard's famed hit Mother's Hungry Eyes.
After four false starts The Kinkster regaled his audience with Willie's animal husbandry yarn.
"Willie says if you are going to have sex with an animal always make it a horse. That way if things don't work out you've always got a ride home."
There were tales - with stings in the tail - about Bob Dylan's 1976 Rolling Thunder Tour that boasted Kinky and Tom Pacheco as guests and visits to Willie's ranch golf course and movie town Luck.
"The only three things of interest to Willie are his music, golf and drugs," The Kinkster reminded his audience.
"He got busted on his bus coming across the Mexican border. I saw him right after the bust. He looked terrible - he looked like he just lost 6 ounces. Later that day was a rare spectacle of Willie in handcuffs signing autographs for law enforcement officers. Willie's the hillbilly Dali Lama. The only other area of interest for Willie is the sport of golf. I myself don't play golf - the only two good balls I ever hit was when I stepped on a garden rake. Willie has this golf course outside of Austin. A woman came in and was complaining she had been stung by a bee. The golf pro said 'where did it sting you?' She said 'between the first and second holes.' The golf pro said 'well, I can tell you right now, your stance is too wide.'"
The Kinkster also recalled a night at famed Troubadour in LA when he spent two hours drinking with a man in a Riverboat straw cowboy hat with red facial and pubic hair whom he could not recognise.
"It could have been Ray Wylie Hubbard, the late Rusty Wier or Steve Fromholz but, even after visiting the little politicians' room and snorting a long line of Peruvian marching powder with him I still could not remember his name," Kinky admitted.
"I knew it wasn't Jerry Jeff Walker because he's the second biggest arsehole in Texas. I'm the biggest.
"I finally asked him - it was Eric Clapton. I should have picked Eric's accent but a weeks later he was playing slide dobro on my very first record. Here it is - a song I wrote when I was just 11 year old."
And so began a singalong of Old Ben Lucas .
The Kinkster also revealed anecdotes of a recent European tour.
"We did 34 shows in 36 days," he recalled.
"It was a Lee Harvey Oswald party of one in Sweden and Norway. I was like Johnny Appleseed. Johnny Appleseed, Hank Williams and Woody Guthrie all travelled light.
"I did one show in Germany. As you know the Germans are my second favourite people - my favourite people are everyone else. It's not true the Germans have no sense of humour. Woody Allen - Woody Guthrie's young brother - explained the Germans had a great sense of humour but they killed all their comedians."
After repeated laughter The Kinkster was on a roll.
"I had this young German tour manager," Kinky explained.
"I asked him how far it was from Hamburg to Paris. He said 'it's probably about a five day march.'"
He added his tour ended in Austria like the Von Trapp Family singers.
"It looks like the Sound Of Music but it's the birthplace of Mozart, Hitler and Arnold Schwarzenegger - the evolution of man."
The Kinkster introduced patriotic Pete LaFarge song Ira Hayes by noting fellow artists who covered it - the late Townes Van Zandt, Johnny Cash and Patrick Sky.
Kinky then honoured his late father - DFC winning World War 11 airman Tom Friedman and creator of the Echo Hill ranch - by reading The Navigator chapter from his book Heroes Of A Texas Childhood.
He explained that when American airmen returned from successful German bombing missions they would paint a
Swastika on their planes.
"On one occasion when they killed an English land maintenance crew by mistake they painted a tea cup," he recalled.
The Kinkster dedicated They Ain't Making Jews Like Jesus Anymore to this reviewer with the caveat - ' Jesus Loves You' can be very comforting words - unless you hear them in a Mexican prison cell."
After the final curtain call the bridal party adjourned to manager Foley's office where doors were closed, windows opened and celebratory cigars and cigarettes lit.
It was soon down to business before the late Sabbath flight to Hawaii.
Were the bridal party ready for their invasion of Crown Casino where the pokies had an unenviable ring of their own, even without James Packer and pugilist pal and Nine Network CEO David Gyngell?
The Kinkster revealed he had an insatiable urge to extend his winning streak but first needed to deposit his trusty guitar at Foley's nearby digs.
He had only attended Crown once before.
That was his 2014 tour - and his dining partner on that occasion was this reviewer.
And, like my Caravan Club lamb dinner, I no longer gamboled.
Could the Kinkster entice Dawe or this reviewer to join him on the tables or pokies with the money changers at the Yarra bank Crown temple?
Dawe, replete with autographed Kinkster novel and three new CDS, declined politely as he dreamed of returning to his island retreat sharing the name of the soon to be announced Australia Day knight - Prince Phillip.
It was a long journey and Dawe was still awaiting the financial pleasure of returning to ABC-TV with co-host John Clarke.
What about me?
Well, I had no desire to be washed in the blood - this Sabbath was my day of rest and I needed it.
Sadly I have no score card or balance of payments after the Crown invasion for this journey in time.
But a Good Samaritan named Andrew - perhaps the Playboy prince on the road to Damascus - found photographer Kip Karpik's wallet, credit cards and $200 cash virgo intacta inside his wife's handbag and returned them to the hapless camera man on the Jewish Sabbath morning.
Review by David Dawson with photos by John "Kip" Karpik