KINKY FRIEDMAN - CARAVAN MUSIC CLUB - 28 NOVEMBER 2013
KINKY FRIEDMAN
CARAVAN CLUB, OAKLEIGH
MARCHING TO A DIFFERENT DRUM IN AN RSL CLUB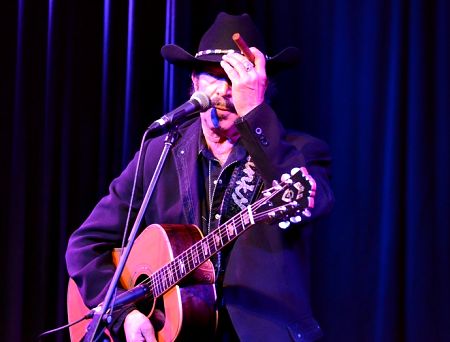 Kinky Friedman live at Caravan Music Club - photos by John Karpik
The call came near pumpkin time on a Wednesday night in late November in the year of 2013.

I was in the land of nod when the phone was passed to me by my nocturnal nurse.

"Dr Dawson, it's Doctor Friedman here, are you still with me?" the caller queried in a voice that sounded all too familiar.

It seemed a little late for house calls as I had already been laid to rest by my GP, Dr Bernard Freedman, who had long practiced in premiership suburb Hawthorn.

It may have been a good year for the noses but not so prosperous that the learned locum followed up arthritis diagnoses with a telephonic encore.

Orpheus permeated the spring air but it was not that medic - but famed singing Texan crime novelist Kinky Friedman on the blower from afar.

"I've just finished a gig at The Toff In Town and noticed your absence," the voice on the phone revealed.

"It's curtains at Curtin House and I'm offering a free check-up from the neck-up."

I pushed the night light and tried not to cradle the phone.

"Are you sure you're not calling from The Top Of The Town?" I muttered about the bordello that shared a street with the Medina digs where The Kinkster and touring partner Van Dyke Parks laid their weary heads on their 2011 sojourn.

"No, it's Oaks On Collins, just ask for room 1814," Kinky confided.

A mutual midnight choir seized the moment for a flash back of sorts.

"In 1814 we took a little trip
Along with Colonel Jackson down the mighty Mississip.
We took a little bacon and we took a little beans
And we caught the bloody British in the town of New Orleans."

If ASIO was recording this call the estate of Jimmy Driftwood might have a nice little learner from the Johnny Horton hit of our collective childhoods.

I explained to my caller that my arthritic illness - that precluded me from writing reviews and stories and lifting a spirits glass - had kept me away from The Toff In Town.

"I have the perfect rehab locale - a suburban caravan," The Kinkster advised, "why don't you meet me at the Caravan Club in Oakleigh tomorrow night? There will be a lot of old soldiers there."

Well, at only a mile as the crow flies from my eastern suburbs sick bed, it was an offer too good to refuse.
VAN WALKERS AND VAN DIEMENS
I propelled my 21 year old Hirohito coupe south along Warrigal Road to the Oakleigh Chargers home ground and found the well-lit Caravan Club and denizens nearby in Drummond St.

Fittingly the support act was another Van - Van Diemen's Land refugee Van Walker - who also provided transportation for the Kinkster (not to the island penal colony but the Caravan Club.)

Mine host Pete Foley rolled out a nice burgundy carpet on my arrival and I found a stage-side nook from where I could hear and see the artists.

As luck had it, the artist spotted his patient-patient en route and after a quick pulse test, ascended to the stage and surveyed the capacity crowd - many in chairs at tables - and some sporting chapeaus that by-passed the ban on wearing hats indoors at RSL Clubs.
The Kinkster opened this leg of his Bi-Polar tour with some old favourites - having told the audience he hadn't written a new tune in more than 30 years.
Nashville Casualty And Life - a poignant parable about Music City citizens living on the edge - produced a serious note before Homo Erectus enabled the singer to resurrect a little humour.

There were tales - with stings in the tail - about Bob Dylan's 1976 Rolling Thunder Tour that boasted Kinky and Tom Pacheco as guests and visits to Shotgun Willie Nelson's ranch golf course and movie town Luck.

"The only three things of interest to Willie are his music, golf and drugs," The Kinkster reminded his audience.

"He got busted on his bus coming across the Mexican border. I saw him right after the bust. He looked terrible - he looked like he just lost 6 ounces. Later that day was a rare spectacle of Willie Nelson in handcuffs signing autographs for law enforcement officers. Willie's the hillbilly Dali Lama. The only other area of interest for Willie is the sport of golf. I myself don't play golf - the only two good balls I ever hit was when I stepped on a garden rake. Willie has this golf course outside of Austin. A woman came in and was complaining she had been stung by a bee. The golf pro said 'where did it sting you?' She said 'between the first and second holes.' The golf pro said 'well, I can tell you right now, your stance is too wide."
The Kinkster also name checked fellow Texan icons Ray Wylie Hubbard, the late Rusty Wier and Butch Hancock before re-visiting Men's Room LA.

He explained it was inspired by a visit to the men's room at the famed Troubadour night club in LA where among his fellow chatting urinators was Eric Clapton whom he did not recognize.

"I should have picked Eric's accent," Kinky joked, "but he still played dobro on the record."

The Kinkster then performed childhood anthem Old Ben Lucas before praising Dwight Yoakam for covering the "only pro-choice country song Rapid City South Dakota."

Kinky dedicated Western Union Wire to this reviewer before regaling his audience with a flashback to a historical performance of Get Your Biscuits In The Oven And Your Buns In The Bed with his band The Texas Jewboys in 1973 in Buffalo, New York.

"These cranked up lesbians attacked the Jewboys on stage and I was awarded male chauvinist of the year," he recalled in his dedication to former Nu Country treasurer and music photographer to the stars - Kip Karpik.
BI-POLAR TOUR OF EUROPE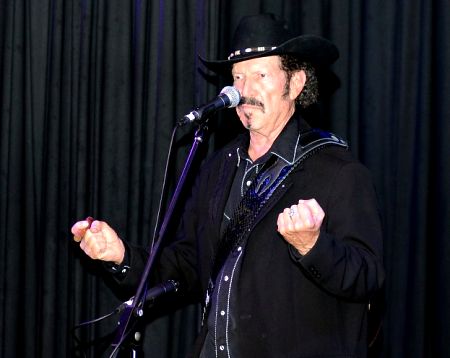 The Kinkster then revealed some anecdotes of his recent European tour.

"We did 34 shows in 36 days," he recalled.

"It was a Lee Harvey Oswald party of one in Sweden and Norway. I was like Johnny Appleseed. Johnny Appleseed, Hank Williams and Woody Guthrie all travelled light.

"I did one show in Germany. As you know the Germans are my second favourite people - my favourite people are everyone else. It's not true the Germans have no sense of humour.

Woody Allen explained the Germans had a great sense of humour but they killed all their comedians."

After repeated peals of laughter The Kinkster was on a roll with his humble explanation the audience had never seen him before.

"I had this young German tour manager," Kinky explained.

"I asked him how far it was from Hamburg to Paris. He said 'it's probably about a five day march.'"

He added that his tour ended in Austria like the Von Trapp Family singers.

"It looks like the Sound Of Music but it's the birthplace of Mozart, Hitler and Arnold Schwarzenegger - the evolution of man."

The Kinkster introduced patriotic Pete LaFarge song Ira Hayes by noting some of his fellow artists who covered it - the late Townes Van Zandt, Johnny Cash and Patrick Sky.

He also proffered a rhetorical question to this reviewer - "what does Thanksgiving mean? - thanks for nothing."

Kinky then honoured his late father - DFC winning World War 11 airman Tom Friedman and creator of the Echo Hill ranch - by reading The Navigator chapter from his book Heroes Of A Texas Childhood.

He explained that when American airmen returned from successful German bombing missions they would paint a Swastika on their planes.

"On one occasion when they killed an English land maintenance crew by mistake they painted a tea cup," he recalled.

He introduced Sold American with a dedication to a Brian.

"Brian is a most popular Irish name," he explained, "the Irish and Jewish don't share culture - they share a psychosis."

In another introduction to They Ain't Making Jews Like Jesus Anymore he parodied political correctness and added 'Jesus Loves You can be very comforting words - unless you hear them in a Mexican prison cell."

The Kinkster chose Pretty Boy Floyd as his encore.

"There have been some famous outlaw songs over the years," Kinky noted, Jesse James, Robin Hood and Ned Kelly but Woody Allen's older brother Woody Guthrie wrote this one - Pretty Boy Floyd."

It was a fitting finale as the singer has sold out of merchandise the previous night in Adelaide.

But, with a lengthy queue of fans clutching previously purchased books, CDS, vinyl, posters and the Billy Bob Tapes - the Kinkster penned autobiography of Billy Bob Thornton - the artist did not disappoint.

For an hour, using the reviewer's chest as a trestle table, the Kinkster sated every fan's desire.

It was, of course, a financial pleasure.
Review by David Dawson with photos by John "Kip" Karpik