Kieran Kane and Kevin Welch with Fats Kaplin
Northcote Social Club - 16th March 2005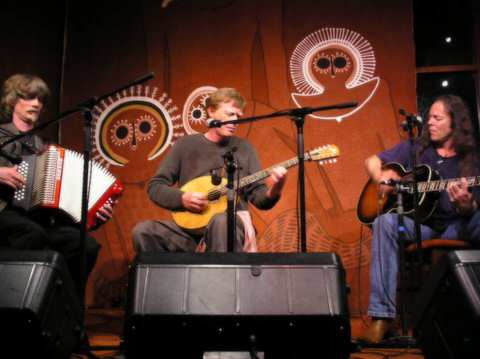 Fats Kaplin, Kieran Kane & Kevin Welch - live at Northcote Social Club
Photo by Linda Di Nola
Although they are frequent callers to these shores the duo of Kieran Kane and Kevin Welch has managed to vary the performance experience for ardent fans and so remain vital and fresh in the face of familiarity.
Welch has toured solo and hooked up with local rockers The Flood on previous tours. This tour, including performances at hardline folk festival Port Fairy, saw the addition of multi instrumentalist Fats Kaplin, meaning the act was now a trio.
As usual the music consisted of the two songwriters trading songs in turn with a solo cameo performance by Kaplin of Wolves are Howling, but it was for his musicality that he was on the tour and he delivered in spades.
Playing a variety of instruments including mandolin, fiddle and accordion Kaplin was able to bring a sensitivity to songs such as Hillbilly Blue, Downtown Train and the Dead Reckoners Tired of Runnin'. His playing provided another dimension to the songs that we have become familiar with.

Due to Kaplin's presence the trio were able to replicate the studio sound of the last studio recording You Can't Save Everybody. As happen chanced the night was recorded for posterity. Perhaps this might be a bookend to the Live at the Continental album that has been released by Shock records to coincide with the tour.

< Fats Kaplin
Photo by Linda Di Nola
While Kieran and Kevin played songs that we had heard on previous tours such as Downtown Train, In a Town this Size and Kicking Back in Amsterdam the instrumentation by Kaplin showed them in a new light. The backdrop of fiddle or accordion added depth, smoothed out the delivery and pushed the guitars of the accompanying player to greater heights. This was most notable on the rocker Jersey Devil and Kane's Eight More Miles.
Kieran Kane
Photo by Linda Di Nola

Kevin Welch
Photo by Linda Di Nola
This suggests that the venue got a crowd, something which is a credit given the recidivist nature of the act. Judging by the audience reaction they haven't worn out their welcome just yet and we look forward to seeing what is served up when they next return.
Review by Peter O'Keefe