KEITH URBAN/ LADY ANTEBELLUM - ROD LAVER ARENA
KEITH URBAN-LADY ANTEBELLUM
ROD LAVER ARENA - 9 APRIL 2011
LADY ANTEBELLUM STORM MOAT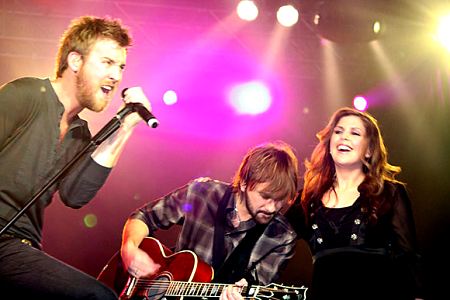 It shouldn't have been a shock when expat Australasian superstar Keith Urban resurrected Cold Chisel hits in this sold out concert.

The hotshot guitarist has belatedly become a staple on the local hits and memories radio stations that once treated country music as kryptonite.

Urban and quintuple Grammy winning artists Lady Antebellum have both truly stormed the moat of the mainstream corporate chains.

Their crossover appeal also prompted a rare Nine Network Today show concert with lavish advance promotion.

Platoons of buses ferried fans from regional and bush areas but urban dwellers dominated at the tennis HQ.

With rain closing car MCG parks for a high profile AFL game across the railroad tracks the Laver parking filled early, delaying concert arrival of many fans.

None of this fazed Lady Antebellum - the trio swelled to an octet for the mixed doubles on centre court.

It was the same stage that singer Hilary Scott's Grammy winning mother Linda Davis graced as duet partner for Oklahoma star Reba McEntire on her two Australian tours.

Scott, 25, also daughter of Nashville producer Lang Scott, and Charles Kelley, 29, shared most lead vocals as pianist-guitarist Dave Haywood, 28, settled for harmonies and mandolin cameos.

The pairing of the Tennessee singer and her Georgian band mates was a match made in crossover heaven.

Their entrée Lookin' For A Good Time was a salient signpost to their ear candy for the ever growing young country market.

It's a lucrative genre for the trio who wrote all their own material with a little help from peers.

Debut hit I Run To You and Love Don't Live Here were reprised from their self-titled debut disc.

With an energised backing band driving the train their covers American Honey and the ballad Hello World segued into hedonistic Perfect Day - a tune they wrote with a man in the wings - Urban's long time bassist Jerry Flowers.

There was nothing to frighten the horses - certainly not their memorable finale - embryonic career song and second album title track.

The impact of radio was indeed astonishing as the audience sang along.

"It's a quarter after one, I'm all alone and I need you now/ said I wouldn't call but I lost all control and I need you now/ and I don't know how I can do without, I just need you now."
Not even the stingiest scrooge could deny them credit for a song destined to stand the test of time in crossover country.
URBAN RETURNS WITH A CHISEL
Urban fronted a smaller band than his opening act but had the extended mosh pit platoon on its feet from the opening riff of recent hit Put You In A Song - penned with fellow expat Jedd Hughes and Sarah Buxton.

It was a smooth transition into marital bliss of You Are My Better Half to Buxton penned Stupid Boy - accompanied by videos on the big screen - and Long Hot Summer.

The artist firmed up local content and weather metaphors, seguing from Raining On Sunday to an inspired revamp of Cold Chisel hit Rising Sun.

But there was no danger of the singer's girl being stolen as he followed You Gonna Fly off eighth album Get Closer with Shotgun Willie Nelson classic You Were Always On My Mind and Rodney Crowell's Making Memories Of Us.
Urban pumped the concert up a notch by choosing a different stage - above the sound desk beneath the rear bleachers - for a quartet of tunes.

"Who's got the best seats now," he joked as he changed the tempo for I'm In, Once In A Life Time, replete with chicken picking guitar, You'll Think Of Me and Days Gone By.

It was a tried and true trick to ensure audience interaction was maximised before returning to his band-mates for Til Summer Comes Around.

That band interaction peaked with a capella cameos by a trio - including new banjo player Danny Rader on Smokey Robinson hit My Girl and bassist Flowers on Bill Withers' 1971 tune Ain't No Sunshine.

Urban may have perfected pacing but also ensures his concerts become marathons comparable with the longest sets with vastly different string instruments on this centre court.

He blended Get Closer favourites Georgia Woods, written on the late Waylon Jennings' guitar, and Without You with Somebody Like You and other hits Sweet Thing and Kiss A Girl.

But unlike recent Georgian superstar tourist Alan Jackson he had just one stage invader who took Kiss A Girl as her cue to give the stage security a brief workout.

They had more protection duties as they followed Urban into the northern bleachers for You Look Good In My Shirt aka You Look Good With My Guitar as he autographed and gave his instrument of choice to a shocked but appreciative young fan.

It was a fitting entrée to the plectrum and drumstick showers after Who Wouldn't Wanna Be Me and the other Chisel tribute Flame Trees.

Urban, drenched in perspiration, maximised his encore with power ballad Tonight I Wanna Cry and the resounding Better Life.

Urban surfed the mainstream for almost a decade overseas after a lengthy stint on the mean streets of Guitar Town.
Now he's belatedly receiving well-deserved success his country and pop peers would kill for in a nation he had to flee to fully exploit his talent.

Urban may be a tall poppy to those of a green persuasion but also proof that hitting health hurdles midstream can sometimes be an invaluable tool in character building.

Humility has long been his strong suit.

And, of course, true talent.