JUSTIN TOWNES EARLE - TOFF IN TOWN - 30 NOVEMBER 2008
Long Tall Tennessean Wows The Toff of Melbourne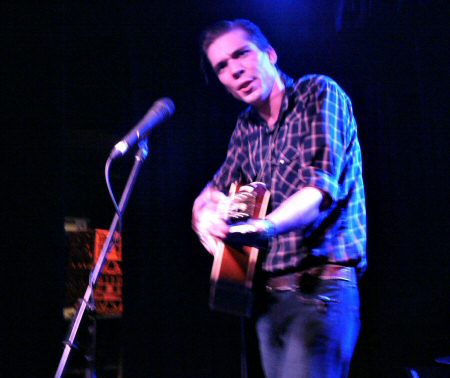 Justin Townes Earle - live at Toff in Town - 30/11/08
"I have a feeling that in a few years we'll need backstage passes at the Ryman auditorium to get anywhere near him. He's just THAT good." Chattanooga Free Press
Such was the response to a performance of Justin Townes Earle in the USA recently, and I'm sure, after his first tour of Australia, many people who attended his shows here, would concur.
Justin Townes Earle, as has been remarked many times, bears the names of two iconic singer songwriters, but his performance is highly individual and absolutely riveting to watch. In fact I think I enjoyed his concert more than I enjoyed his father's only a few weeks ago. It was certainly livelier and very engaging.
As a performer Justin Townes Earle has an extraordinary stage presence, a kind of natural born charming insouciance that expresses itself with airy self confidence. He's a bean pole of a guy, surely six and half feet tall at least, very photogenic with classic good looks.
An energetic performer he roams all over the stage and looms over the mike, wildly strumming his guitar. And it must be remarked, that his consummate skill with the guitar is unbelievable to witness. You could swear that he had a special effects pedal or something making the complex music issuing from his guitar, but he claims it's all in his playing and challenged anyone to come on stage and check.
Justin is no slouch as a singer and song writer either. His songs have a classic feel, heavily influenced by old time country and country blues. There's also a hint of Steve Earle every so often, where his voice echoes that of his father in his younger days.
The show at the Toff in Town was late starting with Emily Ulman opening the show. She remarked at the time that Justin had advised her start later when more people were present. She performed a short and sweet set, singing her gentle melancholy songs to the gathering crowd.
By the time Justin finally made it to the stage, it was shortly after ten o'clock. After introducing himself with a startlingly fast patter as "Justin Townes Earle from Nashville Tennessee", he immediately thereafter launched into the first of many songs. I didn't get the name of the song, but it was followed with Lone Pine Hill, a song from his The Good Life album.
I gave up taking notes after about twenty six songs, but in all he must have covered at least forty.
He has a new CD scheduled for release in March next year called Midnight At The Movies and he covered several songs from it, most notably a very fine song possibly called My Father's Son, written about his parents. Also he played a brand new song, heard by the this reviewer at his In Store performance at Basement Discs on Thursday, which Justin claims to have just finished that morning at Melbourne airport. It elicited a rousing response from the audience, so I don't think he has to worry about including it in a future album.
Many legs may have been feeling tired, and feet aching by the end of Justin's extremely long set - two and a half hours at least, but he came back for an encore and rattled off about five more before calling it a night.

As well as playing many of his own compositions, he also did some fine covers. He sang a great version of his namesake's Mr Mudd & Mr Gold claiming Townes Van Zandt was the greatest songwriter ever. Who are we to disagree? He also covered the old Buck Owens song Close Up the Honkytonks and several wonderful country blues tunes. Other highlights were South Texas Sugar Babe, the Steve Earle influenced Turn Out My Lights, The Ghost of Virginia and Hard Living.

As a songwriter he seems to have the prolificacy of a Ryan Adams and they're all terrifically good songs. And I also must add that he's funny too with many humorous anecdotes to relate.
By the end of the night I was utterly convinced that I had witnessed something extremely unusual - a future super star at the start of his career. I felt privileged to be present at the moment and time.
Justin Townes Earle may have misspent his early youth - like father like son - but he has so much going for him now in his mid twenties, I think he'll go very far indeed.
Review and photos by Anne Sydenham