John Mellencamp, Sheryl Crow, Shane Nicholson
Rod Laver Arena - 21 November 2008
Though the rain was pouring down as I wended my way to the Arena from Jolimont station, upon reaching the venue it certainly warmed into what became one of the best shows I have had the good fortune to witness.
SHANE NICHOLSON
Shane Nicholson, thrilled to be opening for two of his favourite artists, was promptly on stage at 7.30 and entertained the early arrivals with songs from recently released self produced CD Familiar Ghosts, a wonderful collection of acoustic gems. Bill Chambers joined him to add more background accompaniment for Monkey On A Wire and stayed for the rest of his half hour set.
As I gingerly made my way, in the half light, down the stairs, to my seat on the floor, I thought it was ironic that Shane was at the time singing Long Time Coming, where the chorus contains the words, "feet don't fail me now". Luckily my feet didn't fail me and I reached my excellent seat safely.
It was great seeing Shane perform solo and he was by no means overshadowed by the acts that followed him. A simple, uncomplicated performance that had great charm, he managed to get through six songs in all. He remarked that he was enjoying his solo stint, adding that it was like being let out of the institution on a day release. He has of course been touring extensively with wife Kasey Chambers promoting their joint CD Rattlin' Bones.
SHERYL CROW
After Shane finished his set, there was a flurry of activity setting up Sheryl Crow's part of the show. Her fan club was rehearsing in the aisles, all a-sparkle in white glittering cowboy hats and waving "We love you Sheryl" placards.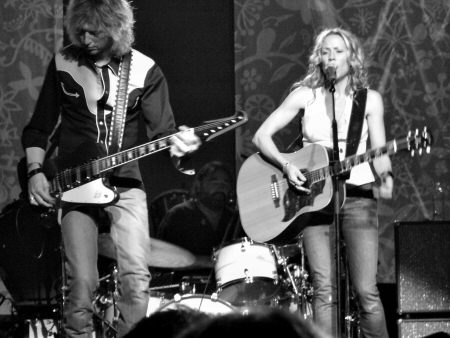 Sheryl Crow & Todd Walker
Sheryl bounced on stage launching straight into A Change Would Do You Good and I knew instantly this was going to be a fantastic set. I was not proved wrong as Sheryl, strutted her stuff on stage putting on a gutsy rock 'n roll circus with a large band. There were two percussionists, two guitarists, a keyboard, an electric bass and two backup singers. Long time Crow collaborator Todd Walker provided sensational guitar riffs and of course Sheryl herself is no mean guitarist herself.
The sound, understandably was BIG and loud, though quite bearable all the same.
Sheryl performed many of her famous songs including All I Wanna Do, Strong Enough, My Favorite Mistake and even her cover of the Cat Stevens hit First Cut Is The Deepest.
It was my first time seeing Sheryl Crow live in concert and hopefully it will not be my last. She was spectacularly good!
Her act lasted approximately an hour during which time she performed twelve great songs with enormous verve and energy that wowed the large crowd at the Arena.
JOHN MELLENCAMP
By the time John Mellencamp made it to the stage after a half hour break, the crowd was getting restless and keen. Mexican waves rippled around the arena, and the foot stomping had just started when the star act pranced on stage with his band, Elvis style bouffant hairdo and all. It was worth waiting for, the icing on the cake of a superb night's entertainment.
He opened with one of his top selling hits, Pink Houses and the audience of course, die hard Mellencamp fans, all sang along. This sing-along lasted the whole night as Mellencamp performed many well loved songs from his twenty or so disc back catalogue. Paper & Fire followed the opening number, He then he sang My Sweet Love from his latest CD Life, Death, Love and Freedom. The song selection was predetermined, Mellencamp telling the audience at one stage that he was not going to do requests. Despite this stricture, he engaged fully with the audience and came across as warm and humorous. For the greater part of his set his excellent band provided hard rocking tight accompaniment. They were Mike Wancic on guitar, Troy Kinnett on keyboard, Miriam Sturm, violin, Dane Clark on drums, Andy York on guitar and John Gunnell on bass. However, Mellencamp stepped out for a solo performance half way through his set, performing several songs, including Small Town, Longest Days and Big Daddy. He was very chatty throughout the show and told several anecdotes. He dedicated Love and Happiness to the defeat of George Bush in the recent American elections.
When performing his classic song Jack and Diane, he asked the audience to all turn on their mobile phones and dial a friend. He grabbed a mobile from someone at the front and spoke to the person at the other end, much to the amusement of the crowd. All with mobile phones were then asked to hold them up, as we all sang along to the chorus "Oh yeah life goes on/Long after the thrill of livin' is gone"
The Age review of this concert implied that the audience was all of baby boomer vintage. This was an inaccurate perception on the critic's part as I saw as many young people as oldies. The Age critic also neglected to mention Shane Nicholson - perhaps he missed that part of the show, but it is a pity all the same as Shane deserves some recognition for his undoubted talents and as a live performer has as much charisma as the two other artists.
After performing a total of sixteen songs, Mellencamp, bouffant dishevelled by the hard rocking, called it a night, but was drawn back for an encore. Remarking that we'd all probably sung along to it on the radio, John Mellencamp launched into the defiant Authority Song with the rousing chorus "I fight authority, authority always wins /I fight authority, authority always wins/I been doing it, since I was a young kid/I've come out grinnin'/I fight authority, authority always wins"
During the encore he called on a prospective member of the band, his son Speck Mellencamp to come onstage whereupon he gave a creditable imitation of a rock guitarist. The band all gathered around the microphone at the end for the finale.
And so ended a wonderful evening of rock and roll where I felt thoroughly spoilt having just witnessed three superb acts. l departed the arena in a happy daze, as did most of the audience I suspect, and even a wait for a taxi in the cold wind couldn't obliterate the warm and fuzzy impressions of an excellent evening's entertainment.
SET LISTS

SHANE NICHOLSON
1. Long Time Coming
2. Easy Now
3. Monkey On A Wire
4. Short Fuse Part 4
5. Where The Water Goes
6. Dressed In White (Malcolm Holcombe Cover)
SHERYL CROW
1. A Change Would Do You Good
2. Can't Cry No More
3. Love Is Free
4. All I Wanna Do
5. Strong Enough
6. First Cut Is The Deepest (Cat Stevens Cover)
7. My Favourite Mistake
8. If It Makes You Happy
9. Out of Our Heads
10. Mean to Me (Crowded House Cover)
11. Soak Up The Sun
12. Every Day Is A Winding Road
JOHN MELLENCAMP
1. Pink Houses
2. Paper & Fire
3. My Sweet Love
4. Check It Out
5. Minutes To Memories
6. I Need A Lover
7. Longest Days
8. Big Daddy Of Them All
9. Small Town
10. Rain On The Scarecrow
11. Troubled Land
12. If I Should Die Sudden
13. Love & Happiness
14. Crumblin' Down
15. R.O.C.K USA
16. Jack & Diane
Encore
Authority Song
Review and photos by Anne Sydenham