JOHN PRINE & TYLER CHILDERS - PALAIS THEATRE - 7 MARCH 2019
MARCH 7, 2019
JOHN PRINE- TYLER CHILDERS
ST KILDA PALAIS
COALMINER'S SON TYLER CHILDERS DIGS ENTRÉE
"Now I ain't the sharpest chisel/ that your hands have ever held/ but darling I could love you well/ till the roll is called on high/ I've seen my share of trouble/ and I've held my weight in shame/ but I'm baptized in your name/ Lovely Lady May." - Lady May - Tyler Childers.
The last time I saw former Chicago postie John Prine was 25 years ago at a poignant picnic in the shadows of the scenic Hanging Rock race course.

I had no trouble finding parking as my navigator passenger - singer-songwriter-school teacher Steve Hoy - told me to turn right as we entered.

We didn't spy any trace of the missing school-girls but Hoy found unoccupied greenery at the end of the home straight.

It was a wise choice - no-one else dared park there in fear of a pre-concert stewards' inquiry.

This time I found Hoy and his singing spouse Helen in the Palais foyer as my photographer partner Carol, nursing a nasty knee injury, searched for parking within limping distance.

I had just met Dingoes guitarist Chris Stockley - innocent victim of a Brighton shooting in 1973 - and his spouse Jenny at the box office.
Mid-conversation my memory failed me on a recent interviewee who proudly told me that Chris taught him mandolin at a rodeo at Berrimah near Darwin.
Now, in the cool light of dawn I can reveal it was former stunt man-rodeo rider Brent Caulfield who records under the name of Colt Seavers.
That was then and now former 3HA Hamilton DJ Gerrard Schlaghecke - latter day Frontier Tours host - welcomed me with a hug.
It was fitting as Gerrard has a nephew named Hank - a prominent Warrnambool footballer and cricketer.
That's a rambling entrée to Kentucky Coal-miner's son Tyler Childers who was kicking the dew off the glass on this historic stage.
Tyler may have been solo on acoustic guitar but his repartee with Appalachian anecdotes was a crowd pleaser.
The audience, familiar with songs from his first two albums because of 3 PBS and 3RRR -FM and ABC radio airplay and Nu Country TV exposure, were all ears and eyes from his Bus Route entrée.
Childers, 27, regaled his audience with tales of his embryonic years as a Sears & Roebuck delivery driver while playing gigs for food stamps and tips.
That was after one semester at a Kentucky university that he described as a "100 % piss-poor effort."
WHITEHOUSE ROAD EXIT
"Get me drinking' that moonshine/ get me higher than the grocery bill/ take my troubles to the highwall/ throw them in the river and get your fill/ we been sniffing that cocaine/ ain't nothing better when the wind cuts cold/ Lord it's a mighty hard living/ but a damn good feeling to run these roads." - Whitehouse Road - Tyler Childers.
Childers didn't name-check fellow Kentucky coalminers sons and daughters Chris Stapleton, Loretta Lynn, Crystal Gayle, Patty Loveless and Pistol Annies singer Angaleena Presley, who ascended to international fame.
But his tales, delivered with droll humour, were satiric song accessories - even his movie research before the New Zealand leg of his tour.
"I didn't know what to pack so I watched all three episodes of Lord Of The Rings ," Childers revealed, "but I didn't tell them that until my last night there. I was leaving anyway - that joke went down better here in Australia ."
Tyler punctuated songs from his two albums Bibles & Bottles and Purgatory with new tunes in his sardonic set.
He performed Tattoos for his singer-songwriter spouse Senora May who also inspired new song Lady May.
"She flew home today," Childers told his audience after revealing that Senora, Prine and his singing spouse Fiona attended his concert the night before at the Spotted Mallard in Brunswick.
Tyler didn't tell any tales about spotted mallard but his humorous homily about culinary advice on eating snipe led into his Snipe Hunt.
It's not clear if this was featured in the late TV host Anthony Bourdain's Parts Unknown special in West Virginia that featured Tyler 's songs.
Childers expanded on the origins of other songs in his set including Matthew, Going Home and Honky Tonk Flame.
Tyler thanked his mentor John Prine taking him on U.S. and overseas tours - especially this Australasian debut journey.
Childers finished his inspirational 10 song set with Whitehouse Road - a personalised paean that traced his Appalachian roots and journeys on his lost highway.
It will hopefully bring his unique humour, music and wife Senora May back down here when his new album is released locally.
PRINE VIETNAM AND BEYOND
"Sam Stone came home, to the wife and family/ after serving in the conflict overseas/ and the time that he served, had shattered all his nerves/ and left a little shrapnel in his knees/ but the morphine eased the pain/ and the grass grew round his brain/ and gave him all the confidence he lacked/ with a purple heart and a monkey on his back/ there's a hole in daddy's arm where all the money goes/ Jesus Christ died for nothing I suppose." - Sam Stone - John Prine.
Legendary headliner John Prine didn't need to apologise to promoter Gerrard for his 25 years between his Australian tours - but he did anyway.
At 72 the singer-songwriter-humourist has endured two protracted battles with cancer in 1996 and 2013 that ravaged his neck, voice and lungs.
And, more recently, there was major knee surgery that caused cancellation and postponed of American tours.
So, when Prine and his seasoned quartet arrived on stage it was more like we were being treated to a Biblical reincarnation that is unlikely to be repeated on our distant shores.
Prine learned guitar at 14, delivered mail for five years and served in the Army during the Vietnam War in Germany.
He revealed it was during that battle he penned Sam Stone, Your Flag Decal Won't Get You Into Heaven and other embryonic songs.
But, as Prine recalled during this show, during a nocturnal break from his postie duties he was discovered at an open mike night at the 5th Peg club on Armitage Avenue in Chicago.
Prine joined Eric Andersen, Tom Pacheco, the late Phil Ochs and others trying to shake their "new Dylan" tags by developing their unique narrative songs.
Now, 25 albums down the pike, the singer had plenty of material to choose from in this 23-song marathon set.
The treble Grammy winning Nashville Songwriters Hall Of Famer didn't tell us about his four Americana awards dating back to 2003.
His unique story songs have long been his staple from concert entrée Picture Show and Six O'Clock News off his self-titled 1970 debut disc.
They segued into Knocking On Your Screen Door from his 25th album Tree of Forgiveness, Bruised Orange , (title track of his 1978 fifth album,) Spanish Pipe Dream and Caravan Of Fools.
PRINE INSPIRED NITTY GRITTY
"Grandpa was a carpenter, he built houses, stores and banks/ chain-smoked camel cigarettes, and hammered nails in planks/ he would level on the level, he shaved even every door/ and voted for Eisenhower because Lincoln won the war." - Grandpa Was A Carpenter - John Prine.
But it wasn't just the strength of the songs that have stood the test of time.
It was the delivery by guitarist Jason Wilber and bassist Dave Jacques who have been with his band for up to 26 years.
There was also multi-instrumentalist Fats Kaplin - recent tourist here with Kevin Welch and Kieran Kane - and drummer Bryan Owings on loan from Emmylou Harris's band.
Fats ignited pedal steel, fiddle, violin, guitar and kazoo that may not have been heard on major local stages since singing Texan crime novelist Kinky Friedman unleashed his sidekick Little Jewford.
Prine introduced Egg and Daughter Nite, Lincoln Nebraska 1967 (Crazy Bone) with an amusing tale about one of his companions on a fishing trip.
"He said it was somewhere else in Nebraska but I told him it didn't rhyme with Lincoln ," Prine joked, "so we stuck with Lincoln ."
The singer followed with is 1971 classic Hello In There also covered by former convict David Allan Coe as his 1983 album title track.
Another example of how Prine primed his publishing royalties pump during his health crises was his next classic - Grandpa Was A Carpenter from his Sweet Revenge album .
Prine sang it on the Grammy winning Nitty Gritty Dirt Band's 1989 compilation Will The Circle Be Unbroken Volume 2.
The singer followed with 1971 song Far From Me and pathos primed Summer's End, released with accompanying video, and I Have Met My Love Today from The Tree Of Forgiveness.
He then reached way back for crowd favourites Storm Windows - title track of his 1980 album - and Angel From Montgomery , sibling song of Hello In There .
There was a hush in the room when the band exited to enable their leader to indulge in four play - four solo acoustic songs.
He began with hilarious agony column classic Dear Abby , oft covered Speed of the Sound of Loneliness , beloved vintage tune Donald and Lydia and Everything Is Cool from his 1991 album The Missing Years .
Next it was time for mentoring as he brought back Childers for another classic Please Don't Bury Me from his 1973 album Sweet Revenge .
This was a salient signpost to Prine ensuring that his legacy will continue in the hands and songs of younger protégés.
The band returned for inspired hard riding Saddle In The Rain from 1975 album Common Sense.
FULL CAST JOIN PRINE IN PARADISE
"And daddy won't you take me back to Muhlenberg County/ down by the green river where paradise lay" "well, I'm sorry my son, but you're too late in asking/ Mister Peabody's coal train has hauled it away." - Paradise - John Prine.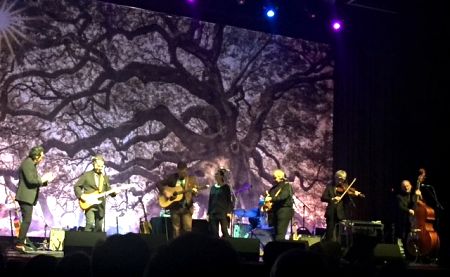 Photo by Carol Taylor
Prine added historical intrigue to Lake Marie from 1995 album Lost Dogs + Mixed Blessings.
In this eight-minute live version Prine recreated the legend of how the Twin Lakes on the Illinois-Wisconsin border - Lake Elizabeth and Lake Marie - got their names.
The second verse details the narrator meeting his wife who stands with her back turned to Lake Marie , grilling Italian sausages, wind blowing in her hair.
"Many years later we found ourselves in Canada trying to save our marriage/ and perhaps catch a few fish/ whatever seemed easier," Prine sang.
But in the third verse a tribe of native Americans and police find two naked babies' bodies with faces horribly disfigured.
The song narrator watches it on the news from Canada and the blood looks like shadows - a veiled reference to the John Wayne Gacy murders.
But Prine visited the lakes on a Wisconsin tour after hearing the story behind the saga.
Next the self-deprecating star lightened the mood as he left stage with a jolly jig that didn't need Weir jiggers.
It was akin to a frog break dancing and proof he was much healthier than feared.
And, of course, a short hiatus before the encore where his band returned with inspirational song When I Get To Heaven that Prine introduced with historical advice from his late father.
"Son, when you're dead, you're a dead pecker-head," was how Prine quoted his dad's paternal advice.
But there was more.
"We have a special guest tonight from Austin , Texas ," Prine revealed as suave singer-songwriter Alejandro Escovedo entered from stage left.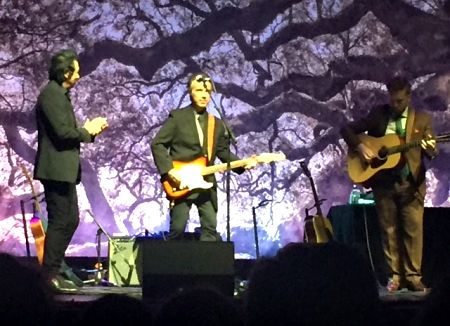 Photo by /Carol Taylor
Childers also returned for all the all-star finale with Prine's third wife Fiona in full voice on the artist's mike as they performed Paradise - his mining anthem that took on more significance with Childers playing a vital role.
It's only March but this was concert of the year for this fellow septuagenarian - and hopefully not an omen from the Ochs album Rehearsals For Retirement.
John Prine Set List
1 - Picture Show
2 - Six O'Clock News
3 - Knockin' on Your Screen Door
4 - Bruised Orange (Chain of Sorrow)
5 - Spanish Pipe Dream
6 - Caravan of Fools
7 - Egg & Daughter Nite, Lincoln Nebraska , 1967 (Crazy Bone)
8 - Grandpa Was a Carpenter
9 - Hello In There
10 - Far From Me
11- Summer's End
12 - I Have Met My Love Today
13 - Storm Windows
14 - Angel From Montgomery
15 - Dear Abby (solo)
16 - Speed of the Sound of Loneliness (solo)
17 - Donald and Lydia (solo)
18 - Everything Is Cool (solo)
19 - Please Don't Bury Me (with Tyler Childers)
20 - Sam Stone
21 - Saddle in the Rain
22 - Lake Marie
23 - Encore: When I Get to Heaven
24 - Paradise (with Alejandro Escovedo, Tyler Childers and Fiona Prine)
Review by David Dawson