Jeff Lang CD Launch - The Corner Hotel - 30 July 2004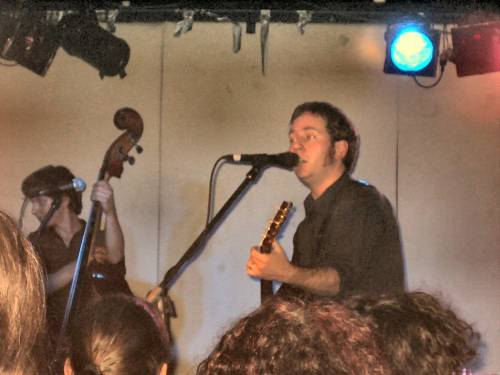 Jeff Lang - Live at the Corner 30 July 2004
Nu Country's web mistress and Tonkgirl ventured to the launch of Jeff Lang's new CD Whatever Makes You Happy at the Corner on Friday night.
We arrived at around 9.30 when the launch was in full swing. GIT were up on stage rocking out songs from their repertoire exhibiting their usual verve and sassiness along with their wonderful harmonies.
GIT live at the Corner 30 July 2004

Jeff Lang emerged to sing "Rain on Troy". Throughout the show he was supported by a band comprising several well-known artists such as Tim Hall (formerly of The Whitlams) and Matt Walker. Grant Comerford played superb string bass. Each guest artist was given the stage at regular intervals which added variety to the evening's entertainment.

Jeff handed over the stage to Tim Hall who performed two songs from his recent solo album No Dogs, No Disneyland.

GIT returned to the stage and performed two more songs, both from their album Flowers. Was it my imagination or were they sounding more rock 'n roll than usual.
Jeff Lang performed another song, the title of which escapes me, before introducing Matt Walker who gave a rendition of "You Put a Spell On Me". Jeff Lang played lap steel guitar, Tim Hall played harmonica and GIT provided backing vocals. This was followed by Jeff Lang singing "Everything is Still" and "The Road is Not Your Only Friend", both from his new album.
The stage was then abandoned while Jeff took a short break. Crowd attention shifted to the other stage where Headbelly Buzzard were providing the only "twang" of the night, playing lively country tunes like "Blackeyed Susie".
The other stage was reoccupied when Headbelly finished and Jeff returned to do an acoustic set, accompanying himself on lap steel and contriving to make a sitar like sound out of it. It was reminiscent of the style of Harry Manx.

He was soon joined by the rest of the band and continued on the lap steel, either singing his own songs or playing support for his friends.

< Headbelly Buzzard
A highlight was "By Face Not Name" where GIT provided backing vocals. On the CD Whatever Makes You Happy this song is performed as a duet with Susannah Espie.
Thus the evening continued, Jeff Lang singing most of the songs from Whatever Makes You Happy - "You Should Have Waited", "Switchblade", "I Still See You"," Rejected Novelist Fails Again", "Too Easy to Kill" (about America's obsession with guns) and ended the session with a Tom Waits song "Bringing the Band" with GIT.
Matt Walker

< Tim Hall
Enthusiastic applause drew him out for an encore of two songs, "Gina" and "Burn the Bridge" the last with just Jeff Lang and the string bass player Grant Comerford.
The show lasted for approximately 3 hours. The venue was packed with enthusiastic fans who were treated to an evening of great music, both blues and rock with a dash of twang from GIT and Headbelly Buzzard.
Being unfamiliar with Jeff Lang's work, I was pleasantly surprised and impressed by his performance and his skills on guitar. Thanks to a young man standing close by in the crowd I was able to find out the titles to most of the songs.
Review and photos by Anne Sydenham 2004

For more information on Jeff Lang visit his website: www.jefflang.com.au
Click here to read David Dawson's recent interview with Jeff Lang