SING THE DELTA - IRIS DEMENT AT THORNBURY THEATRE 5 DECEMBER 2013
The grandiose ballroom was packed to the chandeliers with the sell out crowd, but we all experienced the show as if we were sitting in Iris DeMent's living room. Such was the intimacy of a rare night in the company of a unique American singer songwriter.
Iris DeMent last toured Australia in April 1998, so it was a long wait, fifteen years in fact, before her Australian fans had their chance to see her again. According to Neil Wedd of Thornbury Theatre, quite a few people travelled from interstate to be present at what was a very special concert.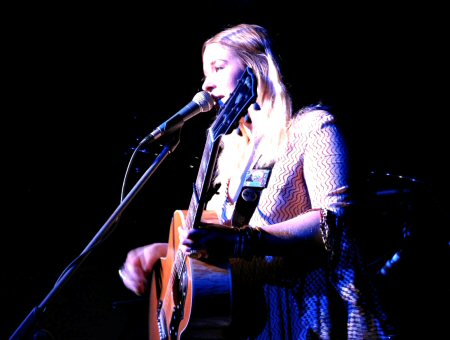 Catherine Britt live at Thornbury Theatre
The show opener was Australian Country artist Catherine Britt. I have not previously seen her perform, so was interested to see how she came across. She gave us a sweet set of seven of her own compositions, including Charlestown Road, A Good Few Years and standout Sweet Emmylou, Catherine's tribute to Emmylou Harris. Catherine has a rich pleasant voice and is quite a wordsmith, her songs being both melodically interesting and engaging.
Rapturous applause greeted Iris DeMent as she stepped onto stage, and sitting at the grand piano, she began with Makin' My Way Back Home, a song, from her latest album Sing The Delta, which is an exquisite collection of soulful songs inspired by the place where she grew up in the Arkansas Delta.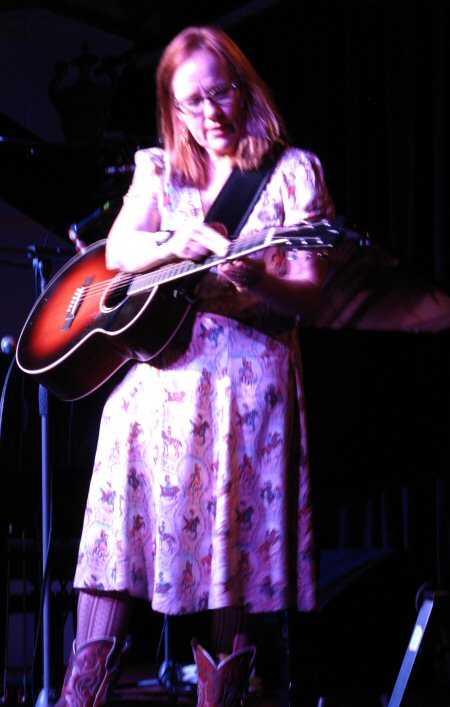 Iris DeMent live at Thornbury Theatre
She performed quite few songs from the new album, Mama Was Always Tellin' Her Truth, the title track, Livin' On The Inside and several others, but she covered songs from her four previous records as well, singing well loved tunes like Sweet Is The Melody, When My Morning Comes Around, Easy's Gettin' Harder Every Day and No Time To Cry.
For the most part Iris accompanied herself on the piano, which gave the concert a somewhat churchy tone -hallelujah - playing to a hushed and respectful audience. One of the highlights was her rendition of the song that is played during the credits of the Coen Brothers film True Grit. Iris recorded Leaning On The Everlasting Arms on her gospel album Lifeline, and informed us that when she received the request for permission to use the song, she had forgotten all about it.
Despite dropping her guitar when she picked it up, causing a gasp from the audience, Iris good humouredly described how once she fell over on stage and nobody noticed. The stage in question was crowded and she was somewhere at the back.
Another song, Like A White Stone, one I had not previously heard, was inspired by the works of Russian poet Anna Akhmatova, and the words of the song are rendered directly from Akhmatova's poem.
Iris DeMent gave generously of her time and performed nineteen songs in all including the encore where she sang three songs, two of them being her best known "hits" My Life and Our Town and a cover of the Merle Haggard hit Old Fashioned Love. Our Town was famously played in the closing moments of the last episode of the TV series Northern Exposure.
It was simply wonderful to see Iris DeMent live in concert again after a hiatus of fifteen years. Her music is good for your soul, sweet to the ears, and emotionally engaging. She is a treasure beyond compare.

Catherine Britt Set List

1. Sally Bones
2. I Want You Back
3. Charlestown Road
4. Hillbilly Pickin' Rambling Girl
5. A Good Few Years
6. There's Gotta Be More
7. Sweet Emmylou

Iris DeMent Set List

1. Makin' My Way Back Home
2. Sweet Is The Melody
3. No Time To Cry
4. Mama Was Always Tellin' Her Truth
5. Sing The Delta
6. When My Morning Comes Around
7. Livin' On The Inside
8. Mornin' Glory
9. Mama's Opry
10. Easy's Getting Harder Every Day
11. The Night I Learned How Not to Pray
12. Out Of The Fire
13. Go On Ahead And Go Home
14. Like A White Stone
15. Leaning On The Everlasting Arms
16. There's A Whole Lotta Heaven

Encore

1. Old Fashioned Love (cover of Merle Haggard song)
2. My Life
3. Our Town
Review and photos by Anne Sydenham