THE HANDSOME FAMILY - EAST BRUNSWICK CLUB - 22 FEBRUARY 2007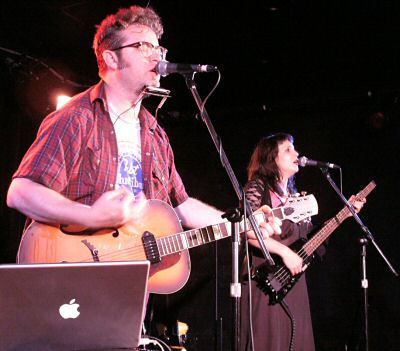 Handsome Family - East Brunswick Club - 22/2/07
It was another of those hot and steamy nights at the sold out show in Brunswick. Fitting, I suppose for the swampy music were were there to hear.

Support act Darling Downs opened the show with a simply stunning set. Darling Downs is Kim Salmon (The Scientists, Beasts of Bourbon & The Surrealists) and Ron Peno (Died Pretty). Though both Kim and Ron come from hard punk rock circles, their collaboration as Darling Downs finds them channelling country and folk music. Kim Salmon provides acoustic guitar accompaniment to Ron Peno's vocals. And what vocals they are! Peno's voice is extraordinary. He can sing high and lonesome, he can howl and croon, reminiscent of a classic American old country folk singer. His singing was concomitant with wild arm movements - it seemed he never stopped moving - his arms were outstretched or raised and lowered and waved around in tune with the music. It was strangely wonderful to observe.

< Darling Downs - East Brunswick Club
22/2/07
The pair performed the bulk of the tracks on their CD How Can I Forget This Heart of Mine, and though I had never heard any of the songs before, I thought they were all excellent examples of the genre; and the duo the perfect opener for The Handsome Family.
The Handsome Family are Brett and Rennie Sparks who hail from Albuquerque New Mexico, but their music is everything from old time country, Appalachian mountain music, gothic Americana to murder ballads. The lyrics, predominantly written by Rennie Sparks, are startling and original. They read like an Edward Gorey cautionary tale - they are absurd and bizarre, but make strange sense.
Brett writes the music with help from the Macintosh computer that accompanied the duo on stage last Thursday night. Brett played a Grecsh guitar throughout and Rennie alternated between banjo, electric bass and melodica.

The Handsome Family were promptly on stage at 10.15pm, keen to start as Brett remarked they were a bit before time. They launched into "Up Falling Rock Hill", introduced by Rennie as a song about ants and murder, followed by "Your Great Journey", the first track on their latest CD Last Days of Wonder.

The songs were interspersed with witty stage chat, the Handsome Family having a wicked sense of humour. It is mordant and black, and they came across as very droll.
They performed a range of songs from across their repertoire with one of the highlights being "All the Time in Airports", Rennie introducing the song with a comment about the security in American airports being almost to the stage of strip searching each individual passenger. The song is redolent with familiar airport imagery. It is a sort of love song, or maybe it refers to the ghostly apparition of a loved one:
"I see you all the time in airports
in the windows of the shuttle trains
flashing past between the terminals
below the rising planes
and as I pull my shoes off
put my coins in the plastic tray
I see you past the X ray machine
just a hundred feet away"
Another great song from "Last Days of Wonder" is a tribute to Nikola Tesla "Tesla's Hotel Room" where Tesla's achievements are eccentrically enumerated, as he lies dying in his room in the New Yorker Hotel.
At one stage a string broke on Brett's guitar. Rennie entertained the audience while he fixed it, with a story about her dead grandmother, the gist of which was that she was not a nice person.
The full house audience, myself included, was entertained to the max by the weird and wonderful songs of The Handsome Family. The Macintosh laptop, sitting front stage, assisted the accompaniment by providing sound effects and enhanced nuances on Brett's guitar. Rennie whimsically observed that woodland creatures were trapped in there, creatures like squirrels and chipmunks. Brett did most of the singing in his pleasant baritone, with Rennie providing background harmonies, though she sang one or two of her "killing" songs, as she remarked with relish, when introducing them. Killing songs make her feel thin, she added.
The night's entertainment ended at approximately 12.45 and it was a night to remember in all ways as a highly unusual show, from the extraordinary performance of Darling Downs to the arcane and darkly comic showmanship of Brett and Rennie Sparks in their persona of The Handsome Family. Gothic Americana music has rarely sounded better.
Song List
DARLING DOWNS
1. Only Road (I've Ever Known)
2. Why Did She Leave
3. Loverslain
4. In That Jar
5. Don't You Cry
6. Redeemed
7. Still Fall the Rain
8. Circa '69
9. Let It Breathe
10. In A Cold Place, By A Lake
11. All Fall Down
12. Time And Again
13. Deep, Deep Blue
14. And They Danced
THE HANDSOME FAMILY - as near as I can work out
1. Up Falling Rock Hill
2. Your Great Journey
3. Bottomless Hole
4. After We Shot the Grizzly
5. Weightless Again
6. ?
7. My Sister's Tiny Hands
8. So Much Wine
9. Tesla's Hotel Room
10. When the Helicopter Comes
11. White Lights
12. All the time in Airports
13. Down in the Grave
14. Arlene
15. These Golden Jewels
Encore: two unidentified songs
Review and photos by Anne Sydenham 2007