GRETCHEN WILSON - FORUM - 12 MARCH 2014 - CONCERT REVIEW
GRETCHEN WILSON-MORGAN EVANS
FORUM - MELBOURNE CBD
A funny thing happened on the way to The Forum.

The gig by Redneck Woman Gretchen Wilson and Novocastrian Morgan Evans was transferred from the St Kilda Palais to the even more historic Forum in the shadows of Federation Square and The Duke Of Wellington where drinkers can have an ale with the whale - Brian Roberts.

It may be a few long seasons since The Whale pulled on the boots for Richmond and South Melbourne but his legend looms large in the Flinders St watering hole.

It's also exactly 40 years since the Stephen Sondheim musical opened on Broadway and much later had an Aussie season with Geoffrey Rush in the lead role at Her Majesty's - not this roaring twenties locale.

There was no sign of Buster Keaton or Clara Bow underneath the gaze of a posse of Greco-Roman statues that have long kept an eye on artistic and theatrical productions in this stately colosseum at the Flinders and Russell St corner in the Melbourne CBD.

It all started in 1929 when bejewelled theatre patrons of historic interwar years took their seats under the minarets and majestic clock tower.
Tonight it was Evans who kicked the dew off the glass as Gretchen hosted a meet and greet in the plaster peeling bowels of the once ornate theatre.

Young Evans, 28, and quartet were showcasing tunes from his belated debut album, set for release two days later on March 14 and others from his previous EPS - Live Each Day produced by Matt Fell and 2013 disc While We're Young.

While We're Young was produced in Nashville by expat Australian Jedd Hughes who also has the production duties on his self-titled album.

Evans kicked off with the bluesy Make You Feel Like A Woman - one of 11 songs he co-wrote on his album - and new single One Eye For An Eye penned with fellow Novocastrian Mark Wells.

"The album comes out on Friday so you are ahead of the curve," he told his audience as I was led away to the meet and greet.

I arrived back in time to hear idealistic new tune All In This Together and The Best Of Me before he revived Big Skies from his debut EP.
"This is the first gig we have all played together," Evans announced as he introduced his band including younger brother and bassist Thomas Evans.

Evans finished his 45 minute set with guitar driven EP title track While We're Young - co-written with Jedd and Sarah Buxton who also co-wrote Keith Urban's hit Put You In A Song.

"We played a lot of songs you've never heard before and some we haven't played before," the singer announced as he invited fans to stand by for headliner Wilson.
CUPOLA BUT NO CUP CAKES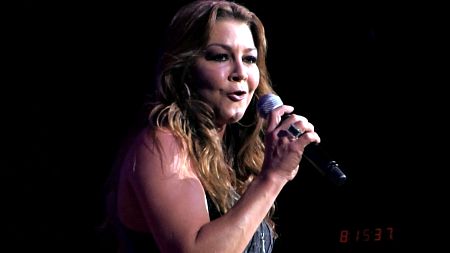 It was fitting that Redneck Woman Gretchen Wilson didn't frock up for her third Australian tour for her James Gang entrée Funk #49.

Her sleeveless blouse, holey jeans and thigh high boots proved she was Here For The Party as she revved up her turbo charged country rock hybrid and segued into There's A Place In The Whiskey.

At 40 she wore more clobber than the glistening nude male statues who peered down on her from the stately oriel windows up above.

The historic heroes may have clapped at her original songs but for one small problem - some of them were armless but certainly not legless like a few patrons down below.

The ghost of Frank Thring may have lurked up near the cupola but this was not a country cutie with cupcakes.

Wilson and her dual guitar driven band paid homage to their honky tonk heroes as they revived the title track of her first indie Redneck Records album I Got Your Country Right Here with frequent references to Hank Williams Jr, Lynyrd Skynyrd, Allman Brothers and the late Waylon.

She touched on a younger demographic when she told her audience she had taken daughter Grace, now 14 and guest vocalist on I've Been In Love Too Long from her seventh album Right On Time, to Sea Life aquarium during the day and had a pleasant surprise.

"I didn't think we would see penguins," said the single mother, originally from Pocahontas, 36 miles east of St Louis, and population of 727, and now living in Wilson County near Nashville.

It's unlikely Gretchen saw penguins at SeaWorld in Florida when she performed amid controversial allegations made in the film Blackfish.

Country peers Willie Nelson, Trisha Yearwood, Martina McBride and Trace Adkins cancelled shows because of the docco that highlighted abuse suffered by whales in captivity.

But Alan Jackson, Kid Rock, Scotty McCreery and Justin Moore performed there while whales, not in captivity, washed up on beaches near Portland beyond the Shipwreck Coast.

Meanwhile back at The Forum the singer proudly announced she released three indie albums last year and revived Home Wrecker from her embryonic career before showcasing new tune Still Rolling "about my fans" and co-written with Vicky McGhee - write of some of her early hits.
GRANDMA LIGHTS UP BEYOND THE NEON
Then it was time for a revelation.

"I have my own record label and I can record what I like," Wilson revealed.

"Here's a song by a friend of mine - my old record label kept saying to me 'you can record that.'"

Instead Wilson recorded Grandma - a Jon Nicholson song about a 92-year-old who belatedly discovers the herb superb in her twilight years - on Right On Time and performed it to wide applause tonight.

She bid farewell to long expired grandma up above the gargoyles and naked statues and way beyond the cupola.

Wilson revived the Faces song Stay With Me from her 2013 rock classic covers album before extolling the refreshing local ale - not from the Whale - but James Boag & Sons from Van Diemen's Land.
She then reinforced her redneck woman persona on Work Hard, Play Harder as she sang "I'm a good timin' American daughter Redneck, blue collar/ and I party down to my last dollar/ I don't waste my time on manicures and spray on tans/ and I don't pay no never mind/ to the callouses I've worn on my hands/ you know that people just can't understand how/ I'm the first to clock in but the last to pass out."

It was a fitting segue to another blue collar anthem Walk On Water.

But the most spine tingling moment was when the singer did an a capela refrain from Patsy Cline hit Crazy as she introduced a new song called Crazy - co-written by McGhee - from Right On Time.

It was a timely reminder of the power of Wilson's voice and, of course, the original Crazy singer Cline.

The next stanza was polarising for fans wanting to hear more of Wilson's material - she announced her road band (not session musicians) - played on her new albums.

So she gave them some rope on Heart cover Barracuda that she recorded with Alice In Chains and an instrumental medley that enabled the band to strut their stuff with rock riffs, replete with drum solo, from her covers disc.

But it was back to traditional Wilson fare when she revived All Jacked Up before rhetorical question "do we have any rednecks here tonight?"

The fitting finale was her career hit and signature song Redneck Woman that had the statues perspiring above with the rising heat from the star down below and Led Zeppelin cover Rock & Roll.

It was a night to remember - sadly paucity of radio airplay reduced the crowd numbers for a talent who deserved to be seen and heard.
Review by David Dawson