GINJA ROE AT THE CARRINGBUSH HOTEL - 3 AUGUST 2008
Ginja Roe are not by any means a household name, but my impression is that they have all the potential to become one in the future, if their performance at the Carringbush Hotel last Sunday is anything to go by.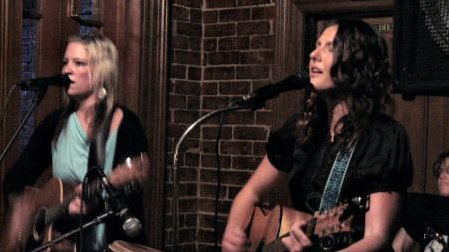 Ginja Roe - Carringbush Hotel - 3 August 2008
Ginja Roe are Pakenham born and bred Megan Doherty and Pamela Wouters, two talented young artists with enormous potential. They have been friends from childhood, and by a remarkable stroke of fate can both sing like angels and are accomplished musicians, each playing a variety of instruments.
They have been performing together since 2004; firstly as a duo called simply Meg and Pam, but later changed their name to Ginja Roe.
They have released two albums.
Home Made, their 8 track debut CD is just that, privately recorded in Meg's living room and distributed via their website and at shows. Polished is their brand new recording made with the assistance of Bob Spencer (Skyhooks, Angels) and builds on the accomplishments of Home Made with a more layered, indeed "polished" studio sound, though not losing the essential charm of their signature sound.
Meg is the songwriter, composing both the music and the lyrics. Their music encompasses pop, folk and country and the songs are fine examples of those genres.
Pam Wouters

I originally came across their music at the Fred Eaglesmith concert at the East Brunswick Club in March 2007, when the sound technician played their Home Made CD during the intervals. Their dulcet tones floating through the speaker system piqued my interest to the extent that I tracked them down and eventually acquired the CD. As a result, I have been following their career with interest ever since.

Sunday's matinee concert at the cosy Carringbush Hotel was the band's first city gig since Polished was released. Live shows were delayed somewhat by Meg breaking her wrist and being out of action for a month.

Ginja Roe have now expanded their line up to include Bindy Cohen on drums and David Kidd on bass guitar. Meg and Pam both play guitar, though each take up other instruments during their show. Meg plays a mean harmonica and Pam provides various percussive effects, thumping a djembe (a type of hand drum) with verve. It all adds to the quality of the sound.
One thing that instantly strikes the observer at a Ginja Roe gig is the big bold sound they generate with guitar and drum. There's nothing subdued about these girls. Almost immediately after that first impression, you are struck by the vocals. Pam and Meg take turns leading the singing and both have very fine voices, quite distinctive from each other, which when joined in harmony are truly something special.
Even though I didn't stay for the whole three sets, the two hours I spent watching and listening passed very pleasurably.
On Sunday they performed a mix of songs from their two CD repertoire along with a few covers, one of which was I'm A Believer the Neil Diamond composition made famous by the Monkees.
Meg Doherty

Beginning with 3 Bad Grains, the opening song on Home Made, they progressed to songs from Polished, which included Feel Free, Polished, In Case You're Wondering, OK and Flowers, and other unreleased songs like Confessions.

A highlight was the sultry rendition by Pam of Sweet & Divine a song from their debut disc and the sweet and soulful Flowers, which for some reason reminded me of the Kimmy Rhodes song Wild Roses from her West Texas Heaven CD, but could well have been performed by the Carter Family, only with an Aussie accent.

As live performers Ginja Roe have a lively and confident stage presence and are constantly engaging to watch and hear.

Ginja Roe have toured as support for high profile artists like Adam Brand and recently with Canadian cowboy Corb Lund, yet still remain relatively unknown. No doubt as they become better known, they will gather a following worthy of their collective talent.
I would recommend you check them out, either live, and/or buy one of their CDs. You won't be sorry you did. These girls are going places.
For more information or to purchase a CD, please visit the Ginja Roe website at http://www.ginjaroe.com
Review and photos by Anne Sydenham.