GARY ALLAN - FORD THEATRE GEELONG - 22 OCTOBER 2005
STEVE FORDE & THE FLANGE
While the chattering classes were busying themselves with tales of a geriatric opera singer without a voice and plethora of ARIA rockers with the same ailment the more astute social scientist may have noticed buses parked outside the ornate Ford Theatre in Geelong.

It was not a nocturnal bussing solution to transport corporate metropolitan mainstream radio programmers and deskbound newspaper gatekeepers from their desks to a roots music engine room.

Just a collective means of transport to bring denizens of Australia - beyond city limits - to see the only U.S. chart topper likely to visit Australia in spring.

Or maybe even over our long hot summer.
< Steve Forde
And to add comfort for those who had taken the night off from milking, tending bars, crops or livestock there was a bonus inside the foyer before reaching the music.

A trusty trio of bars serving champers, hard liquor, beer, tea, coffee and cake for those whose last dollars weren't swallowed by diesel and petrol pump robbery.

And, as an extra bonus, a Colonel Tom Parker style carnie spruiker who reminded us of what makes cash registers clang in the old U.S. of A.

Now singing surfer and actor Gary Allan may have been the best-kept secret to make his third Australian tour but his memory will long linger in caps, tee shirts, plectrums key chains and other memorabilia.

Fans were reminded on arrival, after a brief tour beyond a birthday party, replete with an undetermined number of cake candles, to the merchandise table.

And, of course, after the much-appreciated interval after the departure of the support act and his M rated video show.

Steve Forde & The Flange kicked the dew off the glass with tunes from travels in the U.S., Canada and beyond after he worked the rodeo circuit in 1998.

The Cowra raised singing cowboy chose songs from 2002 disc Livin' Right and new album Wild Ride.

Forde, now working 1800 acres at Grenfell, announced that some of his songs topped Australian charts.

Among live highlights were The Old Days, You And Me, That's My Life, No Wrong and Modern Day Outlaw.

He also ignited his audience with Beer And Women - a song featured on video on Nu Country TV.

But there lay Forde's problem - he and his band, featuring an accomplished keyboard player, were performing in front of a large screen featuring his clips.

A plethora of pneumatic princesses adorning his clips were a visual appendage for his music but the tunes, with a few exceptions, seemed to be fairly derivative of so many U.S. peers.

Now, I have no problem with drawing from that rich well but I suspect that the artist might benefit from tilling his own Aussie roots without resorting to Australiana.

It's hard to score airplay here in the unlucky radio country but a more distinct sound would be a bonus.

And, by the time Forde reaches the flip side of 30, he might have dug deeper for the song cattle to equal his hat.
GARY ALLAN - HAT AND CATTLE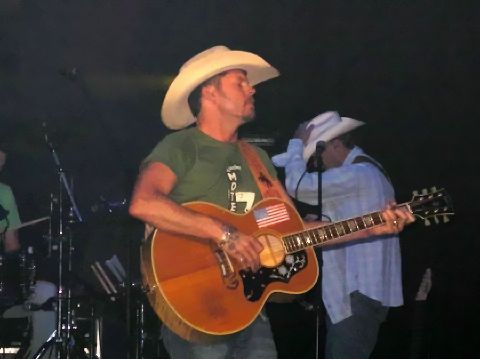 Gary Allan - Ford Theatre Geelong - 22 October 2005
Photo by Linda Di Nola
With the singing actor celebrating a #1 U.S. country album just a short wave from Alicia Keys and Nickelback at #3 on Billboard Top 200 rock charts it was no surprise to see a herd of heifers screaming and dancing stage front.

It was spring and there was no way these sisters of the soil were going to miss their chance to be joined with their idol.

This was Gary Allan - not Gary Ablett - and adulation was equally fervent in a city where success normally dissipates mid September.

But Allan, 37, and recovering from worse heartbreak than tussles with rivals booting leather, enjoyed his thriving therapy.

There was no hint of a death in the family when Allan's merchandise manager tossed tee shirts and touted other wares as Johnny Cash and Merle Haggard piped to the back stalls.

With an eight-piece band exploding in a sonic boom this was no stripped down combo catering to cloying confines of remedial radio.

The Allan entrée - riveting renditions of Right Where I Need To Be, sixth album title track Tough All Over and Todd Snider's self deprecatory Alright Guy - set the mood.

The singer exploited the complex emotions of Songs About Rain, Man To Man and paternal passion of Tough Little Boys before title track of breakthrough disc Smoke Rings In The Dark.

And it was the joyous jog through Guys Like Me, replete with his young pianist on accordion, that proves why Allan hangs his musical hat in Bakersfield not Nashville.
But there was pathos in the air and it hung heavily as the singer, who lost third wife Angela to suicide almost 12 months to the night, began his hurting homage with only a brief spoken allusion.

Recent hit The Best I Ever Had, He Just Can't Quit Her, Bourbon Borderline and I Ain't Running Yet were punctuated by Jamie O'Hara penned Johnny Cash redemption requiem Nickajack Cave.

This was an powerful performance of a song born in Cash's crossroads retreat from an abyss of booze and dope akin to the day Billy Joe Shaver did the same to pen I'm Just An Old Chunk Of Coal (But I'm Gonna Be A Diamond Some Day).

O'Hara, who found chart fame with Kieran Kane in The O'Kanes and has written a brace of songs for and about George Jones, was the catalyst for Allan to writing solo and with him and other peers such as Harley Allen.

Putting Memories Away - Allan's co-write with Matthew Warren on the posthumous packing of pictures, clothes and other vestiges of his deceased wife - merited the hush it created.

< Gary Allan - photo by Linda di Nola
So did No Damn Good that Allan penned with O'Hara and Odie Blackmon and his rendition of Life Ain't Always Beautiful that dug deep into the raw vein that makes stone country so memorable.

Salvation came when Allan revved up Her Man, Nothing On But The Radio and Can't Do It Today.

The oft requested revamp of Del Shannon's Runaway, Drinking Dark Whiskey and Man Out Of Me left the near capacity audience on a high that may have been sweet solace for a singer who suffered for his art.

So were there any criticisms?

Maybe a loud guitar solo by Dave Steel in namesake's hometown - was superfluous - and Mike Fried's pedal steel guitar seemed to be buried in the mix.

Fried may have earned more audible exposure on his tours here with Wylie & The Wild West but this was an eight-piece band and he was sewn into a broader fabric.

And Allan may have been making the point that he can rock as well as refried rockers and still mine his country roots.

There was no way this reviewer was going to nod off - he was hit by three plectrums tossed into the audience and retrieved two.

The Californian born, latter day Nashville resident is a hard act to follow this long hot summer.

Hopefully, we can report on his peers' progress in these pages.
Review by David Dawson 2005