FRED EAGLESMITH & THE FLYING SQUIRRELS
EAST BRUNSWICK CLUB - 29 MARCH 2007
FRED RIGHT ON FOR YOUNG AND OLD
The typical Fred Eaglesmith audience according to Fred himself is generally in the higher age bracket. They are seasoned Fredheads, they have seen it all before.
The audience on Thursday at the East Brunswick Club, however, was a mix of young and old. Standing next to me was a young person who surely couldn't have been more than 22 or 23. She was an extremely enthusiastic Fredhead. So much so that Fred told her once or twice to shut up and also said that she was too young to be at one of his shows. He added that a typical audience member at his shows had been divorced and/or had been arrested at least once. Who knows how many in the audience met this criteria.
The evening kicked off with a short set by Mornington Band, President Roots. They are sort of country rock, influenced by Steve Earle and his ilk.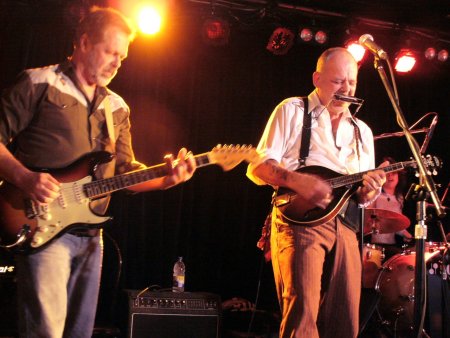 Bill Chambers & Willy P Bennett - East Brunswick Club 29 March 07
Bill Chambers then performed a very abbreviated set - four songs - before making way for the main act of the night, of which he was part as an honorary Flying Squirrel.
Without preamble, Fred Eaglesmith launched into the first song 18 Wheels one of his trucking songs, then another song before pausing for one of his extremely funny monologues.
Fred Eaglesmith - East Brunswick Club

This one was about global warming. Fred says that Canadians don't give a damn about global warming - bring it on - it's so cold in Canada a bit of global warming will be welcome.

Rodeo Boy a classic Fred song from his CD Lipstick Lies and Gasoline was performed thereafter.

A diatribe on new country music followed with Fred satirising an interview between God and a new country artist. It was very funny.

Tired, a song of his latest CD Milly's Café came next before Fred revived the "Lesbian song" Wilder Than Her.

And so the night went on. Fred's quips and sardonic humour were up to audience expectation. Even the band was cracking up. And the young person next me, effectively silenced by Fred, climbed onto the side of the stage and watched enchanted.
The band was excellent. The Squirrels line up on the night was Willy P Bennett (mandolin & harmonica), Luke Stackhouse (bass), Sarah Marlin (drums) and Bill Chambers (pedal steel, dobro & guitar).
49 Tons ended the main show though Fred came back for two encores.
He performed a long monologue satirising folk musicians, did a send up version of Stairway to Heaven and finished the night with Pretty Good Guy - a song ironically appropriate for Fred himself.
It was a highly entertaining evening for young and old alike. The audience had a good time and showed their appreciation with thunderous applause, even though Fred recommended that the oldies should refrain from clapping and merely wave their arms.
Review and photos by Anne Sydenham