FRED EAGLESMITH - THE ESPLANADE, ST KILDA - 2 APRIL 2005
IQ Tested at Espy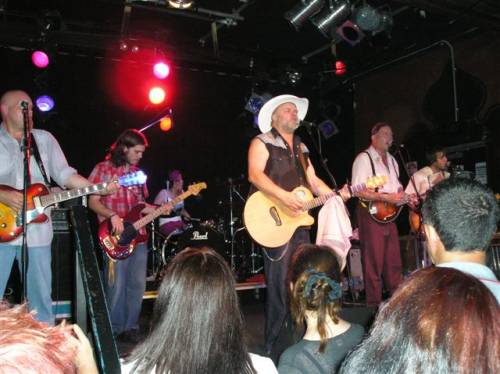 Fred Eaglesmith and the Flying Squirrels - The Esplande - 2 April 2005
On his previous two visits Canadian Fred Eaglesmith has performed in solo acoustic mode. His latest visit to Australia saw him bring his band the Flying Squirrels along for the ride, this provided his fans with an opportunity to see and hear another side of Eaglesmith.
No stranger to leading a merry band of men and women on cross country jaunts in North America, dates in Australia included the Byron Bay Music Festival and the Esplanade Hotel in St.Kilda.
Ironically, the famed Gershwin Room that is currently being used on a regular basis as the venue for RockWiz, the rock trivia contest on SBS TV, an Eaglesmith show provides a cerebral challenge of its own.
Willie P. Bennet

Not only do some songs provide thought provoking themes of social change and the human condition but the show brings out the fan whom Fred parodies as having engaged their mouth before brain and sure enough there were one or two in attendance on the night. Just like every village there is one in every audience at a Fred Eaglesmith show and along with the t-shirts, caps, CDs, g-strings and posters on the merchandise table is the IQ Test Kit, which with great mirth Fred said could be purchased for $29.95 Australian or US $4.00.

Eaglesmith has built a loyal following of Fred Heads throughout Northern America and now Australia, a following which is based not only on the song performance and lyrical content, but on the story telling introduction to songs and observations of events both on and off the road.
Other tales were both poignant and a far fetched sometimes both at once, particularly the ridiculous drive-by Harpooners. This is a tale in which Eaglesmith is suggesting that we should be sceptical about Governments and our political leaders. Fred's offer to swap our Prime Minister for the Canadian counterpart was greeted with glee by the audience, as was his observation that it always looks like George W has soiled himself when we see him on his public appearances.
But it was not all comedy even if the gig coincided with the Melbourne Comedy Festival. The Flying Squirrels provided another dimension to the artist who we had previously only heard performed in songwriter/troubadour mode. The rhythm section of chick drummer/merchandiser Sarah Marlin and bassist Luke Stackhouse drove the truck, while guitarists Dan Walsh and Roger Marlin Jr provided the flourishes with a style of country rock reminiscent of Crazy Horse, a band led by another Canadian.
| | |
| --- | --- |
| Familiar songs such as 49 Tonnes, 7 Shells, Spookin the Horses and Time to Get a Gun were given an extended work out by the band. Colour and depth were courtesy of Willie P. Bennet, long time band member, who played slide mandolin, harmonica and added vocal harmonies. Bennet, together with Dan Walsh, had earlier in the evening provided musical accompaniment to support act Bill Chambers as well as doing a solo spot of his own to warm up the warm audience. | |
Eaglesmith, while retaining his own unique style, invites comparisons and reminds listeners of other vital artists, such as a younger Tom Waits; artists who are able paint the pictures with imagery and feeling that will make the hairs on your neck stand up. Songs such as White Rose, Ship and 80 Acres and a Farm nailed the audience with the message while the band moved them with the groove.
It was a triumphant return to Melbourne by Fred Eaglesmith, a smart move by those punters who went along on the night and hopefully enough of a financial pleasure by the promoter for a return tour in the future.
Review by Peter O'Keefe

Incomplete set list
Bill Chambers & Willie P Bennett

Bill Chambers w/Dan Walsh Dobro and Willie P Bennet on harp.

I Drink
Promises
This ain't your F…ing Town No More
Goodbye - Steve Earle
Big River - Johnny Cash

Willie P Bennett Solo

On and On the Endless Highway
Sing and Old Time Song
Bill Chambers returns

Just Like Poison Blood (title track of new album written with Worm)

Fred Eaglesmith
7 Shells
Rodeo Boy
Total Overdrive
Sharecropping
Ship
Lucile
Spookin the Horses
Time to Get a Gun
80 Acres & a House
White Rose
Falling Stars
49 Tonnes

The Flying Squirrels
Dan Walsh Guitar, Dobro
Luke Stackhouse Bass
Willie P. Bennett Harmonica and Mandolin
Roger Marlin Jr. Guitar and Pedal Steel
Sarah Marlin Drums