DWIGHT YOAKAM - PALAIS, ST KILDA - 13 NOVEMBER 2012
DWIGHT YOAKAM - LEE KERNAGHAN
ST KILDA PALAIS
BATTLE OF THE CHAPEAUS IN HAT TOWN

LEE OPENED THE BATTING
On the second of a two-night stand it wasn't really a case of a black hat versus a white hat at the venue where it pays to be either a camel or have deep pockets if you want to drink and bring your own water.

Bag searches are conducted on entry not just for video and camera recorders but good old H2O that must be checked and abandoned at the door just like guns in the old west.

The big man in the black Akubra, Lee Kernaghan, brought his big show and band to town and gave us both barrels with a brace of guitars and the full effect of the Palais sound system.
Ripping into both his back catalogue and newer numbers Lee took us with him to Planet Country and the Outback Club before slowing things down for Love in the Time of Drought, Goondiwindi Moon and his tribute to Slim Dusty with Flying with the King.

Kernaghan introduced the eye popping Ute Me T-shirt a big seller later at the merchandise stand before reaching a final crescendo with 10th album title track Beautiful Noise, Boys from the Bush and Texas, Qld.

It was a rock solid performance by an artist with a crack band that sated the appetite of his huge fan base in attendance on the night.
DWIGHT CLOSES UP HONKY TONKS WITH BONE STETSON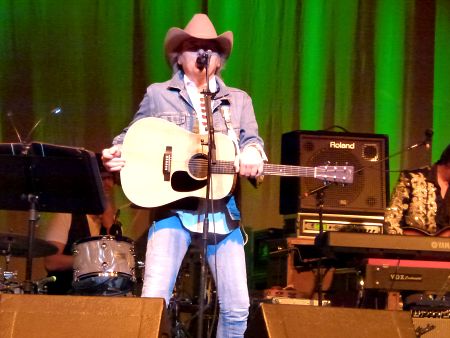 Dwight Yoakam live at the Palais - photo by Tonkgirl
Next hat up in the boned coloured Stetson hat with custom creases was the star of the show Mr Dwight Yoakam.

No messing around by this fella it was straight up and into the honky tonk with Burn Me Up and Under your Spell as they worked out the grooves and tweaked the sound system before stepping down a notch with a cover of Act Naturally.

Dwight made the song his own with a rendition that its late writer Johnny Russell would be proud of before Buck Owens and The Beatles took it to the city.

The honky tonk, kicker bar sound never let up all night with hit following hit including Streets of Bakersfield, Close up the Honky Tonks and Little Sister.

The introduction of Dim Lights, Big Smoke and Loud, Loud Music included a tribute to the writer Joe Maphis and the explanation that the only way to play this type of music was loud of course.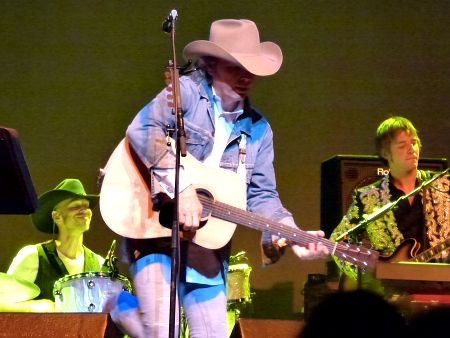 Dwight Yoakam live at the Palais - photo by Tonkgirl
Yoakam's sound has a purist edge that pays homage to the pioneers of that music.

Wynn Stewart was name checked and honoured with a medley that exposes Dwight's hillbilly roots.

The barnburner version of Merle Kilgore-June Carter Cash classic Ring of Fire - an historic hit for the late Johnny Cash - was worth the price of admission alone.

But it wasn't all high octane a smattering of slow burns especially for his female fans including a song from new album 3 Pears - If Believing and the old staples 1000 miles from Nowhere, Little Ways, Turn me Up Turn me Loose and Maybe I Will.

Rounding out the night was the song and album that started it all for him Guitars, Cadillac's Etc and in the encore of three songs the extended version of Long White Cadillac.

In a sentence - it was a very generous performance by a star artist and a crack band.

Review by PETER O'KEEFE.
Dwight photos by Tonkgirl
http://www.braindumps.com/640-722.htm
http://www.test-king.com/exams/C4090-450.htm
http://www.loyola.edu/
http://www.actualtests.com/exam-642-996.htm
http://www.certkiller.com/exam-300-207.htm
https://www.isaca.org/