DIERKS BENTLEY-LEE KERNAGHAN - THE PALAIS - ST KILDA - 13 MARCH 2012
Meteor watchers were one night late at the ornate bayside Palais when Dierks Bentley and Lee Kernaghan shared the stage, anecdotes and songs.

But there was one high flyer near stage front - Carlton star and AFL mark of the year winner Andrew Walker and teammate David Ellard.

Walker may have been incognito to fans with his hat fashionably back to front - but not to Nu Country TV Vice President Rod Browne whose St Kilda team had long decamped sin city for Frankston.

The Goulburn Valley raised champ, who quoted Bentley in mainstream media interviews, didn't need to stand to catch his idol.

But the herds of heifers lactating in the mosh pit ensured he did when Arizona born Bentley hit the stage after a rousing set by Lee Kernaghan and his guitar army.

He immediately inspired a buxom brunette next to this reviewer with the collectors' tee shirt Everybody's Somebody in Luckenbach.

We'll return to Lee's entree soon after we examine the sartorial splendour of Bentley, 36, and atop the U.S. charts with the title track of his seventh album Home.
Bentley dressed down for the occasion with unintentional irony - he wore a white tee shirt emblazoned with the legend Gram Parsons & The Fallen Angels.

So who was one of the headliners at the 36th Port Fairy festival?

Yo, it was Chris Hillman - Parsons' partner in rhyme from the Flying Burrito Brothers and The Byrds.

Hillman and Herb Pedersen joined the Peter Rowan band as celebrants of country-bluegrass nuptials on the Shipwreck Coast and back in the big smoke.
LEE KERNAGHAN MILKS COWS
Corryong born country king Lee Kernaghan needed little introduction in the church of his choice on the bay - especially to Walker whose mobile phone No he has on speed dial.

It was a solid slab of hits from the high profile Carlton fan's career that began in adoptive hometown Albury decades before the Murray floods.

A phalanx of guitarists Jake Lardot, Lawrie Minson, Markus Meier and Daniel Conway with veteran bassist James Gillard and drummer Mitch Farmer in the engine room ignited the crowd.

The singer segued from evocative Gooniwindi Moon to raucous Baptise The Ute before a well-worn anecdote about the Shepparton agrarian who inspired I Milk Cows.

A casual glance at the females of the species revealed healthy corn fed and milk reared fillies in western wear with little trace of the soy latte and tofu tragics of the inner suburbs.

Beside this reviewer was Fawkner raised Golden Guitarist and singer-songwriter Jasmine Rae and extended family.

Kernaghan switched to piano for his famed tribute to late country king Slim Dusty - Missing Slim.

Then it was time for a few firsts, the singer told his enthusiastic audience - the family debut at the Palais for both Lee and his singing spouse Robby who joined him on Springsteen classic Fire.

That song, accompanied by a video after being released on his Bringing The Music Home CD, the bonus double deluxe release with 9th album Planet Country - was a winner.

It preceded Hat Town - title track of the first album Robby sang on - and Texas, Queensland that caught the ear of Texas Governor Rick Perry, a casualty of the Republican leadership challenge.

By now the Ute lads and their flocks of femme fatales were lubricated for embryonic hit The Outback Club.

But it was the Australian flag - not the Lone Star state ensign - that was lowered from the meteor skyline above stage for patriotic finale I'm An Australian Boy.

Kernaghan, 47 and father of two sons, once again proved he was a worthy Australian Of The Year and effortless crowd pleaser.

UP ON THE RIDGE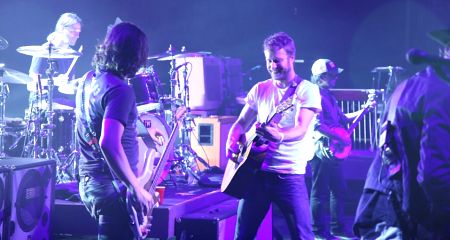 It was a light show befitting a fiery Phoenix from Arizona as the sextet emerged from the majestic stage shadows.

There was Bentley wielding an acoustic guitar, guitarist Brian Layson, bassist Cassady Feasby and pedal steel guitarist Tim Sergent who would become more prominent as the show progressed.

The artist kicked off with riveting Friday night anthem Tip It On Back from his new disc Home.

It was not Friday night but Bentley singer urged fans to imagine it was the weekend as he segued into a previous album title track Feel That Fire.

Then it was another barroom anthem Am I The Only One - his first #1 hit from Home.

Spontaneity soon became the suit of choice for Bentley as he punctuated hedonistic hit Lot Of Leaving Left To Do with verses of Steve Young tune Lonesome, Ornery & Mean - a tribute to and album title track by his late mentor Waylon Jennings.

By now the smoke machines hit overdrive as the artist regaled fans with anecdotes from his 2009 debut Oz tour with Brooks & Dunn.

Bentley introduced anthemic 5-1-5-0 from his new disc, comparing slang of this country with his own - Utes, pick-up trucks and cold ones.

But real treats were changes of tempo as Dan Hochhalter picked up fiddle for intro to Settle For A Slowdown from 2005 disc Modern Day Drifter.

Pedal steel was a welcome audio ancillary with banjo before Free And Easy.
A BLUEGRASS UTE
Bentley introduced title track of bluegrass album Up On The Ridge with his desire to be the "coolest guy in Nashville driving around in a Ute."

There was plentiful banjo, fiddle and steel in the outro and segue to Come A Little Closer Baby.

And also a little humour as he explained why he chose to call new song The Woods - not the bush.

"In the U.S. the bush would have sounded weird and not got played on country radio," Bentley joked, the bush known as the ferny entrance to the female genitalia north of the equator - not the former Presidents.

"What happens in the woods stays in the woods," he quipped and then sang in the song's chorus after his banjo player swapped to mandolin.

<Dan Hochhalter
Bentley admired his ornate environs above and beyond the bleachers - "this is humbling for a guy who played for tips at 19 in Nashville."
Ancient history soon became time travel as Bentley described the late Hank Williams as "the Slim Dusty of the U.S.A."

It was just Bentley and steel guitarist Sergent "pedal steels are a dying breed"- on a haunting rendition of historic Hank classic Your Cheating Heart.

There have been a few cheating hearts on stage and in the audience down the years at the venue but rarely any performances of the song in the new millenium.

Back on the lost highway there was a fiddle intro to What Was I Thinkin' from his 2003 self titled disc.

And, as a second vocal mike was set up front and centre, Bentley recalled how he first heard his touring partner from the high country.

"I worked at TNN that operated the Nashville Network cable channel and Lee, his sister Tania and other Australian artists appeared once a week on the channel," Bentley revealed.

"Since then Lee's become my touring buddy, my good friend, mate and a great bloke."

Fans expecting to hear the pair duet on their hit Scars were in for a shock as Kernaghan emerged from the wings as Bentley sipped a pale liquid from a glass.

It's water, Bentley said.

"What's all the Tequila bottles doing out the back," Kernaghan joked.

"No topless girls yet, we're free and easy, aren't we Dave Dawson?"
SLIM DUSTY TRIBUTE 2
But instead of Scars the stars chose a high velocity version of the Slim Dusty hit Cunnamulla Fella.

"This is my favourite part of the show," Bentley added as he quoted Slim hits Lights On The Hill and Pub With No Beer.

The duo then performed Scars - penned by Lee with his guitarist Lawrie Minson and Matt Scullion.

After Kernaghan decamped it was high voltage Bentley as he revived Sideways and extolled the virtues of a cold beer - VB - with Gotta Have Some Cold Beer.

Bentley saved his latest #1 hit Home - inspired by the shooting of home state Congresswoman Gabrielle Giffords - a freedom anthem - as his pre encore teaser.

The singer confessed he wrote the song four days after the mass murder of six people including Arizona District Court chief judge John Roll and the politician who recovered but also retired.
A crazed gunman shot 18 people on January 8, 2011, in a supermarket car park at Casas Adobes near Tucson in Bentley's home-state Arizona.

Jared Lee Loughner allegedly shot Giffords in the head at close range as she chaired a public meeting near a Safeway store.

Home has since been selected as official song of Arizona's Centennial Commission and adopted by President Barack Obama on his play list in the healing process.

Fiddle fuelled What Was I Thinking became the encore before another delight - a bluegrass version of Waltzing Matilda.

This was not a generic mainstream concert - it was an eclectic stroll from the fifties to mainstream country, new millennia bluegrass, Australiana and Americana.

A shame the other four million Melbourne residents missed it as a natural successor to Port Fairy.

But there was another great pleasure in Bentley's departure - Jasmine Rae caught one of the Dierks plectrums launched into the mosh pit and gave it to me.

The milk of human kindness at its best - Jasmine she did not accept my offer to boomerang the plectrum.
Review by DAVID DAWSON
http://www.braindumps.com/400-101.htm
http://test-king.com/
http://www.usna.edu/
http://www.actualtests.com/exam-642-457.htm
http://www.certkiller.com/exam-JN0-643.htm
http://www.ibqh.org/