DAVIDSON BROTHERS - 2 JULY 2021 - GEELONG REVIEW
JULY 2, 2021
DAVIDSON BROTHERS LIVE IN GEELONG
POWERCOR COUNTRY FESTIVAL – KARDINIA PARK
THE DAY THE RAIN TUMBLED DOWN IN JULY
"If you ask me, all you need is music/and a little red wine to have a good time/ nothing else matters in the long run/ they pulled another factory down/ and had to leave my hometown/ found a new place to live/ got nothing left to give." - All You Need Is Music - Hamish and Lachlan Davidson.
Not often this long-retired country footballer could evoke memories of days of yore in his home away from home - The Cattery at Kardinia Park in Geelong.
But the inescapable lure of live country music at the annual Powercorp Geelong-Essendon homegrown food, footy and produce festival was a magnificent magnet.
I left the big smoke shortly after Gary Cooper time High Noon to ensure I could find a parking spot near the scene of the rhyme.
As an early arrival I feared the heavens may open so I headed for the music stage where the opening act - the Mik Maks family band - was sound checking.
There was no sign of festival creator-former Essendon coach Kevin Sheedy and retired Geelong star and singing National Party MP Damian Drum on the range.
It was a tough task for the sheep shearing, sausage sizzle, petting Zoo, marching band and farmers market that tried to weather rain and hail.
But after being treated to a pair of Jazz apples from the Foodbank stall near the country stage I was energised.
Especially when I noticed a gap in the queue at the Morris Finance handball championship.
I delicately asked our hosts if senior citizens could chance their arm at the handball target with the 100% bullseye on offer.
I was granted my wish and launched my Sherrin missile with my arthritic left hand.
Yes, it was an entrée bullseye and the grinning hosts asked if I had played the game before.
Well, it was 56 years since I debuted with the Warrnambool under 18 team, graduated to East Launceston, Burnie and North Albury reserves before joining the Burnie police team.
The last game this dairy farm descendant recalled, but did not reveal, was with Vigilantes Bikie Club in Coburg in September, 1972, when they played the Melbourne Metropolitan Milk Board team.
Back at Geelong I was rewarded with my Sherrin Kangaroo Brand made in India football and another Jazz apple for my bullseye.
With the siren sounding for the Geelong-Essendon VFL curtain raiser start I masked up and headed into the oval where I once interviewed Sheedy as football writer for the long defunct Sunday Australian newspaper.
My last encounter with Sheeds was while hosting a humorous music talent quest at the Toorak Hotel.
After watching the Cats scratch the Bombers from the front row in the lofty heights of Level 3 I heard the sound of country music loud and clear so I fled the main oval.
WE DIDN'T MISS THE SOUND OF RAIN
"Every time I leave it ain't not long enough/ I've grown tired of this love/ you can take your drama wash it down the drain/ I'm not falling for this crap again." - Every Time I Leave - Hamish and Lachlan Davidson.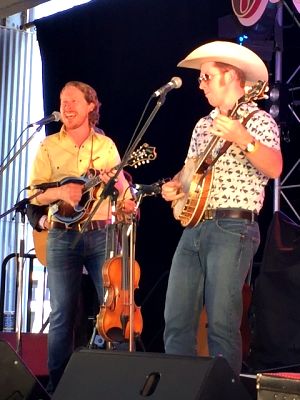 The Yinnar born Davidson Brothers - Lachlan and Hamish - who long ago left their small Gippsland township fronted this quirky quartet on stage under a hail protective roof.
Well, the hot quartet unlike drenched denizens who braved the mosh pit as the rain tumbled down on the second day of July, were energised.
The five-time Golden Guitars winners kicked off their set with equally apt Back Where I Started , recently reprised on their 2017 bluegrass disc All You Need Is Music and Take Me To The Mountains from their 2014 album Wanderlust.
The nearby You Yangs did not provide shelter so they honoured their stoic survivors with Wanderlust album entree Every Time I Leave and Travelling Bluebird from the same disc.
OK that is a little history for the band who released Blue Spruce - first of their nine albums in 1999 - as teenagers.
What about their dynamic delivery of the duo who took a little drive to the Macedon Ranges hamlet Benloch to write songs for their All You Need Is Music album?
Well, music buff John Gilham - father of Hawthorn premiership full-back Stephen - was amazed by their instrumental and vocal accessibility from as far away as Level 3 and now at side stage.
The interaction of fiddler and banjo ace Hamish who also practises as a chiropractor in Bendigo and mandolinist brother Lachlan, who now calls Ballarat home, have long been the glue that sticks the band to radio and TV here and overseas.
Today it was double bassist Louis Gill and acoustic guitarist Jacob McGuffie who helped ignite a passionate paean to their music.
Their artistry and timing were perfect with I Miss The Rain from their 2008 debut album and Joy McKean penned Slim Dusty hit Lights On The Hill following.
Prolific Golden Guitarist and dairy farmer's daughter Joy, now 91 and OAM, was honoured this year with the Ted Albert Award for Outstanding Services to Australian Music after her elevation to the Australian Roll Of Renown in 2020.
The quartet followed with equally apt 2017 bluegrass album title track All You Need Is Music and the duo's grand maternal instrumental Evelyn's Kitchen.
Evelyn's Kitchen - inspired by their grandmother who financed their debut disc as teenagers - was also on their bluegrass disc All You Need Is Music.
Lachlan also adopted Evelyn as the second name of his daughter Holly.
Born To Play and another All You Need Is Music staple Brown Snake followed in a vibrant set.
It climaxed with the fiery finale - Flatt and Scruggs classic - Roll In My Sweet Baby's Arms.
"We have not been able to travel lately," the Essendon supporting duo quipped before they told fans they had another musical engagement inside on the main oval.
It was a sprint of sorts as the quartet lugged their instruments across the rain drenched turf to the centre circle where the umpires and both teams awaited their new national anthem.
Yes, it was a stirring version of Waltzing Matilda with no sign of jumbucks making off with the Sherrin before the opening bounce.
Fittingly Sheedy's soldiers put up a gallant fight in the first quarter before the Cats came purring home with Finley born full-forward balladeer and Kasey Chambers fan Tom Hawkins booting six goals.
Luckily, the Cats did not need this Septuagenarian who cramped in the chilly heights of Level 3 late in the final quarter.
Review - David Dawson