DAVID OLNEY & SERGIO WEBB
CARAVAN MUSIC CLUB - 6 APRIL 2013
DISHING UP THE UNEXPECTED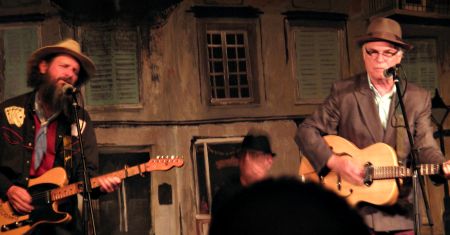 David Olney & Sergio Webb - Live at Caravan Music Club
David Olney is virtually unknown in this country, but he is acknowledged elsewhere as a pioneer song writer of the Americana Music genre. He has released well over twenty records, his most recent being Robbery & Murder (Deadbeat Records 2012) which is available as part of a three CD set that comprises the aforementioned album along with The Stone and Film Noir under the collective title Body of Evidence.

Though David Olney may be unfamiliar to Australian audiences, his songs are famous and have been covered by the likes of Emmylou Harris, Tim O'Brien, Linda Ronstadt, Steve Earle among others. He was also part of the legendary 1970s Nashville cabal that included Guy Clark, Steve Earle, Townes Van Zandt and Rodney Crowell, who reinvented country and folk music and were a major influence on the alt country and folk artists who followed.

"My idea of a good time is getting in front of an audience and giving them more than they expected." - David Olney
This was the first time David Olney has toured Australia. Accompanied by long time collaborator Sergio Webb, he blew the minds of all who witnessed his shows. I was fortunate enough to catch his show at the Caravan Music Club, a perfect venue for the duo with its seedy old fashioned charm.

"Two men on stage, one looking like a 1950s private eye and the other like he just stepped off a spaghetti western movie set. One a master story teller and the other an ace guitar picker."
David Olney is not one of your dulcet singer songwriters. His act is riveting, gritty and intensely dramatic. His mode of performance is a mix of the spoken word and singing, as he takes on the characters of his songs.

There's the French Prostitute in 1917, the desperados in Wait Here For The Cops and Postcard From Mexico, the crooked medicine man in Jerusalem Tomorrow, to name a few. The music is more rock that folk and this is where Sergio Webb shines.

He can play the electric guitar like a demon, channeling ZZ Top, or like an angel, drawing a sombre cello like sound from it, as he did, when the duo performed 1917, a tender ballad set in Paris during the first world war. His style is flamboyant and highly entertaining to watch and he is a master of his instrument. He adds an essential element to the drama of the duo's act.
The show at the Caravan was opened by local singer songwriter Bill Jackson accompanied by Peter Fidler, who were a quality act. Bill Jackson is a an accomplished songwriter and Peter Fidler is a maestro of the dobro. Bill Jackson's voice and songs reminded me of Guy Clark most of all. Several were story songs, covering Australian History, for instance one song, called Jerilderie, was about the Kelly gang's hi jinks in that town in 1879.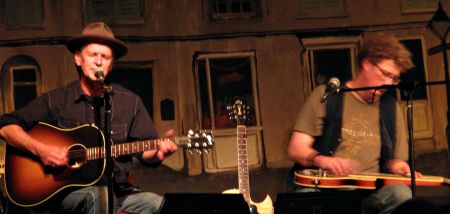 Bill Jackson & Pete Fidler live at Caravan Music Club
Dave Olney and Sergio Weeb began their act with the dramatic and startling Upside Down/Wait Here For The Cops - two songs performed one after the other and followed that with the more downbeat Little Sparrow, a tribute to French songbird Edith Piaf.

If I Were You , You Never Know , Go Down Dupree preceded a lively version of old blues hit Sea Cruise which was made famous by '50s rocker Frankie Ford.

Other songs performed were If My Eyes Were Blind, Covington Girl, Johnson City Blues, and Deeper Well, which Emmylou Harris included on her Wrecking Ball album, as well as others whose titles I failed to note.
The David Olney & Sergio Webb show defies description. It was highly unusual, exciting, engrossing and over too soon.

Review and photos by Anne Sydenham