DANNY O'KEEFE - PRIVATE HOUSE CONCERT - 29 FEBRUARY 2008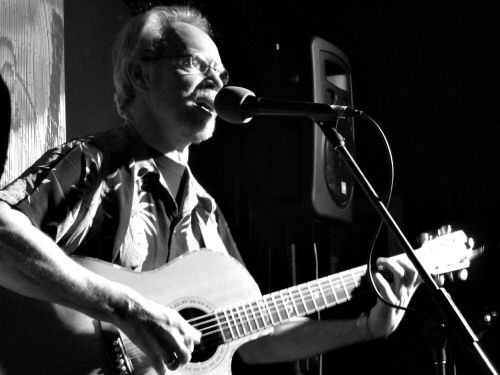 Danny O'Keefe live 29 February 2008
Well, I suppose it was a once in a blue moon opportunity to witness a private performance by Danny O'Keefe in the company of a small enthusiastic audience of Danny O'Keefe fans on a date that comes round once every four years.
Danny appeared to appreciate it anyway, as he gave his heart and voice to the thirty or so songs he sang on the night. He was in very fine fettle, his high, eerie voice was note perfect and the audience was hushed and polite throughout the whole magical performance.
Danny O'Keefe last toured here in November 2005 as a solo performer. The late Lawrie Weir witnessed his concert at the Corner Hotel back then and submitted his review to Nu Country. You can read Lawrie's review here.
This time around Danny O'Keefe is performing with a regular visitor to these shores, American singer songwriter, Kristina Olsen, and local Cellist Peter Grayling who has long collaborated with Kristina Olsen on several of her recordings.
However, on Friday night, Danny performed solo for the main, with Kristina Olsen joining him for the encore.
We were treated to old and new material from Danny's extensive repertoire of songs. He has recently released a new CD In Time and he played several songs from it live for the first time on Friday.
The audience was asked to nominate songs from the extensive list he proffered to them, so old favourites such as Magdalena, She Said Drive On Driver, Only Jones and The Road, the latter made famous by Jackson Browne who recorded the song on his best selling Running On Empty record of 1977, were some of the highlights of the night. Danny dedicated The Road on the night to Kristina Olsen. Other old songs were Louie the Hook vs the Preacher and of course his best known song, the laid back Goodtime Charlie's Got the Blues.
Danny O'Keefe is active in conservation circles having founded the Songbird Foundation, an organisation that strives to enlighten the world on environmental issues.

He explained that he had made a trip to Japan in 1976 as part of a delegation to dissuade Japan from killing whales, admittedly without success. One of the new songs on his latest CD is Save the Whales which he performed with whale song accompaniments beaming through an effects pedal. It is a highly topical song considering the recent actions of Greenpeace against the Japanese whaling fleet on the high seas of the southern ocean.

A great many of Danny's songs concern social and environmental issues, one of which is Well, Well, Well that he co wrote with Bob Dylan. He gleefully remarked early in the piece that Uncle George will be gone soon to approving cheers from the audience, before launching into his protest song So Long, Harry Truman.
After performing two sets, each of 13 to 14 songs, Danny called it a night. He was enthusiastically summoned back for an encore. Joined by Kristina Olsen on the tiny stage, they performed the lively If Ya Can't Boogie Woogie (You Sure Can't Rock And Roll) and Steel Guitar.
Thus ended an unusual night's entertainment and a rare opportunity to see and hear the one of the legendary singer songwriters of the past forty years in a small and intimate setting.
Many thanks are due to Peter and Jane Crone for arranging the show and staging it at their home.
Review and photos by Anne Sydenham