CORRINA STEEL - CORNISH ARMS - 24 NOVEMBER 2004
CORRINA STEEL
Wednesday 24th November - THE CORNISH ARMS HOTEL
Catch a Rising Star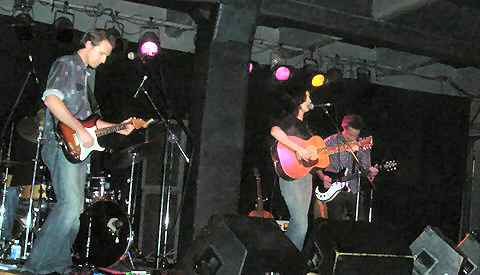 Corrina Steel and Band at the Cornish Arms - 24 November 2004
Every now and then a new talent emerges that really makes you sit up and take notice. The low key mid-week appearance by Corrina Steel at the Cornish Arms provided those lucky enough to be present with first glimpse of a possible star on the rise.
Down from Sydney for a fleeting visit to promote her new album Wayward, distributed by Shock Music, and to scout for Melbourne summer gigs, Steel with her band did enough to impress the audience unfamiliar with her work.
She cuts a fine figure on stage and has a natural presence that ensures she will be able to handle the cut and thrust of the industry as she builds an audience.
The first thing which strikes you is her incredible voice, the vocal sound while echoing the fragility of Emmylou Harris which has been noted by others contains a strength and depth of character reminiscent of Mississippi born Kate Campbell.

The Mississippi link can be found within the music of Steel who is an unashamed fan of Memphis blues a town that the mighty river flows through.
At times and possibly because of the Emmylou connection there were thoughts of another river town, New Orleans and hints of Harris with Malcolm Burn on the Daniel Lanois sessions.
Steel lead the band through a tight set that featured a twin guitar sound held together by the tight rhythm section of Don Sutton and Grant Cummerford drums and double bass respectively. All players were more than proficient on their instruments.
Mid set Steel and lead guitarist Jeremy Edwards performed alone with acoustic guitars. Throughout the performance Edwards showed his prowess on a range of axes including stratocasters, telecasters and resonator steel guitar. On second guitar Richie Boxall drove the truck with the help of his VOX amplifier and made up the final member of Steel's band The Sensitive Goats.

If variety is the spice of life then Steel and her band have it. Songs on the night provided sounds ranging from 'kicker country' to 'gospel leanings' and the small crowd appreciated it demanding an encore.
The final song with its scatterco rhythms reminded the writer of a track from Lucinda Williams from the World Without Tears album.
Hopefully the venue were impressed enough to book Steel and her band when she returns to Melbourne. If you would like to catch this rising star soon she has been booked to perform January 30 at Summertime Grooves the Arts Centre Melbourne for Nucountry TV.
Review by Peter O'Keefe
Photos taken by Nu Country's Tonk Girl