CMC ROCKS THE SNOWY - THREDBO - 6 - 7 MARCH 2009
CMC ROCKS THE SNOWY
THREDBO
OLD CROW MEDICINE SHOW DOWN FROM MOUNT

Photo by Carol Taylor
The grandeur of the locale was not lost on the quintet of former buskers who long ago came down from the mountain to practice their art in the valleys, plains and concrete corrals of the cities.

But here they were, at peace with nature at the clubfoot of the steeply sloping snowfields, openly admiring the gum trees.

Yes, Old Crow Medicine Crow, at home a long way from their current digs in the fertile font of Music City.

"It's our first time in the Snowy Mountains," major singer-songwriter and fiddler Ketch Secor told the rural refugees.

"We took the long way down to admire your gum trees. We waited 10 years to make this happen."

With tunes such as Down The Holler and Fire On The Mountain it seemed apt the sound mixer would separate and accentuate the fiddles, banjos, guitjo, dobro, double bass and harmonica.

"We moved the drums and guitars to the side and back of the stage," Secor jibed.

Maybe he had been kept from sleeping the sleep of the just the night before by a couple of raucous blues and rock acts and John Boy Williamson.

Or maybe he knew his band would suffer sound meltdown early in the Forum set a week later.

There was a joyous camaraderie between band and audience - a younger demographic than folk and blues fests aiming for same autumnal treasure trove.

Secor scanned the audience for bushrangers before ripping into I Hear Them All - his political protest anthem penned with David Rawlings - from the Big Iron World disc.

Secor admired the chair lift before his crew cut loose on high-octane narcotic revelry of Alabama High-Test from sixth album Tennessee Pusher.

Self-indulgence was no problem for a band whose community spirit included promoting bushfire relief and Disabled Winter Sport fund.

No such goodwill was dispensed to a harmonica bandit.

"Some Kiwis stole two of my harmonicas," Secor said before borrowing and embellishing Dylan song Wagon Wheel and traditional tune Tell It To Me.

Rapid-fire instrument changes and exuberant stage patter was a cool conduit to a hot audience baking in the early afternoon sun.

Cocaine Habit came with warning from guitarist Willie Watson - "leave that cocaine alone and drink that corn liquor."

There was no visible snow on the mountain or up nasal passages but plenty of hard liquor.

But having travelled from Perth and far north Queensland there was little likelihood of roots music fans blowing their cold hard cash on booze fuelled eviction.

It was a well lubricated but friendly audience who even cleared a path for photographers and children.

"We live in the south but this is about as far south as you come" Ketch conceded before reviving Mitch Ryder & Detroit Wheels hit C. C. Rider.

The former jug band punctuated originals with old dance tunes to exploit the familiarity quota.

And that obligatory encore featured joys of sticking to the Union in the Woody Guthrie classic Union Maid.

"Come visit us at the Grand Ole Opry in Nashville at the Ryman Auditorium," Secor said as his final gesture.

Catch Kevin Hayes on guitjo, Gill Landry on resophonic guitar and Morgan Jahnig on upright bass.
DEANA CARTER - NO DESPERATE HOUSEWIFE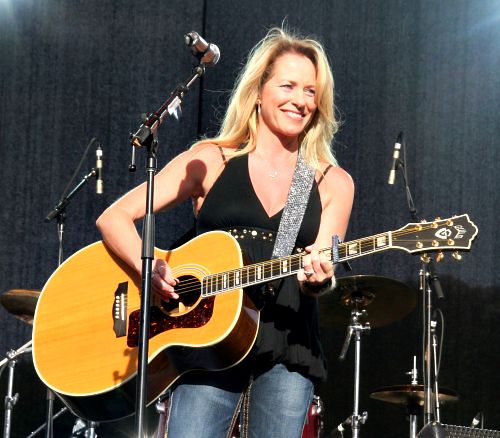 Photo by Carol Taylor
Tennessee troubadour Deana Carter didn't need a band to kick off her set in the afterglow of a travelling medicine show and Sunny Cowgirls, reared in the shadows of the Grampians south of the border near Dunkeld.

She gave a little personal history for those denied her music on local wireless corporate chains.

"I was born in Nashville and moved to L.A. eight years ago," Carter told her audience.

She didn't mention Desperate Housewives star Jamie Denton was her childhood sweetheart or that dad Fred Carter Jr played on Simon & Garfunkel hits and Bob Dylan's Nashville sessions.

"Before I came to Australia I put all the bedazzles on my capo. I therapise myself to songwrite."

She added a lop-sided relationship in which she was a waitress and paying all the bills inspired breakthrough hit - Did I Shave My Legs For This?

This was the real deal not Cledus T Judd's Did I Shave My Back For This or Tammy Faye Starlite's Did I Shave My Vagina For This?

But it wasn't exposed legs that caused her pain on her arrival in Brisbane.

"We drove down to Tweed Heads and I put on a one piece swim suit with no sunscreen," explained Deana - mum of a four-year old son.

"It has taken me two weeks to recover. I had to tip hotel staff to clean up all my skin. I'll risk skin cancer for that."

Carter invited Joe Nichols band on stage to back her on Count Me In and added "Australian music influenced me so much growing up."

She performed an a capella snatch of I Honestly Love You and then praised the Bee Gees and INXS before cranking up her hit We Danced Anyway.

"My life is so blessed, thank God" Deana added as an intro to Amazing Grace.

"God bless this beautiful country."

She finished her far too short set with sexual awakening anthem Strawberry Wine penned by iconic peer Matraca Berg - singing spouse of Nitty Gritty Dirt Band co-founder Jeff Hanna.

TAYLOR SWIFT - TEEN TONKING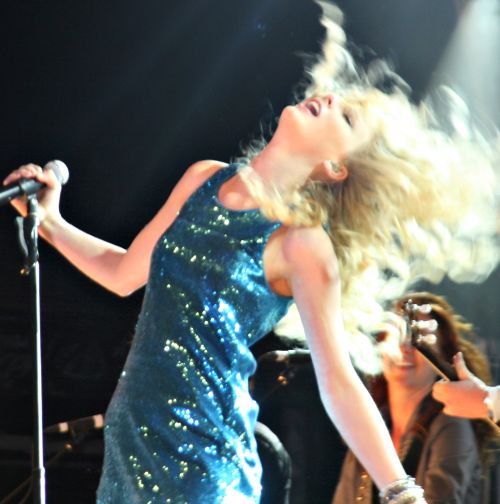 Photo by Carol Taylor
The lavish hype, generated by peers and MC for teen sensation Taylor Swift, was carefully layered.

Matinee idol MC Michael Carr, performing acoustic on the second stage, helped prime the pump by finishing his set with Kings Of Leon hit Your Sex Is On Fire.

Carr, renowned singer-songwriter with peers diverse as Melinda Schneider and Adam Brand, bathed in sensual Swift foreplay.

It was a family tradition for the singer whose dad Warren was a Johnny O'Keefe sideman and embryonic Aussie TV pop show fixture before a 27-year reign on ABC-TV Play School.
After a well-choreographed stage light show Swift hit the stage at full throttle.

That was her first problem - the audience feedback was dwarfed by the buzz from a phalanx of speakers as the energised band hit top gear in her entrée song You Belong With Me and another drowned in sound.

"It's good to be in Australia," Swift gushed, "I'm Taylor Swift - this is the class of 2009. I recently discovered I'm in love with Australia. My new favourite animal is the koala."

But not Drew who featured as vanquished villain in embryonic hit Teardrops On My Guitar.

This soon became Hollyweird as a lass, named Liz (unclear if she was one of six Nashville publicists in the entourage), made a cameo to tell gals in mosh-pit that Swift took revenge in song on any lad foolish enough to mess with Taylor's heart or soul.

Liz also performed the first disrobing of Swift to reveal a sheer blue cossie.

Swift dealt with errant beaus early in her energised set, replete with an exuberant young septet driven by a mature age but hot drummer.

Hey Stephen (the subject Stephen Barker Liles now dining out on the cyber chatter) and White Horse galloped along.

Swift had no qualms about sharing spotlight with fiery fiddler Caitlin Evanson whose gymnastics were first seen here on tours with Catherine Britt.

This time around the country pop package and pay packet may have raised more on the Richter scale - especially after the Joe Jonas inspired Should've Said No.

Maybe dueling garbage bin belting by Taylor and Caitlin was a not so subtle statement for their throwing out the male rubbish - ritual.

Perhaps we read too much into the antics of a singer who added Caitlin's talents for positive love parables Our Song, Love Story and Change.

Swift's stage patter sounds contrived but musical mood swings between accessible acoustic folksiness and hard driving country pop were measure of an artist mature way beyond her 19 years.

But this is a quaint phenomenon created in a pubescent Middle America bedroom and sold through cyber space to an audience that peers would, and probably will, kill for.

It's a credit her handlers unleashed her here at nice price on her rapid rise to arenas like the Houston Rodeo.

The proof was in the crowd reaction - and that was adulation as genuine as the autumnal amphitheatre chill.

Swift proved six million album sales of her self-titled debut disc and sequel Fearless were no fluke.

And although this was a shorter set than her headlining concert shows it was a hearty appetiser.
CORB LUND
Now, if equally energised former Canadian rodeo rider Corb Lund could crest that same wave he would enjoy plentiful painless bucks.

Corb and long time band, The Hurtin' Albertans, on their sixth Australian tour, were also a genuine crowd pleaser.

They performed a set twice the length of Deana Carter to much larger crowds than they pulled in local clubs and bars.

Increased audience size and enthusiasm was reflected in Lund's dynamic performance and refreshing patter.

Corb has been reviewed frequently and favourably on this web page - he reached back to his early catalogue as well as priming his fifth album Horse Soldier.

So have most of the other major artists at this second annual fest - The Waifs, Audreys, Morgan Evans, Jasmine Rae, Steve Forde, Amber Lawrence, Jonah's Road, Jake Nickolai, Sinead Burgess and Carr headed the posse.
JOE NICHOLS - SIZE MATTERED
It didn't take long for Arkansas born, latter day Georgian Joe Nichols to prove he was the biggest artist on the festival.

Not just his stature - 6 ft 3 in - but his warm baritone that hit fans in the heart from entrée song Size Matters.

Nichols, who first recorded at 19 on now defunct indie label Intersound, didn't need to sell himself.

His choice of songs and delivery was his not so secret weapon.

Years of working clubs and bars, solo and in duos and bands, meant he was a master of working all extremities of cavernous stages.
And, of course, to get closer to nature, snow line and audience, the singer also sat down and sang.

Photo by Carol Taylor
The band, on double shift after backing Deana Carter, was like a velvet glove - complimenting Nichols and never threatening to detract from his story songs.

Yes, smooth and tasty as Tennessee whiskey.

Pacing was a strong suit too - from the uptempo What's A Guy Gotta Do and the unrecorded Give Me That Girl to the balladic paternal paean The Impossible.

The hits kept on coming with the wry She Only Smokes When She Drinks and Another Side Of You - co-written by treble Grammy nominee Jamey Johnson.

Although not a prolific writer, the singer rhymed Texas and Lexus in Honky Tonk Girl - the saga of a sweet country girl who boomerangs to her roots after being burned by the fame flame in New York City.

Nichols may not have written Joe's Place but it enabled him to pay homage to his heroes "Willie, Haggard and Jones" beneath the moonlight and stars - not the neon and smoke of the lyrics.

And he mastered delivering pathos-primed ballad I'll Wait For You with subtle placement of states and cities by writers Harley Allen and Bill Anderson.

Nichols broke the melancholic mould with sardonic Let's Get Drunk And Fight, hedonistic new single Ain't No Crime and The Shape I'm In.

The singer excelled on honky hits Brokenheartsville and much-requested Tequila Makes Her Clothes Fall Off.

But there was more to come - the encore with the dream chasing Coming Back In A Cadillac and Gravity.

It was just after midnight, 16 songs down, and an audience that would have stayed all night - maybe a little longer - for an artist who worked the chilled out and chilly crowd like a warm breeze from the north.

Rarely does this listener yearn for another song or two - but Joe Nichols is that kind of humbling artist who delivered far more than he promised.

Bring him back so he can dig deep into the rest of his catalogue.
Review by David Dawson with photos by Carol Taylor