BROOKS & DUNN-DIERKS BENTLEY-ADAM HARVEY ROD LAVER ARENA - 4 MAY 2009
TRUCKS, HATS AND BOVINE BEAUTIES

It should have been enough to flood myopic moats protecting metropolitan corporate radio chains housing hits and memories mausoleums.

Dusk was closing in on the banks above the muddy waters of the slow flowing Yarra as a neon moon hovered over the southern capital's sports and music arenas.

A flotilla of pick-up trucks and Utes, replete with bull bars, horns and turbo aerials, fought for parking spots with bush buses, bikes and family sedans.

The big hand was on six and so was the little hand on old-fashioned chronometers still favoured by folks off the land.

The invasion moved into top gear as this vast cast headed to upper extremities of the tennis stadium that bore the name of a Queensland racket slinger of yore.

So what was wrong with this picture?

The demographic droogs who program commercial radio and TV should have taken a short trip from their city offices.

Here was an audience aged from seven to 70 with hefty quota of the all-important 18-35 big spenders.

They were here to soak up rocking country music despite absolute apathy from radio, TV and mainstream print media.

This was an audience drawn like moths from suburbia and the bush to the flame of a genre that grows without the sales stimulus of an even media playing field.

A crowd of 10,000 plus hit town because of Pay TV channel CMC, community radio and TV, street press, the Internet and word of mouth.

Sadly, that's the major exposure in this unlucky radio country for Brooks & Dunn, Dierks Bentley, local star Adam Harvey and peers.

This is not the populous U.S. with 2,000 plus commercial country radio stations, TV, rapidly growing satellite radio and a voracious mainstream print media.

Despite that Brooks & Dunn promoters Rob Potts and Michael Chugg loaded the dice and brought the superstar duo back for their second national tour within 14 months.

This time there was a bonus - Arizona born chart-topper Dierks Bentley - and Harvey on a ticket price that reflected their tour costs.

It was a calculated and courageous risk that should be applauded by all mainstream country starved fans.

So what about the music?

Well the geographical challenges of enabling rural fans to reach home by dawn meant the show started at ABC-TV news time - 7 p m - and finished shortly before 11 pm as Boston Legal and Footy Classified battled for nocturnal viewers with a penchant for humour of diverse shades.
HARVEY HAPPY HALF HOUR
Harvey kicked the dew off the glass at happy hour as punctual punters took seats with or without an alcoholic appetiser.

Fags were banned from the tennis court but not the civilized consumption of glowing cocktails, mixed drinks, beer, wine and confectionery.

The singer, latterly of hillbilly HQ on the NSW Central Coast, injected his 30-minute set with an energetic mix of humour and humility as he showcased songs from his seven albums.

Seven discs in almost two decades is a testament to Harvey's talent and tenacity in a hostile media market.

So the laconic Leopold born lad worked the huge room with genuine warmth denied to flavour of the month pop peers.

But half an hour - like the quarter it took for Harvey's Geelong footy team to lose the 2008 AFL Premiership - was a reminder that he was a worthy curtain raiser.
Harvey proved he was destined to enjoy the career longevity of namesake Robert in the other leather laced southern religion.
It was perhaps fitting that the first mainstream media exposure for Harvey's on stage successor Dierks Bentley was when Carlton star Andrew Walker named him as one of his favourite singers in a Herald Sun sporting profile.

So what did Walker know that the paper's music gatekeepers missed - read on?
DIERKS FEELS THAT FIRE
Bentley hails from Phoenix, Arizona, where he was raised on the outlaw roots music of the late Waylon Jennings and Hank Williams Jr before adding slices of bluegrass to his repertoire and records.

But this was his Australian debut and it was clear from entrée hit Lot Of Leavin' Left To Do he would exercise familiarity in his even dozen songs.

Bentley, just 33, proved as fit as the tennis titans as he mounted the drum riser to strut his stuff.

He urged the audience to soak up the pedal steel, yes, audible, on the title track of fifth album Feel That Fire before cutting loose on new hedonistic anthem Sideways.

The singer recounted his Sabbath night on the town - Fitzroy and Brunswick - and subsequent redemption in either St Patrick's or St Paul's (he couldn't remember) after his ruptured romance requiem How Am I Doin'.
Bentley's salient sequencing and pacing were impeccable.
He kept patter to a minimum and followed his evocative Settle For A Slowdown with rollicking Feel That Fire entrée song Life On The Run.

Pedal steel player Tim Sergent indulged in an aborted banjo cameo before reverting to his instrument of choice and slowing the pace again with Come A Little Closer.

Australian radio may be musically challenged but not the audience who sang along to chart toppers Every Mile A Memory, also featured in acclaimed TV show, The Wire, and What Was I Thinking.

Bentley's road band complimented his high-energy stage gymnastics - the catwalk strut and drum riser leaps - as a seasoned support cast.

"I would never have dreamed a guy from Arizona would one day be singing country music in Australia," Bentley confessed in his entrée for his finale Free And Easy.

This time steel guitarist Sergent drove the train on banjo from the start of the encore and proved why it became a car commercial in the nation where the industry is on its knees.

Bentley exuded warmth and maximised his support time with a tight set that delivered all it promised.

And, unlike the chagrin of many U.S. peers, he has arrived here as his career soars on seven #1 U.S. country hits - long before his star fades.

Now how about some commercial radio exposure to ensure his rapid return?

BROOKS & DUNN IN COWBOY TOWN
The break between international artists was a welcome respite for the well-lubricated audience whose cocktail glass glows competed with the sweet sheen off mobile phone cameras.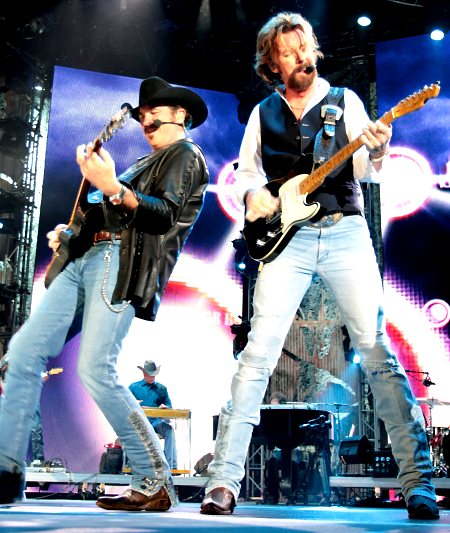 By now the covers of the huge above stage video screen had been removed to ensure maximum impact when Kix Brooks and Ronnie Dunn hit the stage to debut with the riveting title track of their 10th album Cowboy Town.

This was, as expected, another high-energy set with a seven-piece band and tight trio of female harmony singers.

The guitar army fuelled the rocking You Can't Take The Honky Tonk Out Of The Girl and Rock My World (Little Country Girl.)

Older fans may have suffered acid flashbacks with the psychedelic animation for the video of the latter and audible fiddle breaks as Brooks indulged in a brief cameo as a rocket launcher.

It was a comedic kaleidoscope but not as funny as appearances by former Lord Mayor John So in the video backdrop for Proud Of The House We Built on their 2008 tour.

Maybe mayoral incumbent Robert Doyle's cross-dressing as old Bogan Bob is still a celluloid work in progress.

Anyway we were treated to pedal steel and banjo as Ronnie Dunn led the audience singalong in historic Nu Country FM relic Neon Moon as Brooks took a seat at stage left and autographed everything thrust at him.

Neither band nor audience suffered from climate change or swine flu paranoia in the interaction as they stepped up a gear in Put A Girl In It and She Likes To Get Out Of Town when their female choral trio peaked.

Pacing has long been Brooks & Dunn's strong suit so lights were dimmed as they two stepped down the catwalk to their stools for the romance interlude as Dunn took lead vocal on Getting Better All The Time.

The lanky lad observed neither singer had to suffer short stools like their Perth concert the night before.

Then it was Brooks turn for humour as he told his familiar anecdote about a recently decamped wife making a pre-emptive strike after the male's night on the town as his prelude for his truncated Lost And Found In A Border Town.

The stage-front four play concluded with more ballads - When I'm Gone and Believe.

Then it was back to the video screen for the rollicking Red Dirt Road and tear-jerking ballad Cowgirls Don't Cry with Reba McEntire making a visual but not audio cameo.

Still no sign of swine flu as Brooks pitched his half empty water bottle high and long into the crowd to launch Mama Don't Get Dressed Up For Nothing, replete with twin guitar strut, and balladic Nothing About You.

This was a take no prisoners show as they lifted tempo with Play Something Country and their historic hit of the late B W Stevenson's My Maria.

Yes, there was a streamer shower from the stage and more on stage merchandise and boots and hats autographing from the duo.

With a pre-announced show close at 10.30 pm there were no surprises when the cast left stage briefly and rapidly responded to audience applause for their encore.

The encore was equally energetic - dynamic cuts of embryonic hits Brand New Man and smash career tune Boot Scooting Boogie.

But there was more - Brooks plucked a cowgirl from the audience and turned their on-stage dance into a whirling dervish routine.

Luckily for Kix she was more a young heifer than old chopper and neither suffered terminal injuries or flu - even as Kix frisbeed his black cowboy hat into the audience at the show finale.

So are any there any criticisms from a cynical and seasoned reviewer?

Well, actually no.

The superb sound - separation of instruments - meant we heard the pedal steel, fiddles and cowbells in the guitar and drum driven wall of sound.

Dunn's superior vocals enabled him to lead and cover vocal imperfections of Brooks whose humor, guitar playing and songwriting haven't been tarnished by the passing of the years.

And, at their ages Brooks (53) and Dunn (55), there was no diminution of energy in their presentation.

I suspect their next tour won't be soon - Cowboy Town is still producing singles but a new album is needed for their homeland and international audiences.

Review By David Dawson.