THE BAND PERRY & RASCAL FLATTS - PALAIS ST KILDA
THE BAND PERRY
RASCAL FLATTS
PALAIS - ST KILDA - 15 March 2013

BAND PERRY - RELIEF FROM PETROL HEAD POLLUTION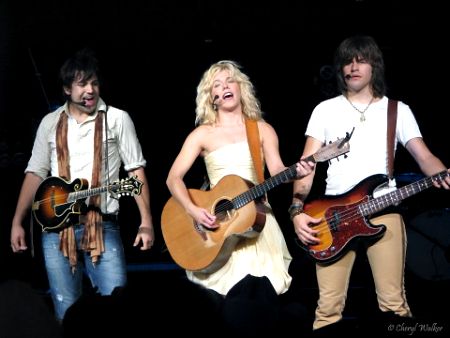 It seemed the petrol guzzling car noise pollution from the nearby lake and fighter jets in the smoky skies were salient signposts to the sound mixers at the ornate Palais Theatre on the dock of the bay.

It started long before the Alabama born and Tennessee reared trio - Kimberley, Neil and Reid Perry - emerged from behind the curtains.

Someone decided the rural rump and suburban sprawl audience needed to suffer rock music akin to that dished up at the MCG and Docklands before AFL games.

It was not Merle, George, Waylon, Willie, Hank or other roots country pioneers.

But relief came quickly when the Perry siblings and their backing quintet hit the stage bang on 7.30 pm as fans prowled the mean streets searching for parking spots.

This was music for a younger demographic raised on rural radio and Pay TV.

Lead singer Kimberley had no trouble remembering the name of the city - she told fans she enjoyed her visit to Queen Victoria Market during the day.

"I did some damage there," the bubbly blonde joked as she repeatedly reminded fans they were in the great city of Melbourne.

The vibrant vamp led her charges through a brace of songs from her trio's debut album - You Lie with brother Neil's visible but not audible mandolin, Miss You Being Gone and Walk Me Down The Middle.

"We have been playing together for 14 years in East Tennessee," Alabama born Perry said of her latter day home where she and brunette brothers joined forces after they graduated from being her school boy roadies.

It was perhaps fitting they honoured fellow East Tennessean Dolly Parton with a verse from her hit I Always Love You before showcasing new song Forever Mine, penned with hotshot guitarist and major star Brad Paisley.

It was one of three songs they performed from second album Pioneer, set for release on April 2.

But they soon reverted to Hip To My Heart - "our first hit down under" - and Independence.

The latter - penned with fellow family trio Claira, Brian and Aaron Henningsen - enabled the fiddle and mandolin - to rise above the guitars and drums.

Kimberly praised bassist brother Reid - not for his tight black pants - but his song writing before Quitting You and videogenic romance romp Postcards From Paris they wrote with American Idol coach Kara Dioguardi.

The singer was equally generous in their hit If I Die Young - a solo composition from which she does not have to split royalties.

She exuded joyous filial love as she pushed both brothers around in an energised stage show that never flagged - the encore Better Dig Two even included a verse from the Beatles classic With A Little Help From My Friends.

Despite suffering a muddy vocal mix in some songs the trio proved they were not three or four hit wonders - being prolific writers means they won't be publishing paupers either.

Kimberly may have laid on her love for Melbourne too lavishly, but unlike Van Morrison she didn't turn her back on the audience - except for a wanton wiggle.
RASCAL FLATTS - ANYTHING BUT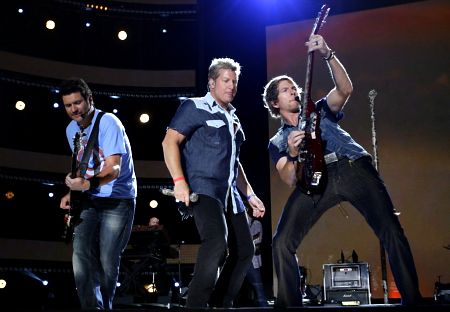 Headliners Rascal Flatts proved they had scaled the mainstream corporate radio chains moat with their Pay TV Horse of Troy decoy from their first riffs.

Yes, the audience knew every song - with no thanks to the cloth eared city programmers - but more to the power of regional, community and ABC radio and CMC.

And, of course, lead singer Gary LeVox amplified the love for Australia theme by breaking into Keith Urban hit Put You In A Song in an energised entrée.

Now, energised entrees are mighty fine with one important caveat - never encourage the audience to stand for the entire 90 minute plus show.

Kansas born guitarist Joe Don Rooney and Ohio bred cousins - bassist Jay DeMarcus and singer LeVox - ignited flames with chart-topper Banjo and rarely applied the brakes as they ripped through hits dating back to the nineties.

It wasn't pure country but the paying customers - the capacity audience - loved this country pop hybrid and sang along to songs diverse as Summer Nights, Fast Cars and Freedom and These Days.

After performing Hot In Here, accompanied by video screen flames, it was time for spoken word from the singer.

"It's extremely awesome to finally be in Australia," LeVox cooed, "there's nowhere in the world I would rather be. We've been here a week and I have never felt so much love."

Well maybe Mayberry - the late Andy Griffith's TV North Carolina laid back town honoured in the Arlos Smith song that the trio topped charts with in 2002.

LeVox warned the trio planned to perform older hits - Mayberry was quickly followed by My Wish and Prayin' For Daylight from 2000 and Melt - one of many power ballads from their catalogue.

"It has taken more than 10 years to come and stand in front of you tonight," Levox declared as he teased his audience, "we will now make this a habit in future."

He received his applause before his band punctuated its older hits with Changed - 2012 album title track - Why from 2009 and Stand.
A LONG JOURNEY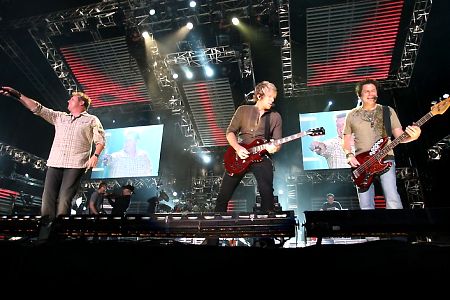 By now it was time for a confession from LeVox - he said he learned piano after being inspired by the rock band Journey.

"We later did a TV show with Journey," LeVox boasted proudly of an appearance on CMT Crossroads, "they started every song with a piano."

Certainly not fiddle and banjo entrees with a dose of pedal steel.

Being reminded of Journey as a musical source explained plenty but not the silky upper extremities of the vocal range of the singer - this was unique to LeVox.

Not unique was the drum solo - the last memorable one for this writer was Sandy - not Willie - Nelson with Let There Be Drums circa 1961.

Suddenly the tempo cranked up as the band launched into possibly its finest moment - the Marcus Hummon-Jeff Hanna-Bobby Boy song Bless The Broken Road - a huge 2004 hit.

After having earlier neglected the urge to stand I remained on my feet as the band came home with a wet sail for Me And My Gang, Here's To You and Come Wake Me Up celebrated with an Urban like stage decamping by LeVox who braved the audience on the Warrnambool wing as he clutched his mike.

But that was not all - the final encore (song 18) - was a cover of Tom Cochrane song Life Is A Highway illustrated with a kaleidoscopic video collage.

If you missed the message there was another written reminder - "To The Greatest Fans In The World - Thanks for The Ride."

It was a message sure to be repeated every night in every new and old town and city visited by these slick princes of country pop.

So was there anything we missed?

Well maybe the drum and guitar solos could have been replaced by a little humour - the memorable Backwards song from 2006 album Me And My Gang.

Yes, the bluegrass romp about what happens when you play a country song backwards.

But I suspect that is a rarity in concerts by the lads.

The band, like fellow tourist Tim McGraw, doesn't write many of its hits but accessible harmonies ensure regular radio conduits that sate the modern country demographic.
Review by David Dawson