A.P. JOHNSON TRIBUTE CONCERT - 11/7/15 - RAINBOW HOTEL
2Oth ANNIVERSARY TRIBUTE CONCERT
JULY 11 - RAINBOW HOTEL, FITZROY
A.P. JOHNSON - OVER THE RAINBOW ON A CLOUDY DAY
Unlike the long deceased legend's funeral at St Mark's in Fitzroy at high noon on Thursday November 2 in the 1995th year of our Lord there were no merry mourners smoking joints and swigging on long necks.

There were also a conspicuous absence of dogs sprinting down the aisle to the altar and coffin to pay their last respects or leave deposits of a diverse nature.

This was an almost 20 years after celebration of the life and times of outlaw singer-songwriter and former Johland rodeo rider and opal miner Artimus Paul Johnson who went to God at 49 after suffering protracted pneumonia and associated ailments.

There was the occasional joint offered to me after dark on the aptly named adjacent St David Street but I had compering duties to attend to at the Rainbow Hotel and a joint of the bovine variety on offer on the Sabbath if I arrived home unscathed.

This was the City Of Yarra promoter Mary Mihelakos's magnificent Leaps And Bounds festival as I galloped back into the past.
It was also a case of smoke and mirrors as I prepared research into my hosting role by inspecting the police record of interview between the idol of Australian youth and detectives Danny O'Sullivan, Chris Lewis and Sally Robertson at nearby Fitzroy Police Station at 10.56 pm on the 18th day of July, 1990.
On that occasion the record was not of a vinyl nature but a 29 page double spaced paper interrogation about an attempted armed robbery of the Gypsy Bar at 334 Brunswick St , Fitzroy, at 4.15 pm earlier on the same day and the accused gave his name as Paul Anthony Johnson.
Johnson told his interrogators he brandished a $3.40 water pistol - "it was black with an imitation walnut grip but it wasn't walnut, it was plain black itself" - to warn the barmaid Beverley Johnson he heard rumours the bar was about to be knocked over by real outlaws.
This was, he told the detectives, a dry run as a courtesy to Beverley to enable her to cope with the real deal if that eventuated.
But Beverley wasn't ready for in-house training and reported the water pistol production to her boss Lucio who promptly got on the blower to the boys and girl in blue.
Old A.P. revealed to his interrogators he was bowled over by remorse and tried to remedy the situation by buying her a "funny postcard."
The said card featured a koala playing a violin so A.P. gave his captive audience a detailed explanation.
"Dear Beverley, I would say it shouldn't have been done, but then again, it was necessary. My heartfelt and truly, ruly apologies to you. Kiss, A.P. P.S. Consistently stretching the fiddle, aren't I?"
The singer confided to the cops that he handballed the card to another patron to give to his favourite barmaid and continued on his pub crawl.
He also confessed that he had stomped on the water pistol and placed it in a bin during the aforesaid pub crawl.
But despite a protracted re-enactment of his pub crawl with the cops - including a visit to Playschool - "you know the pub that's got a kiddies kitchen" (the Punters Club ) no hide or hair trigger could be found of the water pistol.
Johnson's interrogators kindly punctuated the interview so he could get the last bus home to 77 Alfred Street , Prahran.
It was the same street where Molly Meldrum once laid his hat before moving north across the Yarra to Luxor in Richmond but did not have the same décor as Molly's digs or 77 Sunset Strip.
Johnson also borrowed some lyrics from his favourite country singers during the interview that resumed at "11 minutes past 12 a.m. on the 19th day of July, 1990."
There was some spirited debate about the exact time of commencement as the accused was confused by the digital time piece being used.
More accustomed to having time on his wrist in the early days and not on his hands like today the prisoner opined he was more comfortable in the stoner age than digital.
But, after having refreshed his memory he recalled that he purchased the water pistol from a local newsagency when searching for the latest issue of the Cane Toad Times from his native Queensland.
Johnson confessed he had a penchant for amber fluids with an occasional herbal chaser - "I do admire a smoke or two, as long as it's good."
Next he was asked about his mode of employment and intent to rob, rape or plunder.
"Like the old song says 'I'm too lazy to work - too nervous to steal."'
With that Bobby Bare lyric on the police tape it seemed prudent to ask Johnson about his psychiatric state.
"I'd put myself into the category of a nutter as a nice enjoyable, loveable bloke who's crazy. At least it saves you from going insane, doesn't it?"
Johnson did not credit Waylon Jennings for that lyric but reprised a Joe Henry line at his Magistrates' court hearing before being acquitted of attempted armed robbery by John Hutchins S.M.
Hutchins adjourned charges of possession of a pistol without a licence and two of assault after ruling her majesty should not be put to the expense of funding a trial.
His worship asked Johnson if his record of interview was a true and accurate account of his state of mind at the time.
"It was just a phrase I was going through," Johnson dead-panned.
Unfortunately the learned magistrate did not have Dead Livers drummer and latter day Magistrate Richard O'Keefe as his bench clerk that day to translate.
O'Keefe, also drummer for the Little Liver Band at the A.P. Johnson tribute show, may have been in rehearsals a mere 25 years earlier.
LESLIE AVRIL - NOT UNDER THE WEATHER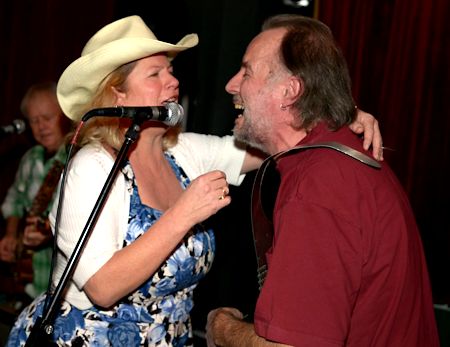 Leslie Avril & Ron Mahony - photo by Kip Karpic
Meanwhile back at The Rainbow , 25 years down the Lost Highway , the heat was on as entrée artist Leslie Avril enjoyed her winter feast before taking the stage.
Her appetite may have been enhanced by vain and frantic attempts to procure a later time slot as she was flying in from a gig the night before that took her overseas.
But Van Diemens Land ran a distant second to Little Livers bassist and our Willie Nelson 42nd July 4 anniversary concert diarist Michael Schack who was stranded in Hollywood after flying north from Austin.
His departure delay, caused by a United Airlines computer glitch that also took out the Wall Street Journal and nearby stock exchange, meant his later slot on the show was non-negotiable.
So early birds, and there were plenty, were treated to a stellar show by Leslie and her Hot Band - pedal steel guitarist Professor Ed Bates, dual Grey Brothers guitarists Mick Hamilton and Rodger Delfos, Seaford bassist Andrew Forrer and drummer Ron Mahony, once hanging his hat in Skipton but now calling Clunes home.
Ms Avril chanced her arm and voice by kicking off with Almost Persuaded - embryonic hit for Patsy Cline who went to God by plane at 30 on March 5, 1963, with fellow stars Cowboy Copas, Hawkshaw Hawkins and pilot Randy Hughes.
That tragic plane crash also brought Sweet Dreams - the 1985 movie about Cline - to a sad and abrupt end.
But that was then and this was now as Avril proved once again that she is the hottest under-appreciated and talented singer in the unlucky radio country.
Avril prowled the stage with the same tenacity, skill and guile as Malu - the headline grabbing orang-utan who escaped from his Royal Melbourne Zoo enclosure three days later.
She performed Chris Stockley tune Perfect World avec Mahony on washboard sans drums, then Lee Hazelwood tune The Fool – and Ross Wilson song Flesh And Blood that she liked to think was written about her.
She then added a little humour to her performance by swapping verses with Delfos on the later John D Loudermilk classic hit Tobacco Road.
But the band butted out when the wrong verse sequence triumphed and it was song interuptus for amused patrons.
"I'll kill anyone who posts this on Youtube," Lioness Leslie roared, "I'll defriend you on Facebook and come around to your home and…."
Those threats ensured that when Ms Avril vacated the stage a plethora of patrons emerged from the bleachers to say how much they enjoyed seeing her on Youtube and when was she coming around to their places of abode.
But Satan came to the rescue when she revived Marnie Sheehan song You will hear the Devil Call Your Name, the climatically correct It's Raining and a roof rattling version of W O M A N .
A fitting finale was the Dallas Frazier penned Oak Ridge Brothers hit Elvira.
MOOSE MALONE ON THE PHONE
It was that sort of day as I took the stage to recall how A.P. landed in Melbourne from Johland in 1977 with outlaw country band Moose Malone .
Johnson was singing roadie for the Moose when it landed a deal with RCA and was rewarded with a support role on a gig by the late John Denver who also decamped the planet on a jet plane at 53 on October 12, 1997 over Monterey Bay near Pacific Grove , California .
Long before Denver 's untimely demise he took singing Australian actress Cassandra Delaney, to whom I was introduced by Avril's guitarist Hamilton at Sydney 's Lone Star Café in the eighties, as his second spouse and was feted by RCA at a lavish Melbourne cocktail party after a Myer Music Bowl gig.
It was on that fateful night that Moose Malone , aided and abetted by young A.P., were rewarded for their drunken cocktail soiree romp, by being dumped from RCA after releasing aptly titled album House Of Blue Lights .
I was also able to produce another Johnson career highlight when I had to smuggle him in my car from the Caulfield Institute of Technology campus concert in March 1979 where he had enraged feminist organisers by being accompanied on stage by a Mortlake farm girl who upstaged Denise Drysdale by shedding her flimsy top on stage.
Johnson also practiced a play on words of the abbreviation of his hosts - C.I.T. - and performed crowd ignition tunes such as Heaven Help The Ladies I'm Going To Meet Tonight, Mullumbimby Madman, Riley The One Legged Racehorse, Sitting On My Face, Never Tie A Chooks Legs Together , also recorded by Chad Morgan, and a Sheik Of Scrubby Creek original What Am I .
The matinee climaxed, so to speak, when A.P. and his busty brunette stripper were sprung coitus interuptus by feminists in the not so private confines of his dressing room.
Thus the speedy departure from the latter day digs for Monash whose Clayton campus shocked even more upright citizens with a mock crucifixion at Easter.
BRENDA JOY AND NIGHTINGALE WILLIAMS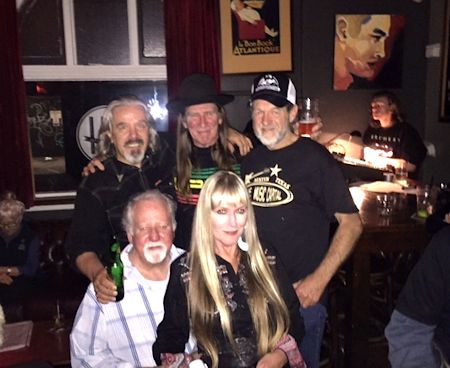 Brenda Joy with Little Liver Band - photo by Kip Karpik
Meanwhile back at The Rainbow Leslie handed the reins to Johnson's former singing and recording partner Brenda Joy who confessed under questioning from mine host that she first met A.P. at Marijuana House in 1980.
That meant he was in the clear for the Moose Malone and Caulfield Institute calamities but not public on stage sexual congress at a Cum To Church gospel show at the Stockade Hotel in Carlton .
Brenda revealed she enjoyed joyous musical matrimony from their relationship and showcased a heartfelt harmonious brunch of those songs.
She also recalled how Johnson was elated when expatriate Kiwi P.C. Caulton performed his song Toowoomba Moon in his support role for Emmylou Harris in 1984 before promoter Barry Coburn eloped to Nashville with singing actress Jewel Blanch who became his bride in Christchurch after I drove them to Tullamarine Airport under the cover of darkness.
Also adding feminine vocal delights to the show was former Hit & Run, Honky Tonk Angels and Smith & Western singer Gail Martin, nee Williams.
Brenda led on vintage Old Cowhand and all femme fatales joined forces for a joyous version of Will The Circle Be Unbroken from the pen of another older A.P. - Carter.
Gail and former Hit & Run partner Dan Robinson performed an A cappella version of Amazing Grace at Johnson's funeral.
Neither Gail nor the former Wild Cherries, Weird Mob and Virgil Brothers singer Robinson had a joint in their hands or mouth at the church but they had earlier performed at J.J. McRoach's 1977 Senate Campaign launch in Carlton .
Hit & Run , fronted by Robinson - former double bassist in the Melbourne Grammar orchestra - and son of late Warrnambool dentist Sos Robinson retained links with the Shipwreck Coast dairy farming fraternity by using local milk cans as on-stage Eskies for hard and soft liquor.
Mine host also reminded the audience they may have seen latter day classical singer Gail and Dan in the historic ABC-TV series Truckies .
But he did not add that Gail, a teacher at the time, was filmed in a steamy scene with the series male lead - not Robinson.
These days she revealed she is back in the saddle as a classical choral singer and teacher of the finer arts of that genre's vocal attributes.
LITTLE LIVER BAND
But let's evacuate the Protestants and move on to musicians with a Catholic taste in music - the Little Liver Band.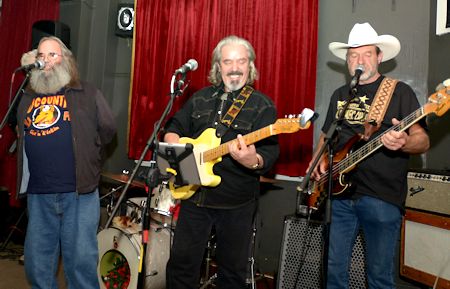 David Dawson with Little Liver Band - photo by Kip Karpik
The compact offshoot of pioneer outlaw band The Dead Livers - one advertised as a Catholic & Western band with a Calypso beat - shared many bills but not invoices with A.P.
There was the infamous Tamworth invasion in January, 1986, when the Dead Livers , Freddie Negro's Gravy Billies , Tex Nobody and old A.P. were banned from the Workers Club after a steamy show.
The occasion, apart from being a festival highlight, was also the 30 th birthday of a NSW Vice Squad sergeant and drinking partner and Papal biographer, nocturnal horror movies TV show host and fellow Sydney Daily Mirror columnist and feature writer James Oram.
I first met Oram on the dock of the Glenelg bay when then South Australian premier Don Dunstan staged a pier walk to assure constituents that if they stood by him it would not be the end of the world as Doomsday astrologers had predicted.
Dunstan saved the day on that occasion but could not cross borders into the Tamworth wheat belt to rescue Johnson and his merry men and women as Neville Wran ran the shop.
Old A.P. responded to requests from Oram and his sergeant in arms to celebrate their birthdays with a selection of songs from former convict David Allan Coe's country porn albums Nothing Sacred and Underground .
The audience seemed to respond warmly as A.P. sang Pussy Whipped Again, Linda Lovelace, Jimmy Buffett Doesn't Live In Key West Anymore and others from the seven times wed Mormon's hit parade.
He also performed his Shamworth parody Tamworth RIP , replete with fiery four letter word finale.
It rhymed with ducked.
But that performance hit the sin bin when Negro's Gravy Billies conducted their inaugural nipple print hall of fame on club drink coasters.
Meanwhile back at The Rainbow the Little Livers honoured their fellow Tamworth evictee with a vast cast of classics, a ramped up romp on Toowoomba Moon and their dance mix of I'd Love To Have A Joint With Willie and I'd Love To Have A Smoke With Malcolm.
It was a priceless political parody of I'd Love To Have A Drink With Duncan - the Slim Dusty hit penned by ABC mailroom boss Pat Alexander.
Johnson de-composed Malcolm with Caulton in the RRR-FM studio where Caulton hosted one of the many colourful country shows during the station's rich history.
They recorded it at Coburn's Yarra Bank studios in the same sessions as the Dead Livers cut I'd Love To Have A Joint With Willie .
It was also where Johnson recorded his epic album Greatest Hits And Ex-Misses that followed hot on the heels of the Dead Livers Greatest Misses.
But I digress - back to the Rainbow .
The afternoon compere - writer of the lyrics of Willie that graced mainstream newspaper front pages and resulted in a photo op in Adelaide for Willie and Slim - was summoned back on stage to perform vocal duties.
Unlike the band I had not listened to the mix tape so operated on my dairy farmer memory that meant rising early and trying to retire vocally before dark at the end of each milky line and verse.
The music became more melodious when Delfos and Schack led the matinee choir on crowd favourites - Watermelon Time In Georgia , Call Me The Breeze, Setting You Free and Marty Atchison penned psychedelic spiritual Holy Mary .
CHRIS WILSON, SARAH CARROLL AND KENNY JOE BLAKE ICE THE CAKE
Bellarine balladeers Chris Wilson and singing spouse Sara Carroll added some light and shade to proceedings.
Wilson had shared stages with old A.P. on many occasions and had recorded Desperadoes Waiting On A Tram - a revamp of Texan Guy Clark 's Desperadoes Waiting For A Train in honor of Johnson.
Today Chris played a selection of bluesy anthemic tunes while Sarah - daughter of a former journalistic colleague of the host in days of yore provided some poetic ballads.
She also helped out mine host with A.P. anecdotes but not the other robbery yarn when Johnson decided he needed a new pair of cowboy boots and headed to Ross Waddington's Greville Street saddlers Route 66 in Prahran.
It was within walking distance of Johnson's nearby digs so the singer boot scooted with a pair of snakeskin kicker boots as he whistled the old Lee Hazelwood penned Nancy Sinatra hit These Boots Are Made For Walking .
The singer had made only one fatal mistake - he had not consummated a jingle jangle with the cash register before departing.
But the singer could never be accused of not promoting nuptials.
His long time pedal steel guitarist Brendan Mitchell, a band member on this show, met his wife Mary at an A.P. gig at the famed Champion Hotel in Fitzroy.
That was after Johnson purloined Mitchell from the Melbourne production of The Best Little Whorehouse in Texas with Dolly Parton in absentia.
Mitchell, successful recipient of a liver transplant, proved that life imitated art - decades before he wrote the Dead Livers theme song Ballad Of A Dead Liver .
The Mitchells, who enjoyed a lengthy musical soiree in Texas and New Mexico earlier this year, had a less traumatic trip back home to front the Rainbow stage than bassist Michael Schack.
As well as performing with Brenda Joy, with whom they renewed acquaintances in Austin on their sojourn, the singing steel guitarist performed solo tributes to A.P.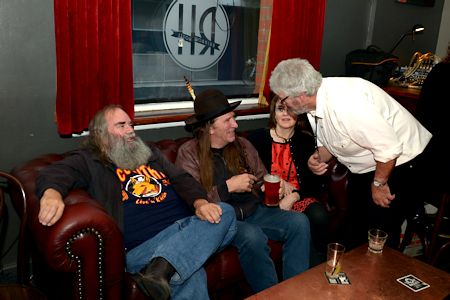 David Dawson, Kenny Joe Blake (seated) Berndan Mitchell (standing)
Photo by Kip Karpic
Also resuming nuptials was Johnson's sidekick Kenny Joe Blake, late of Rye and now of Maldon, who ambled on stage for a solo set before Wilson and Barb Waters returned with Crown Of Thorns .
Blake, adopting a Geronimo hat and feathers fashion statement for the occasion, regaled fans with hilarious anecdotes from their musical betrothal.
Folks didn't need to be reminded of that Cum To Church gospel show at the Stockade Hotel in Carlton on the Sabbath in the year of 1987.
Kenny Joe recalled it had earlier been Melbourne launch pad of Australian of the Year Lee Kernaghan and Johnson attended the gig and met Lee and his singing sire Ray who toured with his Waltzing Matilda truck.
But it was different style of trucking Johnson practiced when he plucked a bikie belle, dressed as a schoolgirl, on stage at his gospel gig.
The singer, reeling from his split with Brenda Joy, exorcised his grief with excessive lustful congress that graced newspaper front pages and had the singer banned from more pubs.
That incident, along with the re-enactment of the Gypsy Bar water pistol frolics, featured prominently in People Magazine during J.J. McRoach's reign as editor.
But on this occasion Kenny Joe opened proceedings with an evocative slowed down version of Toowoomba Moon and an energy charged version of Tamworth RIP.
Heaven, Hell Or The Flowerdale Pub also enjoyed well-earned revival.
So did I Love You Just Like A Pie that was also featured in cult Australian movie Next Of Kin.
Patrons were reminded singing Texan crime novelist Kinky Friedman, now 70, was so impressed with Johnson's stance as a fan at his 1990 Australian debut Easter concert at the Continental Café in Prahran he demanded pianist promoter Dror Erez fire the support act and employ Johnson for later gigs.
Erez complied.
Other anecdotes fondly recalled were the singer's stabbing at the age of 42 after a gig at the Yellow Rose honky tonk at the Moomba Hotel in West Melbourne .
He also was bashed, he claimed, by a Viet Cong platoon near the Terminus Hotel in Abbotsford.
But it was not hoons or thugs who claimed him at the tender age of 49 at St Vincent 's Hospital.
It was pneumonia and associated illnesses.
DOCK NOTE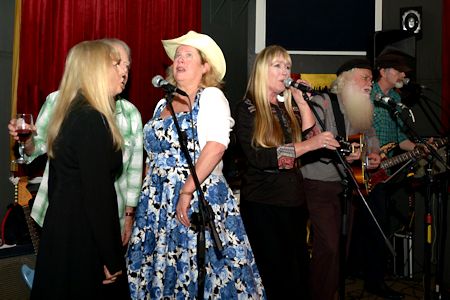 Leslie Avril, Gail Martin & Brenda Joy - photo by Kip Karpik
Sadly, I can't fully report on the evening's proceedings as Acid Country host David Heard kindly took over mine host's role while I rescued my car from the impending arrival of parking inspectors.
I headed to Docklands where Geelong suffered for its sins after the June loss of ruckman and country music fan Rhys Stanley who signed with the Cats on an end of season holiday in Nashville .
Heard swiftly disposed of nocturnal guests Blake, Marc C Halstead, Jeff Williams, the Gusset Rustlers , diverse cameos and 10 more copies of Johnson's Greatest Hits & Ex-Misses CD.
The Cats may have been thrashed by the Shinboners but you can still buy Greatest Hits And Ex-Misses CD for just $10.
CLICK HERE for details on the Nu Country Records page.