Amazing Rhythm Aces - Corner Hotel - Richmond - August 23 2011
Country Got Soul
There was much anticipation about the long awaited return of long time frequent visitors and fan favourites the Amazing Rhythm Aces who first toured here in 1980 with Leon Russell and the Newgrass Revival.
Here this time on an extended seventh Australian tour that included side trips to wineries and vineyards tonight it was the Melbourne with the venue the Corner Hotel.
Backing up from a lunchtime cameo appearance at the Basement Discs they defied the years with an energetic professional performance that reminded fans of what a tight great band they are. And like a good wine improving with age.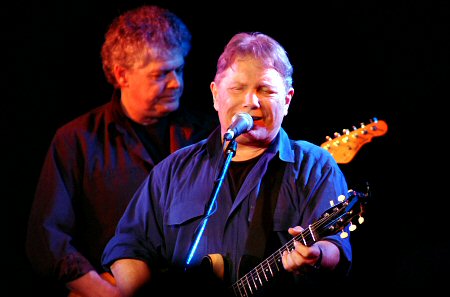 The Amazing Rhythm Aces live at Corner Hotel - photo by John (Kip) Karpik
Road song The End kicked off the night and had the audience with the band from the get-go for a journey through country music and its derivatives.
King in his Castle an ode to trailer living in the south backed up with love paean Della's Long Brown Hair.
By this stage of proceedings the band were firing on all cylinders with Kelvin Holly's slide guitar a feature of Waiting on Sundown.
The oft covered Russell Smith song The Rock, including Etta James, rang in the gospel bracket together with title track of current album Midnight Communion on 2nd Avenue.
Ashes of Love, a Buck Owens song, was the first cover of the night by the band and then the heart felt dedication of requested song Amazing Grace (Used to be her favourite song). The first set finished with Dancing the Night Away and the sage advice of Don't Go to Strangers and audience expectation of another set from the southern maestros.
With the shackles broken the second set laid down the groove and racketed up the performance.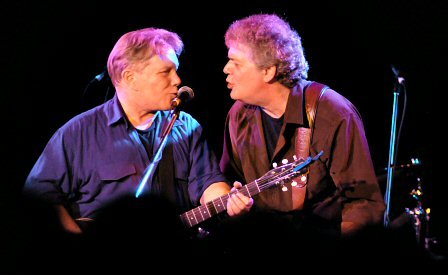 Amazing Rhythm Aces live at Corner Hotel - photo by John (Kip) Karpik
Songs included She Don't Know Her Own Strength, I'm a Dog (Bow Wow) and
Randolph's General Store set up the tempo before taking it all back down with Out of the Blue, One Love, the Russell Smith & Lee Roy Parnell co-write and Love's on the Way.
Rounding out the set was the dixie fried Ella B taking us all down the Mississippi River before the hit and everyone's favourite Third Rate Romance left everyone wanting more.
The encore delivered Smith back for a solo spot with the anti protest song I Want My Country Back sung with tongue firmly planted in cheek before the full band returned to drive us home with Give Me Flowers and Al Greens soul classic Love and Happiness featuring Billy Earhart's organ anchoring the sound.
The whole band cooked on the night and ran like a well oiled machine. Long time member Fred James playing the bass this tour and drummer Mike Dillon provided the foundation for the sound.
Let's hope that having scored some national publicity via an ABC Sunday morning program the Aces tour again soon.
Band
Russell Smith
Billy Earhart
Mike Dillon
Fred James
Kelvin Holly
1st Set
The End is not in sight
King in his Castle
Ella's Long Brown hair
Waiting on Sundown
The Rock
Midnight communion on 2nd Avenue
Ashes of Love
Amazing Grace (Used to be her favourite song)
Dancing the Night Away
Don't go to Strangers
2nd Set
Her Own Strength
I'm a dog
Randolph's General Store
Out of the Blue
One Love (R. Smith Lee Roy Parnell)
Love's on the Way
The Ella B
Third Rate Romance
Encore
I want my country back (Russell solo)
Give me Flowers (while I'm living)
Love & Happiness (Al Green)

Review by Peter O'Keefe with photos by John Karpik

Click here for a short review of the Basement Discs In Store show