ALAN JACKSON LIVE CONCERT REVIEW - ROD LAVER ARENA 5 MARCH 2011
MARCH 5 - 2011
ALAN JACKSON-JASMINE RAE-MCALISTER KEMP
ROD LAVER ARENA
DROUGHT, FLOODS AND MUSICAL SOLACE
They may have copped beltings from the drought, floods and insurance companies but the busloads of sons and daughters of the soil descended on the big smoke like, ah, locusts.

Most of the capacity crowd forked out their hard earned cash long before Jupiter Pluvious cried into their parched crops and washed away their livelihood.

Hell, what a way to drain your sorrows - at $9.80 a pop for hard liquor, $7.50 for a house white or red and maybe less for a beer.

Georgian superstar Alan Jackson has only toured here once in 52 years so it was well worth the wait to catch him and his hotshot touring band The Strayhorns.

The Strayhorns, the artist's stage sidekicks since 1989, are little like the Popes.

They're on such a nice earner they don't leave until they go to God or get an even better offer.
There's not many better offers in music in the new millennia than playing with an artist of Jackson's calibre - job security with fly by night rappers, rockers, dance dudes and poppies is decidedly dodgy.

So for support acts - Fawkner raised Jasmine Rae and McAlister Kemp, from up north of the Murray-Dixon line - it was a rare opportunity to air their freshly minted music to a capacity crowd.

Rae, a pocket rocket from the cemetery suburb hosting Underbelly killing fields, exploded like the weapons of choice as she showcased tunes from her two Mark Moffatt produced albums.

The one time music teacher enlisted a combative combo featuring veteran drummer Mitch Farmer.
MERLE AND VERN
It was somewhat fitting that Jackson and his Strayhorns were preceded by a sound system medley - septuagenarian Merle Haggard's classic I'll Just Stay Here And Drink and Alan's recently deceased Alabama mentor Vern Gosdin's equally apt Set 'Em Up Joe.

Yes, the boys and girls from the bush descended from the level one bars to the floor seats lugging six packs of spirits and beer.

It was a long night and they were thirsty as their paddocks before Noah created more work for the city slickers climate control growth industry.

The dimming of the lights enabled the now seated audience to a video preview of Jackson's latest album 34 Number Ones - despite the artist walking the Arista-Sony plank on the eve of the tour.

Jackson didn't scrimp on his music - his eight-piece band preceded him onto centre court without a net.

It was a succession of hits - just seven shy of the 34 on the disc - in a marathon two hour plus show that had the audience on its feet from the opening bounce.

The Bob McDill penned social comment entrée classic Gone Country set the mood and segued into the flippant I Don't Even Know Your Name.

The laconic troubadour proved a moving picture was worth a thousand crowds by saying little and letting his video clips pick up the slack.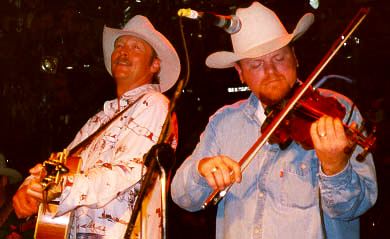 There was little slack in the Strayhorns - every moan of pedal steel from Robbie Flint and Mark McLurg's fiery fiddle and mandolin were front and centre in the mix.

So was the honky tonk piano of Joey Schmidt - no, never any danger of drums and guitars derailing this freight train.

By song three it was time for Jackson to drawl a few words - well, he named himself and added "we just pick and sing" and invited fans to sip and sing along.

Yes, Jackson was the best human jukebox to belatedly fly south since old Billy Joe Shaver, Shotgun Willie, the late Waylon and the boys.

This was bucolic bliss - pure country with just enough gear changes to keep the cogs clicking with a nostalgia side dish.

Living On Love, the late Eddie Cochran's Summertime Blues, A Woman's Love and then a two stepping Pop A Top with those gently weeping twin fiddles took us back to days of yore.

It could have been a Texas dance hall - not a Yarra bank barn - but for the Chippewa Falls place sign in the video clip.
BOCEPHUS
Small Town Southern Man, that became Small Town Southern Australian Man, and Who's Cheating Who were punctuated by a multi-instrumental feast in his Hank Williams Jr tribute - The Blues Man.

The aural and visual nuptials were consummated with fiddle, mandolin and pedal steel all depicted equally.

So it was natural that the fiddle driven Little Bitty, replete with kids in the audience enjoying cameo roles on the stage video, zeroed in on a Michael Long lookalike reliving his youth.

My apologies to the legendary footy star, guitarist and Long Walk creator if, a long time country picker, if he was in attendance and he was no mere shadow of himself.

It seemed a vast army of brothers proved they had far more musical taste than the absentee corporate radio chain czars.
Jackson delivered impassioned versions of paternal tribute Drive for his late dad Eugene and Where Were You When The World Stopped Turning for the 9-11 victims in New York City and beyond.
Jackson's pacing was impeccable - he followed rollicking George Jones tribute Don't Rock The Juke Box with Alison Krauss produced Like Red On A Rose.
Steel player Flint picked up the dobro for Country Boy but returned to his instrument of choice for George Jones penned Tall, Tall Trees before the singer introduced his band - not to each other - but the audience.

Jackson serious pause to reflect on the lean years on his arrival in Guitar Town was interrupted by some serious love calls from fans of the female persuasion.

Jackson reboarded his train of thought to recall his debut single "died a miserable death" just before wife Denise went into foal for the first time. No mention of career mid-wife - former Melbourne Spurs Bar boss and his embryonic Nashville manager Barry Coburn - before he revived first his Here In The Real World.

By now the artist assembled his Strayhorns on stationary stools for an acoustic set with reflections on song writing and "singing demos for $35 a song."
There was a little humor as the singer praised acoustic guitarist Monty Allen for his adoption of a beanie for his duet role as fellow Georgian Zac Brown in their recent #1 hit As She's Walking Away.
BIN LADEN BUMPER
By now the videos were peaking - wife Denise appeared in Remember When, a cast of thousands in Good Times and singing sailor and recent Sydney stage diver Jimmy Buffett in It's 5 0'Clock Somewhere.
Not everyone is content with spectatorial duties - especially when the star dispensed more collectors' item plectrums into the audience than singing Texan crime novelist Kinky Friedman.

The stage invasions by a flotilla of buxom beauties and occasional beefy bloke hit top gear during autograph signing in Chattahoochee and encore entrée Where I Come From.
The latter, featuring a collage of Melbourne landmarks diverse as Fed Square, Docklands, Flinders Street Station, National Gallery and Yarra bridges, was the icing on the gateau.

Sequencing reached new creative heights when a Melbourne Cricket Club members' section coat of arms followed hot on the heels of a Bin Laden bumper sticker.

Nice one - video editor.

Jackson closed with the rollicking Mercury Blues.

The Strayhorns did most of the work as the artist punctuated autographs to reciprocate with hugs and kisses for stage invaders - mostly of the female persuasion.

Jackson's road crew and security exercised an admirable restraint - with decamping stage invaders not suffering the fate of Buffett at the Hordern.

And you might be wondering what was the music like?
Well, The Strayhorns excelled with a superior sound mix - it was so clear it even depicted the amphibian in Jackson's throat.

And, of course, Jackson did justice to his deep and lucrative catalogue - with a predominance of accessible originals.

It's a helluva 21 year catalogue to pick from - the only major omission for completists may have been Fred Eaglesmith penned 18th album title track Freight Train and Hard Hat And A Hammer.

But if fellow Grammy awarding winning Texan Miranda Lambert hadn't suffered an 11th hour respiratory ailment the set may have been shorter.