ADAM HARVEY CONCERT REVIEW - 15 MAY 2021
CONCERT REVIEW MAY 15 - 2021
GATEWAY HOTEL - CORIO, GEELONG
ADAM HARVEY
RAECHEL WHITCHURCH
RAECHEL WHITCHURCH BUFFET DINNER BELLE
There was a strong feeling of déjà vu all over again as we joined senior citizens and their offspring in this eastern entrance to the city of Geelong.
The pre-concert music over the P.A. system included the late Slim Dusty's hit Duncan and octogenarian Willie Nelson's On The Road Again.
Just 24 hours earlier and 45 miles east at Mickey Mouse stadium I was treated to Duncan and Shane Howard's Goanna hit Solid Rock over the P.A. as the mighty Geelong Cats invaded the St Kilda Saints on their hallowed turf.
Howard, who grew up on the banks of the Merri River at Dennington west of my hometown Warrnambool beside the long defunct Nestles factory, retreated further west to Killarney.
The one-time Geelong resident was not among early risers enjoying the Jimmy Buffett dinner here at the Gateway Hotel.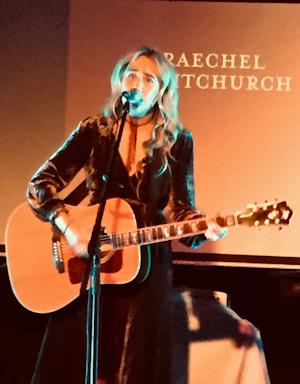 Instead, it was Broken Hill born Parkes princess Raechel Whitchurch - musical entrée for Geelong born singer-songwriter and prolific Golden Guitarist Adam Harvey's triumphant hometown return.
Raechel, who doubled as Harvey 's booking agent and merchandise mistress, hit the stage with singing spouse Ben on dobro.
The slender songbird, frocked up in brown velvet dress and svelte stage sneakers, was keen to share her life story with those catching her for the first time.
"As an eight-year-old my three brothers and me went on the road with our parents in our family band The Lees , "we lived in caravans and were home schooled. We released three albums as The Lees."
The singer punctuated original songs including I Used To Think I Was An Outlaw and My Father with more family anecdotes.
She revealed how she met her husband Ben and created two children - a son now four named Gram, after the late Gram Parsons - and daughter Magnolia aged two, after moving to Sydney for a decade.
Raechel joked to the eager audience she had obeyed the hotel signs and did not leave them outside in the car.
"They're in Queensland with their grandparents," she revealed to the audience - many of whom were in the same demographic as her parents.
Whitchurch explained she moved with her children back to Parkes, famous for another Dish and the annual Elvis festival.
"When my son, who was born in the suburbs, looked out into the backyard he said wow mum, we have our own park here in the back and front," she revealed.
Raechel added more family history in her introduction to My Father.
"I wrote a song about my dad," Raechel revealed, "he moved back to Parkes and he's now a cattle farmer at Mandagery. That song had more than a quarter of a million streams on Spotify."
The singer told fans her success enabled her to share her fortune with peers in her introduction to There's Enough To Go Around.
She wrote the title track of solo debut album Finally Clear , released on April 16, on the back veranda of her parents' Parkes home.
"I realised after leaving the city lights behind things were finally clear," she said.
Equally clear was a source of her 11-year marriage to Ben after female fans often told her he was hot.
No fire extinguishers were needed when she sang her marital tribute
(When I Found You) I Found Home.
She finished her seven-song set with evocative refugees' anthem Wide River To Cross - penned by Buddy and Julie Miller.
Fans did not need to be reminded of the locale of the merchandise stall she was staffing with Harvey 's Camperdown born wife Kathy.
But she did and displayed her gratitude to headliner Harvey who was to close her show.
ADAM HARVEY ON THE ROAD AGAIN WITH BECCY AND WILLIE
There was more déjà vu when Ben Whitchurch returned in Harvey 's backing trio after Willie Nelson provided pre-recorded intro On The Road Again.
It was clear humour was Adam's strong suit as he name-checked frequent duet partner Beccy Cole in entrée The House That Jack Built .
Then it was sales spouse Kathy who was credited with more family frivolity.
"The wife calls me Little Willie and Troy Cassar-Daley Big Willie," the singer joked as he introduced another favourite Whose Going To Smoke The Weed When Willie's Gone.
It was illustrated by his song video recorded at Harvey's Bar in the "Peoples' Republic of Batteau Bay."
Harvey threw the humour side stage when he said: "our piano player Vaughan Jones looks like George Clooney and has got some weed for sale after the show if you want some."
There was no sign of undercover Geelong gendarmes rushing backstage with sniffer dogs.
"You can't go overseas so check out the territory - Darwin's an amazing place," he urged fans as he introduced Darwin Nights from his 19 th album Songs From Highway One .
"Ben looks like a young John Williamson and still on his honeymoon," Adam quipped before back tracking to Ben's bachelor days to introduce Roger Miller classic King Of The Road.
"He would chat up girls in the audience, with tattoos for his one-night stands, because they already had something they would regret for the rest of their lives."

Harvey name checked another liquid lament Beauty's In The Eye Of The Beer Holder as he referenced bumper stickers for new song All For Rum And Rum For All.
This was illustrated by a video, filmed at the Bundaberg Rum Distillery , and featured on Nu Country TV.

"It was easy to get into but hard to get out of," Adam quipped as he invited fans to join him at Harvey's Bar when on the NSW Central Coast.
"It's easy to find, just follow the police cars and you'll finish up at our place," he explained, "Beccy Cole gets her gear off when she visits Harvey's Bar ."
It was also where Adam celebrated his 20th wedding anniversary to Kathy by giving her a "family heirloom - a bracelet" handed down by his grannie.
"It went well until she read the engraving - 'don't resuscitate'."
It seemed like a fitting entrée to the Troy Seals-Eddie Setser penned Ray Charles classic Seven Spanish Angels.
But it was time to bring Kathy's mum Marlene, a special guest, into the act as he played some double shots.
"She blamed me for sinning but I explained that it was a different Adam - Adam Brand," he joked about the pastor's step-son who spent part of his childhood at nearby Colac and Wallington.
"Marlene was having an affair with a man named Kevin - not Rudd - but Kevin Bloody Wilson."
It seemed like the perfect entrée for Adam-Kevin collaboration The Genie At The Bottom Of The Jim Bean Bottle that was followed by marital paean She Don't Know She's Beautiful.
Harvey made it clear from the first bounce he was delighted to be back in his hometown and added more humour to his visit to Corio Village with his bassist Sean Rudd.
"Sean is a vegan, all he could eat is lettuce so we headed to the Corio Village shopping centre," Adam recalled.
"When he got to the supermarket check-out he found this old lady crying her eyes out. She said she had just lost her $2OO for shopping. Shawn gave her $40 to pay for her groceries. She thanked him with tears in her eyes. He later told us "that's OK, I just found $200 on the floor."
It was that sort of show.
But there was plentiful pathos as he introduced Lindeman Again - written with fellow prolific Golden Guitarist Graeme Connors in Connors hometown Mackay in Queensland.
"My dad Les was working on the Elizabeth E fishing boat with John and Bob when he met my mum Roz who was running a hair and beauty salon on the beach at Lindeman Island . They got married and came back to Geelong where dad worked for Alcoa and helped build the Geelong hospital. Later Les was in palliative care at the hospital when mum and I visited him. He mistook us for his Elizabeth E fishing boat mate John. The last thing that he said was John's come back to take me fishing. Les was back on Lindeman again."
Adam's timing was impeccable.
He followed with Larry Weiss penned Glen Campbell hit Rhinestone Cowboy from his Troy Cassar-Daley collaborative album The Great Country Songbook.
The singer added Moorabool Street to his lyrics and announced Berwick singer-songwriter Andrew Swift, booked to play The Gateway on June 12, was also in his audience.
Harvey returned to humour in a hilarious anecdote about his son Conway, named after the late Conway Twitty.
"Conway asked me "where did I come from - was it a seed? I said one night your mum and I smoked the seed and we had sex without a condom. That was how you arrived."
Harvey said Conway hated country music until he heard June Carter Cash- Merle Kilgore penned Johnny Cash hit Ring Of Fire on skateboarder Tony Hawks video games series.
That enabled the singer to perform another Cash song I Walk The Line and said "the simple songs are the hardest to write" before performing the late Slim Dusty hit Duncan with a new verse about Ben Whitchurch.
Simple songs are often the easiest to parody - Duncan , penned by 1981 ABC mail room boss Pat Alexander, earned more royalties for Pat when your reviewer's spoof I'd Love To Have A Joint With Willie was a radio and newspaper "hit" for pioneer outlaw Victorian band The Dead Livers .
Meanwhile back at The Gateway the singer revived Merle Haggard hit Ramblin' Fever recorded as a duet with Corowa born country star Lee Kernaghan for Songs From Highway Number One.
Harvey injected more humour into his intro for Bandits On The Run - also on his new album.
"I was driving north in Queensland behind seniors driving at 40 kilometres an hour in a 100 kilometres zone and read their bumper stickers," he explained.
At one stage Adam dismissed his band from stage before a faux encore and being joined by Raechel Whitchurch on the Billy Edd Wheeler and Jerry Leiber written Johnny and June Carter Cash hit Jackson .
"I went on tour with Kenny Rogers, he was one of the nicest guys I ever met," was his intro to Don Schlitz penned Rogers hit The Gambler .
He revived another Slim Dusty hit Lights On The Hill - penned by his prolific song writing widow Joy McKean, now 91, with the words "God bless you Slim."
Harvey returned to his support of The McGrath Foundation and Fred Hollows charities with wry farewell frivolity in his entrée to his finale reprise - his album title track.
"Every cent I earn off this album goes to charity - my kids," he quipped to wide applause before he headed to the merchandise stall where fans were singing the Geelong football team theme song.
Harvey was a hard act to follow - Andrew Swift picks up the baton on June 12 at The Gateway.
My apologies for not including all of Harvey's humorous anecdotes but the singer is the only one who can deliver them with impeccable timing and pauses.
A career as a stand-up comedian awaits him - he does it better than most of those of the local ilk.
Review - David Dawson
Photos - Carol Taylor