DAVE'S DIARY - 10 SEPTEMBER 2022 - JIMMIE ALLEN FEATURE
JIMMIE ALLEN FROM CAR PARKS TO CHART TOPS
"When you're lying awake staring at the ceiling/ and times the only thing that's gonna heal ya/ when it's Friday night and you just wanna stay in/ to find some rest and face the sun again/ you won't be alone/ I will hold your hand/ I can't promise that the world won't hurt you down the road/ but you won't be alone/ if you find yourself drowning in mistakes/ and heart break is just a tear away/ and silence comes from heaven when you pray at night." - You Won't Be Alone - Jimmie Allen-Justin Ebach.
When Delaware born singer-songwriter Jimmie Allen first arrived in Nashville he slept in his car in the same desolate car park as Georgian songbird Caylee Hammack until they both wrote hits for peers.
It's a far cry from chart tops that Jimmie shared with fellow CMC Rocks Queensland festival headliner-duet partner Brad Paisley.
Allen, who celebrated his 37th birthday on June 18, ensures his son Aadyn, aged eight, won't sleep rough in Music City.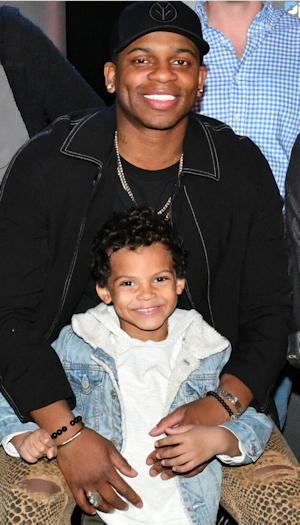 Jimmie features Aadyn on You Won't Be Alone that he wrote for him on third album Tulip Drive he named after the street his late grandmother Bettie Snead grew up on.
Allen named first two albums Mercury Lane and Bettie James Gold Edition after Bettie who died in 2014 and father Big Jim Allen who died in 2019.
Now Jimmie is joined by Keith Urban, Jennifer Lopez, CeeLo Green & T-Pain, Aadyn and Katie Ohh - whom he first met as a demo singer - on Tulip Drive that he tours Australia to promote.
Allen topped charts with Paisley on Freedom Was A Highway that he wrote with Ash Bowers and Matt Rogers and features Brad's guitar solo.
"This song is super special to me. I wrote it about the streets I grew up driving on in Milton and Lewes, Delaware ," Allen revealed.
"It has been amazing to see the song connect with so many people. Working with Brad was great. I have been a fan of him since his career started and always wanted to work with him. I'm honored to call him a collaborator and friend."
Brad was equally effusive about Jimmie.
"Couldn't be prouder to ride shotgun on this record with Jimmie," Paisley explained. "I'll be the Sally Fields to his Burt Reynolds anytime."
Freedom Was A Highway was Allen's third chart-topping single after Make Me Want To in 2020 and Best Shot in 2018 from his debut album Mercury Lane .
Allen was 2020 ACM New Male Artist of Year with Best New Artist nominations at the 64th Grammy Awards and the 57th Academy Of Country Music Awards he hosted with Dolly Parton and Gabby Barrett.
In 2021 he won Country Music Association Award for New Artist of Year only second black artist to win after Darius Rucker in 2009.
BIG IN A SMALL TOWN
"It 's a little dream, but it's the little things/ that are big in a small town/ my kinda living ain't made for the city/ no, it don't slow down one bit/ and all we got is a Mom-and-Pop/ smoking ribs in a tin roof pit/ yeah, I got a few good friends/ and yeah, I got a beautiful wife/ and yeah, I got a picket fence/ and yeah, it's a beautiful life." - Big In A Small Town - Jimmie Allen-Tripp Howell-Tate Howell-Chandler Baldwin-Jared Michael Hampton.
Jimmie published his first children's book My Voice Is a Trumpet in 2021 and joined Elton John on Lockdown Sessions , launched his Bettie James music festival and was Executive Producer for Netflix series Titletown High.
His song Big In A Small Town was featured as Titletown High theme song and exposed people to country music.
"For me, it's all about expanding and reaching people that don't listen to country radio," Allen explained.
"I tell people all the time my music is never going to change. I'm always going to be a country artist. I'm always going to have songs on country radio. I'm always going to be at country award shows and country festivals. But how do we get people that only listen to pop to know who Jimmie Allen is?"
Allen expanded on paternal song You Won't Be Alone.
"You Won't Be Alone was the last song for the album," explained about the 17 song disc.
"I wrote it about my son Aadyn, now 8 years old. I wrote it three-and-a-half, four years ago. It's a song about telling my son no matter what he goes through, he'll never be alone. I'll always be there for him, like even when I'm no longer on this earth. The memories we had, everything we shared, he can hold onto it."
Jimmie joined expat Kiwi star Keith Urban writing Boy Gets a Truck - on Tulip Drive as a duet .
"A funny thing about Boy Gets a Truck is Keith Urban did a version first then I did my own version," Jimmie explained.
"And I was like, "come on, Keith!" I shot him a text "What if we do Boy Gets a Truck together?" And he was like, "Sure, let's do it!" It was super cool to do it with Keith - we took a mixture of his version and a mixture of my version, changed it up a little bit. I feel like it's more of an anthem now. I can't wait to play it on the road - hopefully I can play it a couple times with Keith".
Allen's duet with Jennifer Lopez for On My Way was a bonus.
"A friend of mine that works with J.Lo said she wanted to do a remake of her song On My Way and he sent it to me and was like, "Do you wanna do it?" I was like, "Of course, what kind of question is that?" I recorded it next day and sent it back."
So was it a major impetus for Allen's career growth?
"Because my mentality and kind of how my parents raised me you shouldn't be surprised when you end up the places you've prepared and put the work in to go," Allen said. "No one works hard to fail. When you put the work in, you're expecting to be successful. Everything that I'm doing, I saw myself here. I'm still thankful. I'm full of gratitude. When someone works hard to go to school and get straight As, and they get straight As, they're not surprised they got straight As because they know the work they put in to get straight As. That's the same way I look at my career."
BROKEN HEARTED WITH KATIE OHH
"If I walked out of the door tonight/ would you be broken-hearted/ would you stop me first and put up a fight/ to finish what we started/ would you watch the taillights fade/ or would you chase me down and stay/ if it was over, would you just let me go/ cause it's what you wanted/ or would you be broken-hearted?" - Broken Hearted - Jimmie Allen-Ashley Gorley-Will Weatherly.
Tulip Drive features CeeLo Green & T-Pain on Pesos and demo singer Katie Ohh on Broken Hearted.
Allen says airplay for hits Down Home, Make Me Want To and Best Shot elevated his radio and TV profile.
"For me, that's the coolest thing in the world." Allen explained.
"When I write music and perform it, I never say I wanna write this song to go No. 1 or I wanna write this song to win this award or that award. For me, my awards come from when people write me messages that my song touched them and my song helped them move past a situation they were struggling with.
"I'm thankful for the awards. They're cool. But at the same time, man, that's not real. It's a thing that sits and collects dust. But how your music can affect someone to change their life and hopefully they can take what they took from your music to someone else, to me, that's the real award."
The singer credited older generations of his family for inspiration for 17 new songs on Tulip Drive.
"A lot of the songs on this album are from that time period," Allen added.
"This is the first album where a lot of the songs are written based off my personal life experiences from relationships, hardships of life, to the parties and the good times, A lot of these songs are based off things I went through when I was in high school and college, at a place where I was just learning a lot of life lessons from my grandmother. I wanted to honor her by naming this album Tulip Drive , after the street she lived on in Lewes , Del. "
Jimmie and wife Alexis Gale have three children - son Aadyn, daughter Naomi Bettie, two, and Zara James, born October 16, 2021.
They posted photos of a wedding on May 27, 2021, but revealed they married a year before in a private ceremony on Delaware on June 18, 2020 - Jimmie's birthday.
Jimmie appears at the CMC Rocks Queensland festival at Ipswich from September 23-25 with Brad Paisley, Kane Brown, Abby Anderson, Blanco Brown, Breland, Restless Road , Laci Kaye Booth, Niko Moon, Canadians Lindsay Ell, Mackenzie Porter, Tenille Townes and many major Australian artists headed by Lee Kernaghan, Troy Cassar-Daley and expat Morgan Evans.