DAV'E'S DIARY - 20 SEPTEMBER 2021 - DAVID HEARD OBITUARY
DAVID – HEARD AND ALSO SEEN – RIP AT 65
"I wish that I was honky tonkin' at the Rooks on a Thursday night/ Mel goes out at seven, Dave comes in at nine/ drinking cans and telling jokes/ going round for round." - I Wish That I Was Honky Tonkin" - James Ellis and The Jealous Guys.
When acclaimed altruist David Heard died at 65 on Sunday September 12 after a protracted battle with throat cancer he may have ascended to a higher music temple but he will never be forgotten.
He was honoured in song by Melbourne country singer James Ellis who wrote his tribute for David's 40th anniversary Acid Country show on 3PBS-FM during the City Of Yarra Leaps And Bounds festival.
It was a fitting honour for the wise Wimmera wheat belt born benefactor who promoted Australian and international country, folk, roots singer-songwriters and Americana artists on and off air in music venues, concerts and festivals during his colourful career.
David defined the description of volunteer benefactor with mild-mannered music mastery and kindness after he left Geelong College as a boarder in the sixties.
The Horsham raised music lover joined the community radio station 3PBS-FM in 1979 after attending a meeting at the Prince Of Wales hotel in St Kilda.
He recalled sitting on a train between Geelong and Melbourne in 1978 reading an article in The Age Green Guide about a group of people "plotting a revolution" for the airwaves of Melbourne.
David began presenting shows including Rock 'N Country on the station from its St Kilda launch in December 1979 and supported live music in diverse bars, clubs and festivals.
He celebrated his 40th anniversary on air with his Acid Country show in 2020 at the latter-day Collingwood studio in Easey Street.
The show was re-broadcast on Thursday September 16 in honour of his vibrant support of roots music.
Melbourne country singer James Ellis & The Jealous Guys were guests on that show after celebrating David in lyrics of their song I Wish That I Was Honky Tonkin that was inspired by his frequent attendance at their Rooks Return pub gigs in Fitzroy.
Tracy McNeil, Mick Thomas, Sarah Carroll and Lachlan Bryan were also among guests on his anniversary show.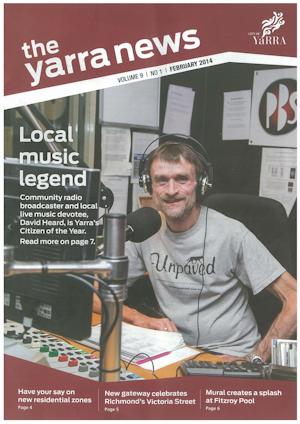 In 2013 David also received the Community Broadcasting Association of Australia (CBAA) Community Radio Award for Outstanding Volunteer Contribution.
He was also honoured in 2014 as the City Of Yarra Citizen of the Year for his services to the community including hosting live concerts, local artists and the Leaps And Bounds festival.
David was a judge in the annual Age Music Victoria awards and hosted concerts with fellow judge and 3RRR-FM Twang show host Denise Hylands.
During Covid David was unable to host Acid Country at PBS so he set up a home studio and pre-recorded his shows and sent them to the station.
Although David struggled to deliver in the soft gentle voice listeners had come to love he battled on until a vast cast of peers took over the reins when his vocal cords became too challenged - even for eating solid foods.
His previous PBS duties included board, programming and outside broadcast committee member and announcer trainer.
David was a regular guest on tours by major international artists including singing Texan crime novelist Kinky Friedman and fellow Texans Billy Joe Shaver, Guy Clark, Townes Van Zandt, Steve Earle, Justin Townes Earle, Willie Nelson, Waylon Jennings, Charley Crockett, Charley Pride, Butch Hancock, Jimmie Dale Gilmore, Dale Watson and Rodney Crowell.
Others who enjoyed David's patronage included Steve Young, John Prine, Tyler Childers, Buddy Miller, Jim Lauderdale, Corb Lund, Emmylou Harris, Dolly Parton, Mary Chapin Carpenter, Lucinda Williams, Margo Price, Kacey Jones, Becky Hobbs, Jason Isbell, Dar Williams and BR5-49.
They were just a small sample of artists to benefit from his support but many others have paid tribute to David on-line and in the print media after news broke of his passing.
DAVID - A STAR BEYOND THE BAR - LIVES FOREVER
"I'm gonna live forever/ I'm gonna cross that river/ I'm gonna catch tomorrow now/ you're gonna want to hold me/ just like I always told you/ you're gonna miss me when I'm gone." - Live Forever - Billy Joe Shaver
David was much more than just a music benefactor - he had life-long friends all over the world and community.
They ranged from fellow footy fanatics as a generous Geelong Football Club and Social Club member to old school mates like country singer-songwriter Dave Steel.
I fondly recall driving David home from Geelong Football games with pit-stops on route to catch artists including fellow broadcaster Gene Bradley Fisk singing his original songs in Norlane.
David was also a pioneer member of the Melcats - Geelong fans who were entertained by Ian Cover and high-profile singers and players - at pre-game breakfasts in Geelong hotels.
There were many other post football concerts, parties, festivals and Geelong premiership celebrations at Kardinia Park and way beyond.
Obviously too many joyous journeys to list here.
His benevolence extended to being a baby-sitter for loyal friend Natalie Lupton's son Duncan - she and her husband Shawn were also carers for David during his health battles.
That included driving him to the Peter Mac hospital for cancer treatment, cooking and shopping for him and hosting his 60th birthday at their home.
David made one final trip to Peter Mac behind the wheel of his own car in a valiant effort to assert his desire to fight the good fight despite eating, breathing and driving challenges.
"I didn't want Natalie to have to wait several hours at the hospital - as she often did - while I had my treatment," David told me in his final call shortly before he was taken to hospital by ambulance after Natalie found him immobilised in his Fitzroy home.
It was an emotional conversation as David's voice was devastated by his illness so we kept in touch by email to ease his pain.
This was a far cry from his volunteer radio work way beyond PBS-FM from the eighties in diverse locales.
David's humour and knowledge dominated his co-hosting of High In The Saddle on 3RRR-FM with me in Fitzroy and also Cold Coffee Morning host on Nu Country FM in Northcote while presenting his PBS-FM shows.
It was ironic that David - a life-time Geelong football club supporter - last watched his footy team play in a final on a TV in his room at the Caritus Christi Hospice in Kew.
His previous off-air career included installing televisions in private and public hospitals all over Melbourne and the suburbs.
My family history with David's Wimmera clan reaches back more than 70 years.
The best man at the Horsham wedding of David's parents Cory and Jennie was my uncle - Frank Millar - who was raised nearby in Laharum with my late mother.
Frank's dad Alf also played five games for Geelong in the VFL in 1905 - aged 17 - while a boarder at Geelong College and David often observed Alf's personal team tribute on a wall at Kardinia Park on his visits.
David is survived by his three sisters - Joanne, Fiona and Jenna and their families - and the family of his brother Edwin who pre-deceased him.
His sisters live and work interstate so there are no plans for a funeral - David's ashes will be laid to rest near his parents and brother's graves in Noradjuha Cemetery near Horsham.
David may have departed this old world but his memory and spirit will live on forever.