DAVE'S DIARY - 20 SEPTEMBER 2009 - BRODERICK SMITH CD REVIEW
THE DEVIL AND THE BOY
"The boy sang wild unearthly/ like his life was on the line/ a dancing chicken on a hot plate/ a golden voice for all the times." - The Devil And The Boy - Broderick Smith-Matt Walker
The fame flame burned Broderick Smith when a small jet fell from the sky into swampy thicket in Gillsburg, Mississippi, on October 20, 1977, and snuffed out the engine room of legendary Lynyrd Skynyrd.

Smith and pioneer Melbourne county rockers The Dingoes were scheduled to join the Dixie Rock band on a Rolling Stones tour.

Although the Dingoes lost their international bite at the cherry it was a bucolic boomerang for the members who plan a new CD and tour in 2010.

But Smith and surviving band members have not been idle in a 32-year hiatus.
Broderick, who mastered acting, advertising and graphic arts, cut 10 solo albums and ventures with his Hired Hands and Big Combo, in a career dating back to Carson and Adderley Smith.
He also fronted new country pioneers the Vic State Opry with a vast cast including Steve Hoy, Victor O'Neill, P.C. Caulton and Dead Livers duo Richard O'Keefe and Rodger Delfos.

Now, after retreating from multi-cultural Preston to the splendid isolation of rustic Castlemaine, Broderick is on the road again as he celebrates organic new disc, Unknown Country.

Smith cut it in five days in the majestic Dandenongs at Upwey with producer Matt Walker, guitarist Shannon Bourne and crew.

There was also help from friends including Garth Hudson of The Band way up north at Leopard Studio in New York and Cairns drummer Laurie Ernst.
THE DEVIL AND A DANCING CHOOK
"They were good for each other/ the devil and the boy/ the devil's from another stable/ where wise men never show/ and the signs like neon blood/ on the tables drip and glow." - The Devil And The Boy.
Smith arrived in Australia from England as a youngster in the fifties.

And it was some chicken dancing on a St Albans carnival hot plate about 50 years ago that first caught Broderick's eye.

The pre-teen Smith didn't see smoke pouring from the bird's poor, poor, pitiful feet.

But when he read the history of the late Elvis Presley's manager Colonel Tom Parker there was a fiery flashback.

Colonel Tom - not Colonel Sanders - soared to infamy as a char chook torturer while managing Elvis and late stars Eddie Arnold and Hank Snow.

The saga fuelled The Devil And The Boy - one of the pert period pieces on Unknown Country.

"I remember going to sideshow in St Albans as a kid and seeing a dancing chicken," Smith, 61, told Nu Country TV.

"But I didn't know they were on hot plates at the time. I thought wow - dancing chickens, why are their feet smoking?"

Smith's famed Dingoes was belatedly inducted into ARIA Hall Of Fame but didn't suffer similar exploitation in their two years in the U.S.

"That's the way the Colonel worked," Smith explained.

"He basically treated Elvis, Eddy Arnold and Hank Snow as another walking horse."
GOD AND ALLAH HIJACKED
"I look at all the faces, in their uniforms so clean/ every night before dinner, a list on the screen." - May God Be With Us - Broderick Smith-Matt Walker.
Smith explored his rich national and international heritage in his baker's dozen songs.

He blends social and political comment on masters of war, greed and racism with vibrant vignettes of vanquished victims, unsung heroes and heroines.

Smith eulogises forgotten jazz founder Buddy Bolden, poignant pugilists in The Ring and an altruistic towie in Smashman.

But Smith, lucky to retain his marbles after his marble came up in the 1968 National Service draft, nails militaristic puppeteers to crass crosses in God May Not Be With Us.

Smith did his time in Holsworthy Army camp near Sydney as peers were sentenced to the killing fields of Vietnam.

It was an eerie entrée to wars ignited by religious fanaticism and oil.

"I was never in combat, only Holsworthy," Smith confessed.
"The guys who were in combat don't talk about that. If they approach my age they're about to go crazy - that's not a joke. I was never in Vietnam. I opposed it quite strongly, a lot of people in the Army did. I watch the Jim Lehrer Report that has a list of Americans who have died that day with photos. That impacted on me. I was living in America for a couple of years. I have dear American friends. I like Americans. I thought maybe that's their kids who are dying for this. Some times in this country people put Americans down all the time. I say you have to separate the government from the people. If you looked at Australia in the fifties with Robert Menzies era you would say Australia was a bunch of staid old racist assholes, which might be the case."

Lest us forget ALP leader Arthur Calwell, infamous for "Two Wongs don't make a White."

Smith updated his military experience to I'm The Same As You - inspired by the Bali Bombings.

"If I was that age I would probably have a holiday in Bali, a rite of passage," Smith said.

"I don't like the expression but that now seems to be par for the course. It's the new Earl's Court. Bali puts a scar on your heart. For all its horror it brings home the fact we're now in South East Asia - that's where we are. We're round eyes mostly. We're not an extension of Europe and the U.S. We're firmly in South East Asia."
JOE MADE OPIUM BYRNE

"I saw a Chinese friend from Beechworth/ he gave me a small packet/ I carry this holy secret in my waistcoat pocket." - Mary The Larrikin (The Ballad Of Joe Byrne.) - Broderick Smith-Matt Walker.
But a different era of bloodshed inspired Mary The Larrikin (Joe Byrne's Ballad.)

Smith's tale of a barmaid seduced by romance of the Kelly gang - specifically Joe Byrne - was rooted in historian Ian Jones book The Fatal Friendship.

"I read all the stuff I could find on Ned Kelly and I gravitated to Joe Byrne," Smith said.

"The book centred on the relationship between Joe Byrne and Aaron Sherritt, like some sort of Greek or Roman tragedy. The Kelly gang story is like bunch of blunders, almost like the gang that couldn't shoot straight. Joe first discovered opium on the goldfields. There was a goldfield near his mother's house and he used to hang out with the Chinese a lot. That's how he learned Mandarin and got into opium - he was also the most intelligent one of the gang. I took the trip to his grave at Benalla and put it on the album cover. I got permission. I didn't want to open the door and see six of Byrne's descendants - six axe handles wide saying come with us son to your grave."

DEIFICATION OF THE CORPORATE PIRATE
"He thought he'd get away with it/ he'd planned his wife so well/ every bit of evidence was done in dark motels/ in an oak-lined office/ beneath the concrete floor, stacks of faded documents/ full of broken laws." - What Goes Down - Broderick Smith-Matt Walker.
But more recent robberies adorned What Goes Down - saga of women left to face posthumous music after pious public partners are unmasked.

"At the start of the eighties there was this deification of the corporate pirate," Smith recalled.

"But no matter how much you make out you're philanthropic while you are living, once you die the truth comes out. Then people realise what a jerk you were. What goes down must come up - it's reverse of Newton's law of physics here."

Smith, unlike his subjects, admits to a little piracy of his own.
"I stole a line from Orson Welles at a Democratic convention where Gerald Ford and his wife Betty Ford turned up," Smith confessed.

"She was on the dais. Welles was in the commentators box and a voice rang out saying 'she looks like she's soaked in valium.' Thankyou Orson. The widow is often left facing the music. I got the golden chains reference in the song after reading about the Vanderbilt's summer mansion on Hudson River in New York and looking at the bedroom. The wife's bedroom is separated from the husband's. It has a picket fence around it and a small gate so he had to come to the gate and hit it with his cane and say 'am I allowed in?' She would say yes and he would then go in and climb into bed with her. I remember her sleeping in gleaming golden chains on a bed built for the brave. That's a weird way to live. There was a bit of Betty Ford, also Bob Hawke with America's Cup comments about bosses who fired workers."

Smith's wide net captured Bond and Skase and extended to his former neighbourhood.

"I kept seeing this little Greek or Italian guy in Preston with his bouffant hair style and black suit with matching black Mercedes with the Number plates Stud 1," Smith recalled.

"He could hardly see over the steering wheel. He had some fashion business. You knew he had used his mother and father's house to start it all. He was probably going to lose his house for them. I thought if the banks are going to loan people money for business surely they must have checks to see if they're capable of running one."
Of course title loans companies such as TitleMax check to see if a customer can afford a loan before they approve one, so you would think a bank would want to protect their investment and look closer at every
business plan.
SMASHMAN TO RESCUE
"Hey I'm the smashman/ I drive the hook truck/ I'm the smashman/ hunting up a little luck." - Smashman - Broderick Smith-Matt Walker.

Smith also depicted altruism on a local level in Smashman.

"A tow truck driver named Phil Cockayne picked me up one night," Smith revealed.

"I was out in Cranbourne. Someone moved those conical things off the road. There was a ditch there and it was dark. I went into the ditch in my Commodore. Phil helped get me out. We spent the whole evening together. He was going to Nar Nar Goon to get me new wheels. He even towed me back to my local garage. He was a lovely guy. I just sat there listening to him talking about being a tow truck operator. He said I've been a smashman for years. As soon as I got home I got out a piece of paper and wrote down everything he said. It was fairly quick. I limited the length of lyrics, with no fluff."

But his boxing tune The Ring was more generic.

"I was reading a lot of books on boxing," Smith added.

"I like boxing and extreme sports. I love listening to the way boxers talk. I find a lot to be sharp-witted, funny people. I wanted to have some music like they play when they enter the ring. Matt came up with some guitar and I just sang it over the top. All the lyrics are sayings that boxers use about boxing. I tried to send it to Anthony Mundine but don't think it got there."

Smith also paid tribute to another unsung hero in Buddy Bolden. "Buddy was around from the late 1890s,' Smith recalled.

"He was a trumpeter, cornet player. He went crazy, went mad but he was regarded as the real father of jazz. It was rumoured he had done a recording."
JACK - NAPOLEONIC WARS
"From underneath the market with an axe and a musket/ comes Jack Napoleon from Cape Grim." - Jack Napoleon From Cape Grim - Broderick Smith-Matt Walker.
"Jack Napoleon was an Aborigine from Van Diemen's Land, brought to the mainland - because it was settled later - to explain to locals how nice white people were," Smith joked.

"But instead he told them the truth and scarpered. He robbed the bank in Frankston and also terrorised the Mornington Peninsula. At that point I became really interested. I envisioned Portsea matrons at home with Kooris coming through windows with axes. I liked that image.
I initially started the song with Howling Wolf kind of feel to it. It was scary to listen to it.
I added banjo to it. Garth Hudson was on accordion."
GARTH HUDSON
So how did Smith recruit Hudson, just 72, who played on the Dingoes 1977 album Five Times The Sun?

"You don't actually talk direct with Garth, I had to go through his wife Maud," Smith recalled.

"I had to send him all the new songs with the lyrics. I had to audition for him to see if he wanted to play on it. He did it for mate's rates at the end. That was unbelievable. He chose what songs he would play on - you can't tell him what to do. He went off on direction he wanted to go - he's best in the world at what he does."

Smith also hired drummer Lawrie Ernst in absentia.

"He sent his stuff from Cairns," Smith said.
"He's my favourite drummer and great singer. Most of the time he's doing corporate work or playing with the islanders on the Tiwi Islands. When he comes down here he'll bring seed pods for percussion instruments. His family has been in Cairns since the 1880s. He is of German-Maltese background. His mother is an extra in 40,000 Horsemen in a scene where they come riding in on donkeys into a bazaar in the Casbah - she's walking by with a pot on her head. His father flew during the second world war."
THE DINGOES RESURRECTION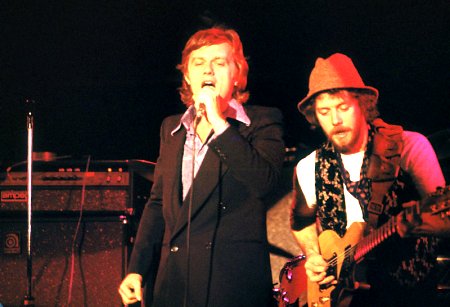 Smith is much kinder to his bandmates in The Dingoes.

"We're talking about doing a new album and getting together next year and doing a tour," says Smith who embellished his music by acting.

"If we're going to do it we should make sure we've got all the right new songs. The songs have got to be good - if you sit in the corner and strum a song and it sounds good you've got it. We'll end up with a lot of fighting.

The Dingoes fought a lot and loved each other a lot. Where the argument stopped was wherever the solution was. We're not going to mention bands here but it's not going to be one of those jaded old faded reformations. We won't be wearing corsets and having anal blockages. Chris (Stockley) and I'll go to Tucson to Kerryn (Tolhurst's) place and then to Nashville."
UNKNOWN COUNTRY VIDEO
Smith plans to film a video for his new album in high country near his home.

"We'll film it for Unknown Country, probably on Mt Alexander near Castlemaine where we shot the cover," Smith revealed.

"It will be Matt Walker, Shannon Bourne and Richard Tankard - the normal group I work with."

Smith recruited pianist Tankard after one of his many trips to the fertile Shipwreck Coast roots music mecca Warrnambool.

"I thought Richard was very funny," says Smith.

"He does Michael McDonald impersonations doing Up There Cazaly and I Should Be So Lucky. He played on Too Easy. I met him through Marco Goldsmith and his band Blue Heat."

So what will the lads be accompanied by disco damsels like in those pop pastiches?

"There will be no blondes with weird hairdos wearing absolutely nothing and us sitting around in black face covered with bling," he joked.

"We'll intersperse live footage as well."

And there won't be a cameo from a Charlie And Boots star with whom Smith acted in a recent short film.

"I did one short film in Castlemaine with Annie Phelan as my wife - my dead wife," Smith added.

"It was called Death In A Supermarket. We filmed it four years ago with Rebecca Coleman as director."

Smith's acting CV includes the movie Man From Snowy River and TV shows Law Of The Land, Blue Heelers, Janus and State Coroner in which Nu Country TV founder Peter Hosking played the Chief Commissioner of Police.

His songs have also featured in diverse movies and TV shows but he received a shock when watching a movie when he heard a song dating back to his seventies era with Carson.

"There is a scene in the Sinatra movie The Night We Called It A Day where there is a song from Carson," Smith added.

"They're talking about Sinatra and heading towards the Sydney Harbor Bridge. It was such a contrast to Sinatra's music. I found it hilarious. Ruby In The Snow is also being used in a docco. I get little bits and pieces from song royalties when you wonder how you are going to pay for your groceries."

Probably not as lucrative as when James Blundell and James Reyne hit with historic Dingoes tune Way Out West.

It's solace for a career where he scaled down acting while living in Melbourne.

"I lost my agent so I moved up country," Smith said.

"I was also going through a marriage breakdown (his second) so it was putting stress on stress."

Unknown Country is on Liberation - same label home for Troy Cassar-Daley, Kasey Chambers & Shane Nicholson and Matt Joe Gow.