DAVE'S DIARY - 8 SEPTEMBER 2008 - CHASING BAILEY
CHASING BAILEY CHASING CHARTS
"Goodbye to you, you left without a warning/ goodbye to you, I won't see you in the morning." - Goodbye To You - Crystal Bailey.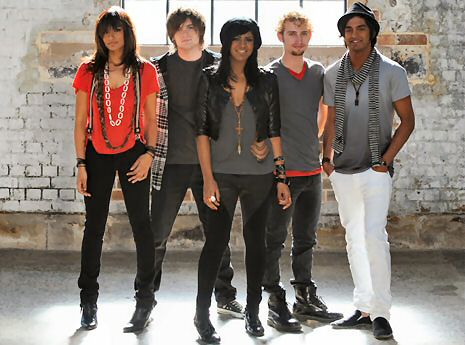 They opened for singing Kentucky born country star and actor Dwight Yoakam as teenagers as The Baileys and have their hot debut single in Ten Network hit TV show Mark Loves Sharon.

And they previewed their debut album at World Youth Day concerts in Melbourne and Sydney before crowds of 160,000 pilgrims and fans.

Chasing Bailey has caught a wave and is riding it beyond its wildest dreams begun in Tamworth when members were as young as 12.

"Opening for Dwight Yoakam, that was one of the most amazing things we had as a band," singer and guitarist Charlene Bailey told Nu Country TV in a call to promote its debut CD Long Story Short (EMI).

"That was cool, really cool. A few songs we did on that night survived to make our album.

It was a road test for our album."

Charlene, 20, drummer brother Kurt, 21, and sister Crystal - 23 year-old singer and mandolinist - have been playing and singing together since they were micro-boppers.

They poached guitarist Daniel Conway, 19, and bassist Lindsay Dallas as 12 year olds to flesh out their music that embraces country, pop, rock and white-eyed soul.

On their Victorian debut at the St Kilda Palais in the spring of 2006, the band won acclaim for delivering a septet of songs with a better vocal sound mix than headliner Yoakam.

One of those songs, Goodbye To You, is a highlight of the album produced by Paul McKercher of Pete Murray, Eskimo Joe and Midnight Oil fame.

"We did Goodbye To You on the Dwight show," Charlene recalled fondly.

"Crystal wrote it. It's a real life love song. A lot of teenagers have break-ups because their relationships start so young."
LITTLE BY LITTLE
"Little by little you give in to your heart/ little by little you show me your spark." - Little By Little - Mikael Andersson-Martin Hansen-Wayne Hector.
The band wrote all songs on its debut except single Little By Little that has a life of its own since being used in Ten Network comedy Mark Loves Sharon and another tune by an expatriate Australian graduate of Oxley High School in Tamworth.
"It has been great exposure," Charlene revealed.

"We're so lucky they chose our single - out of all the songs in Australia. It was a great opportunity for us because it's on every show. It's not one of our 12 originals on the album. It was pitched to us."

Wayne Hector, one of the song's writers, has an eclectic writing repertoire including the single Feels Like Today from country chart-toppers Rascal Flatts.
Both the single and album topped U.S. charts.

Hector has also penned hits for artists diverse as Il Divo, boy bands Westlife and O-Town, heavy metal veterans Def Leppard and poppies Michelle and Mya.

But the song's wide airplay - including a live performance on Seven Network show Sunrise - shone a spotlight on the album release on August 16.

Relationship songs - covering all shades of romance - dominate the band's repertoire.

"The three front people, Daniel, myself and Crystal, write most of the songs," says Charlene.

"My brother lines me up with all these guys to break my heart so we can write these songs about it."

The band joked about its songs inspired by romances with an infectious patter at the Palais concert with Yoakam.

Daniel Conway was instrumental in writing the vitriolic songs Poison and Anger
THROW A STONE
"I am the rain, on you I'll flood/ I'll saturate in my blood/ I am the river, drown in my pain/ I've hurt another one again." - Throw A Stone - Charlene Bailey
"Only one of my songs is a break-up song," Charlene added.

"I wrote Throw A Stone about a break-up three years ago. Yes, it was in Tamworth.

We write a lot at home. I co-wrote some with my sister but I like writing the more personal songs on my own. If I have an idea at home I yell out to Crystal down the corridor. We all live at home."

Home is "a little farm - surrounded by cows and horses" - near Tamworth.

The country music HQ is also where the Bailey siblings found Lindsay Dallas.
< Charlene Bailey
"We were at The Pub (a major Tamworth venue) and Lindsay was playing for his dad. We got chatting with him and had a jam with him. It was great."
Lindsay Dallas is a third generation musician - grandfather Rex has been playing and recording for half a century and recently released a new album, replete with video clips.
NO GOOD IN GOODBYE
"Just like there's no clouds in the sky/ there's no good in goodbye." - No Good In Goodbye - Daniel Conway.
But it was manager Joan Douglas who discovered guitarist Daniel Conway - now brandishing a new Gretsch - who hails from Caboolture, hometown of expatriate superstar Keith Urban.

"She was in Brisbane judging a talent quest and saw him," Charlene added.

"She told us about this little freak who was only 11. So he came to the Tamworth festival and played. We loved him - he moved all the way down from Caboolture when was 12. We didn't adopt him - he came with his dad. In his younger days he was influenced by Keith - now he's influenced by soul music."
< Crystal Bailey
But the Urban influence is dominant in Conway's delivery of the wry word play of No Good In Goodbye.
JEDD HUGHES BLACK AND WHITE MOVIE
"I try to count the boxcars, they're moving way too fast/ like a black and white movie/ I'm living in the past." - Black And White Movie - Jedd Hughes.

The band also chose Black And White Movie - a song penned by expatriate Australian guitarist and singer-songwriter Jedd Hughes who hails from Quorn - a small town due north of Adelaide.

Hughes, now 24, left Quorn at 15 for Oxley High school in Tamworth.

But the guitarist's finishing college was the bluegrass course at South Plains College at Levelland in the West Texas Panhandle.

It was there he was discovered by veteran singer Terry McBride who co-wrote most of the songs with Hughes on his debut disc Transcontinental on major American label Mercury.

McBride suggested the move to Nashville where Hughes won acclaim as guitarist for country-bluegrass star Patty Loveless before writing songs for expatriate Australian band The Greencards.

Chasing Bailey played Dolly Teen Choice Awards at Luna Park with The Veronicas, Sneaky Sound System, Delta Goodrem and many others on the eve of their record launch.
VINNIES CONCERTS
The band, who return to Melbourne for a St Vincent De Paul Spring Carnival fashion show, have vivid memories of their Vinnies Federation Square gig in July with Troy Cassar-Daley and South Bronx rapping monk Father Stan Fortuna.

"The audience was fantastic, all amped up, the pilgrims from all different countries with their flags - that was great," says Charlene.

So was their World Youth Day concert in Sydney with Vanessa Amorossi and others.
"We did a 20 minute spot in front of 160,000 people," Charlene enthused.

"We felt like U2 for 20 minutes. There was a singles sales surge after that. My auntie went to buy the single in Sydney but it sold out."

Chasing Bailey has also appeared on Video Hits and CMC and will be featured on Nu Country TV in our summer series.
< Lindsay Dallas
They also appeared in a documentary about Indian country singer Bobby Cash - "one in a billion" - that was aired nationally and also overseas.

But right now they're on the road again to promote debut disc Little By Little - out on August 16 - on EMI Records.