DAVE'S DIARY - 8 SEPTEMBER 2008 - BUDDY HARMAN OBITUARY
BUDDY HARMAN RIP AT 79
BORN MURREY MIZELL HARMAN JR - DECEMBER 23, 1928
NASHVILLE, TENNESSEE
DIED AUGUST 21 - NASHVILLE, TENNESSEE
COUNTRY SHUFFLE CREATOR DIES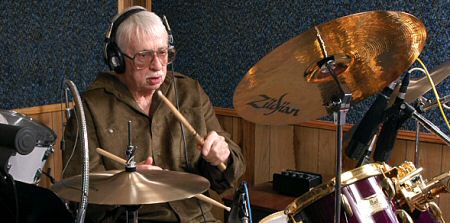 Buddy Harman, the father of modern drummers and creator of the country shuffle, picked up the tempo until his death.

Even in his sleep.

"I just went into Dad's room," daughter Summer Harman revealed in June as her dad battled congestive heart failure.

"And he was playing drums in his sleep. He had a smile on his face and was tapping on his chest."

Harman had a good reason for taking his beat with him into dreams - he played on 18,000 sessions in a career starting in the fifties.

They embraced country, pop, rock and its many hybrids.

He worked most sessions with the celebrated A Team of studio musicians who shaped the Nashville Sound of the 1950s and '60s.

He performed on Johnny Cash's Ring of Fire, Roger Miller's King of the Road and Tammy Wynette's Stand by Your Man, along with scores of hits by Loretta Lynn, George Jones, Dolly Parton, Ray Price and others.

Harman also made his mark on the pop charts, making distinctive contributions to records like the Everly Brothers' Bye Bye Love, Elvis Presley's Little Sister, Simon and Garfunkel's Boxer (as a percussionist), Roy Orbison's Oh, Pretty Woman, to intimate cocktail jazz, on Cline's Crazy, and uptempo Brenda Lee's Rockin' Around the Christmas Tree.

He played - bass, not drums - on Ringo Starr's 1970 country album, Beaucoups of Blues.

Harman also picked up the tempo many Elvis soundtrack recordings in Nashville and Los Angeles.

His clients included Connie Francis, Chet Atkins, Marty Robbins, Willie Nelson & Waylon Jennings, Lynn Anderson, Kenny Rogers, Perry Como, Merle Haggard, Charlie Rich, Jimmy Dean, Ann Margret, Nancy Sinatra, O.C. Smith, George Burns, Reba McEntire and many others.

He also toured Europe with Jerry Lee Lewis and the Nashville Super Pickers Band.
BEHIND CLOSED CURTAINS

Drums were not commonly used in country music when Harman started working sessions in Nashville in the early 1950s.

Later that decade, when he became the first house drummer for the Grand Ole Opry, he had to play behind a curtain because drums were not allowed on the show's stage at the time.

Before long Harman established his instrument as an integral voice in modern country music.

Besides daughter Summer, of Mount Juliet, Tennessee, Harman is survived by his wife of more than 40 years, Marsha Harman; his sons Mark, of Franklin, and Stanley and Murrey M. III, both of Nashville; another daughter, Autumn, also of Nashville; six grandchildren, four great-grandchildren and brothers Bob and Richard Higley, both of Jacksonville, Florida.

Another son, Richard, died in 2007.
FROM NASHVILLE WITH LOVE
Murrey Mizell Harman Jr. was born in Nashville.

His mother, who played drums in the family band, was an early musical inspiration, along with jazz players like Gene Krupa and Buddy Rich.

Harman began drumming while in his early teens and went on to perform in bands while serving in the Navy.

Later, after two years of college in Nashville, he enrolled in the Roy Knapp School of Percussion in Chicago.

On returning to Nashville in 1952 he played in the band of Carl Smith, a future member of the Country Music Hall of Fame, and began doing studio work.
By the mid-'50s, Harman had become the first-call drummer for recording sessions that were being booked on what became known as Nashville's Music Row.

"Buddy Harman set the standard, both quantitatively and qualitatively, for what a great country drummer should be," wrote David Cantwell in Heartaches By The Number: Country Music's Greatest Singles.

"The mind boggles at the number of musically distinctive and emotionally fitting ways Harman found to lay down a beat. Harman was a master of the country shuffle that he helped invent during the Crazy Arms session. And he was enough of a musical chameleon to play pounding rock 'n' roll on Pretty Woman, stately, restrained pop on I'm Sorry, graceful swing on Roger Miller's King of the Road and straight-ahead country on Loretta Lynn's Coal Miner's Daughter."
HAROLD BRADLEY

Harman was a beacon for his peers.
"He's Nashville's all-around drummer, and he's the best drummer I ever worked with," said Harold Bradley, who played on thousands of sessions with Harman.

"If anybody could be called the father of modern country drumming, it would be Buddy," WSM air personality and country music historian Eddie Stubbs said of Harman.

"He defined the role of the drums in country music. No matter the song, he knew what to play. More importantly, he knew what not to play. Always."
He was less active in the studio as the 1970s gave way to the '80s.
He eventually resumed work at the Opry, while also serving as the business agent for the Nashville chapter of the American Federation of Musicians.

Harman's accolades included: "Drummer of the Year" in 1981 from the Academy of Country Music, Super Picker award for drums on the most #1 recordings from the Nashville NARAS chapter in 1975 and 1976, and Nashville Super Picker nomination for Best Country Instrumental Performance in 1979 for Live From Austin City Limits album.

"One of the highlights of my career was having the privilege of performing for four of our nation's presidents," Harman says.

These presidents were John F. Kennedy, Gerald Ford, Jimmy Carter and Ronald Reagan.