DAVE'S DIARY - 30 JULY 2022 - PREVIEW OF EPISODE 9 - SERIES 52
ADAM BRAND AND JETTY ROAD HEADLINE NU COUNTRY TV
Prolific Golden Guitarist Adam Brand and Gippsland band Jetty Road headline Nu Country TV on Wednesday August 3 at 8 pm on the show repeated Tuesday at 8 am and Saturdays - 11.30 pm.
A pair of Aarons - McDonnell and Lewis - also appear on the program filmed and edited by our multi-talented lockdown producer-host Laith Graham.
Detroit damsel Bernadette Kathryn and New Mexico born Amanda Kate boomerang this week with their vibrant videos.
Nu Country TV is a highlight of C 31 streaming list on Digital 44.
Further info - https://www.c31.org.au/
A BRAND AND PAIR OF WOLVES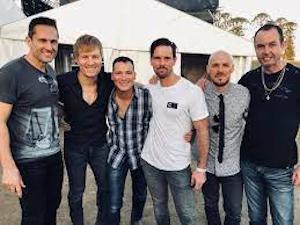 Perth born singing actor Adam Brand teamed with Van Diemen's land Wolfe Brothers Tom and Nick to write their powerful paean fuelled by words of wisdom from a late centenarian pioneer.
Brand illustrates his time travel tableau to the new generation in All Or Nothing with his baby daughters Pepper and Connie who appeared in previous videos.
The four times wed 12 time Golden Guitarist sang and filmed with horses, trucks, churches and cemeteries to drive home his masterful messages.
Adam, now 52, spent time in Colac and Wallington south of Geelong before moving to Queensland but cancelled his 2020 national tour to have throat and vocal cord rehab.
It was worth it - he boomeranged with new wife Nui whom he met in Thailand and Pepper who also appeared in his videos for 17 th album title track Speed Of Life and Fly.
Adam performed on Dancing With The Stars, toured with Taylor Swift and hosted his Brandy's restaurants in Townsville and Coffs Harbour when not on the road.
All Or Nothing is a highlight of his 18th album recorded in Nashville with Luke Wooten.
CLICK HERE for an Adam interview in the Diary on April 13, 2020.
JETTY ROAD LEADS TO LITTLE RIVER AND VAUCLUSE
Dual Golden Guitarists - Gippsland Lakes born twins Paula and Lee Bowman and Julian Sammut - front their Jetty Road band on their Nu Country return with a romantic romp for young lovers.
Jay Seeney directed their 24th video Here We Go at Little River near Geelong and at Vaucluse in Sydney.
It's on their seventh album in an 18 year career that includes tours of Canada , America and Europe.
They last performed on our show with their Bumps And Bruises from their sixth album Because We Can.
Paula and Lee left Nungurner in picturesque Gippsland lakes more than 17 years ago for Melbourne and beyond after starting as Tamworth street buskers.
They performed concerts and festivals in Canada , peaks and valleys of Switzerland , Germany , Belgium , Norway , France , Denmark , Austria and honky-tonks of Lower Broadway in Nashville.
The band recorded its fourth album Far Away Places in Vancouver in Canada.
Their 23 video clips on Nu Country include No Heartbreaks, Because We Can, You Need To Run and Shakedown.
CLICK HERE for a Jetty Road CD review in The Diary on December 13, 2010
AARON SATURDAY NIGHTS
Oregon refugee Aaron McDonnell proves why he enjoys playing in Texas with his singing spouse Dani and their Neon Eagles band.
They performed live in the Austin Electric Ladybird Series.
Aaron hails from Oregon 's Willamette Valley and moved to Seattle where he played in his Gin Betty and The Grand Tours band named after a George Jones song.
He has since released two solo albums and five EPS.
Too Many Days Are Like Saturday Night is on his new album.
Further info - https://www.aaronmcdonnell.com/
AARON LEWIS SALUTES HEROES
Massachusetts minstrel Aaron Lewis returns to Nu Country with his salute to servicemen and women fighting for freedom.
His Am I The Only One song and video ignited the movie Thanking You For Your Service.
Aaron, now 50, was born in a Vermont log cabin and released seven albums with his Staind rock band before his country career.
He debuted on Behind Bars in 2018 with strident social comment song That Ain't Country from his second solo album Sinner that topped Billboard on debut in 2016.
The singer wrote nine of 11 songs on Sinner and revamped Texan Bruce Robison's Travelling Soldier - a Chicks hit - and Chris Stapleton-Lee Thomas Miller tune Whiskey And You .
"I grew up on my grandfather's country," says Aaron whose Sinner title track featured Shotgun Willie Nelson.
"Country was the background music to my childhood. My grandfather listened to Merle Haggard, Hank Williams, Hank Williams Jr. and all of the greats.
"That's the country music that is kind of embedded into my soul. It was the soundtrack to my childhood and is the soundtrack to so many memories that I hold onto dearly. I wrote the song because the landscape of country music these days is a little bit unrecognizable. I ponder and I question where the influences aside from name drops here and there where are the influences of what defined the genre of country? I don't hear them. It's merely my opinion and it's merely just something that I noticed, and something that I chose to write a song about. I'm not saying what is country music right now isn't creating number ones and it isn't selling records. That's not what I'm saying. I'm just questioning where is the connection aside from name-dropping to the music?"
Am I The Only One is on his fourth solo album Frayed At Both Ends .
Further info - http://aaronlewismusic.com/
BERNADETTE KATHRYN SHOWDOWN SHOOT OUT
Detroit damsel Bernadette Kathryn hits the stage singing and shooting in her wild west escapade on her Nu Country return.
Sheriff Bernadette slept as her prisoner escaped from her custody in a lock-up but took revenge in a wild west street shoot-out in her Showdown video from her new album with her Lonely Days band.
The singer, now 21, began writing and recording at school at the age of 12 before invading Music City at 13 and debuting at 17 on the Grand Ole Opry.
She previously appeared on our show with Kissing This Town Goodbye - a riveting romp fuelled by her pick-up truck escape vehicle.
Bernadette wrote Look At Me Now on being bullied at school for her 2014 EP Not Too Young .
Further info - https://bernadettekathrynonline.com/
AMANDA KATE LIVE IN TEXAS
Red River , New Mexico born belle Amanda Kate returns to our show live at the Rockin' R Ranch in Palmer, Texas.
Amanda is joined by gal pals as she shows how to set fire to the memory of a rejected Romeo in her
Deconstruction of A Heartache song video for her self-titled EP.
It follows her 2019 album Time featuring songs penned by her country singer mum Kathy Wright who died of cancer in 2020.
Amanda lives on a ranch in Orange County , California , with her husband, baby and three horses.
She filmed another video Little I Got at the Rockin' R Ranch with her mother, horses and cattle.
Kathy was an original member of Dean Martin Golddiggers starred on NBC TV program The Dean Martin Show when she was 18.
She also travelled the globe singing with Bob Hope's USO Christmas shows and bestowed love for music on her daughter.
Kathy brought Amanda to a show when she was just one week old and put her in a bassinet on stage while she performed.
Aged just two Amanda joined her mom each night to sing and perform in church, singing original songs her mom wrote.
By the time Amanda was 14 she was singing professionally.
Further info - https://www.amandakatemusic.com/
WIN WAYLON, GEORGE JONES AND MERLE HAGGARD
Help us celebrate being Nu Country TV members and win albums by late Waylon Jennings, Merle Haggard, George Jones and Highwaymen by becoming a Nu Country member or renewing your membership.
George, Waylon, Merle and Willie Nelson were among country historian Barbara Dowling's favourite Texans.
The Waylon, Highwaymen , Merle and George discs were donated by Barbara who died at 77 in December, 2020.
She co-hosted Long In The Saddle in our Nu Country FM era and was pioneer Australian and Victorian country music awards judge.
Barbara was admired for rising above losing her sight as a young woman and her country passion with annual trips to Waylon's birthplace in Littlefield, West Texas.
Waylon died at 64 on February 13, 2002, and is survived by singing spouse Jessi, now 79, and son Shooter, 43.
WIN KEITH URBAN CDS ALSO
We have expatriate Australasian superstar Keith Urban's chart topping 12th album The Speed Of Now - Part 1.
Also BR5-49 CD Big Backyard Beat Show and Billy Ray Cyrus's historic 1992 album Some Gave All that features Achy Breaky Heart.
We have other CDS by major artists you can win by becoming a Nu Country TV member or renewing memberships.
They include Brad Paisley, Eric Church, Kip Moore and late larrikin legend A.P. Johnson.
CLICK HERE for our Membership Page for details.