DAVE'S DIARY - 22 JULY 2022 - PREVIEW OF EPISODE 8 - SERIES 52
HANK WILLIAMS JR HEADLINES NU COUNTRY TV
Veteran outlaw Hank Williams Jr headlines Nu Country TV on Wednesday July 27 at 8 pm on the show repeated Tuesday at 8 am and Saturdays - 11.30 pm.
Texan singer-songwriters Koe Wetzel and Will Carter also appear on the program filmed and edited by our multi-talented lockdown producer-host Laith Graham.
West Virginian Charles Wesley Godwin and Melbourne singer-songwriter Michael Meeking boomerang to the show featuring NSW singer-songwriter and cattle and sheep farmer Josie Laver's debut.
Nu Country TV is a highlight of C 31 streaming list on Digital 44.
Further info - https://www.c31.org.au/
BOCEPHUS PRAISES A GEORGIA WOMAN
Hank Williams Jr, now 72, has no plans to slow down - he has sold more than 70 million albums since 1964.
The four times wed singer-songwriter-actor emulates Shotgun Willie Nelson, 89, by going on the road again with his hot band.
This week he returns to our show with his new take on an old R. L. Burnside song.
Hank Jr performs Georgia Woman from his 57th studio album Rich White Honky Blues, released on June 17.
The 13 song album, produced by Grammy winner Dan Auerbach, includes recent singles Jesus, Won't You Come By Here, Fireman Ring the Bell and 44 Special Blues.
Bocephus went on the road, aged eight, singing songs by famed father Hank Sr and at 17 starred in his first movie - A Time To Sing.
Richard Thomas of Waltons fame played Hank Jr in The Living Proof movie and George Hamilton played Hank Sr in 1964 film Your Cheating Heart.
Hank Jr was also in Roadie with Meatloaf, Roy Orbison, Alice Cooper, Joe Ely and Asleep At The Wheel.
Bocephus, father of recording artist daughters Holly and Hilary, and sister Jett approved another new movie on their dad who died at 29 in 1953.
He previously appeared on our show with vitriolic blue collar worker exploitation Red & White Pink Slip Blues video.
It was on Hank Jr's 2010 album 127 Rose Avenue named after his childhood home in Georgiana , Alabama .
Hank Jr is helping revive U.S. economy with moonshine liquor - his Popcorn and White Whiskey distillery named after late moonshiner Popcorn Sutton from Cocke County in East Tennessee .
Popcorn, suffering cancer, was jailed for not paying taxes on his illegal whiskey whose recipe he shared with Hank before he suicided at 62.
When asked for the recipe, Popcorn said "Corn, sugar, water and yeast. And here's the recipe, but you have to promise to go on a mission and find Hank Williams Jr. because a country boy can survive. He'll know what to do."
The Popcorn Sutton saga inspired a movie with Hank Jr and The Grascals - Dolly Parton's bluegrass band - in major roles.
Popcorn penned his autobiography - Me and My Likker: The True Story of a Mountain Moonshiner - the movie source.
Hank Jr.'s son, Hank III, mentions Popcorn in his song Moonshiner's Life on his Rebel Within CD.
Bocephus fourth wife Mary Jane Thomas, died at 58 on March 22 in Jupiter, Florida , after an operation.
CLICK HERE for a Hank Jr CD feature in The Diary on February 16, 2010.
WILL CARTER HEADS OUT WEST TO LAREDO
Texan singer-songwriter Will Carter debuts on Nu Country with his journey to Laredo in the west of the Lone Star State.
Will may not be related to the historic Carter family or their descendants - the late June Carter Cash and fellow singer Carlene.
This Carter hails from Katy near Houston and graduated from Texas A & M university with BS in construction science with a minor in business administration and later worked several of the largest general contracting firms in Houston.
Will then chased his music dreams and raises a little hell in cowboy bars in his Laredo video from his third album How Ya Know.
"Music found me at age three when I began singing," Will revealed. "I picked up my first guitar at age 10."
Will has since toured with Cody Johnson, Randy Rogers, Bart Crow, Jack Ingram, Larry Gatlin, Saints Eleven , Josh Ward and Cody Canada.
Further info - https://www.willcarterofficial.com/
KOE WETZEL FOUR LEAF CLOVER ROVER
Another Texan Koe Wetzel returns to the show with his search for a four leaf clover.
Wetzel, now 31, was born in Pittsburgh - not Pennsylvania - but in Camp County Texas.
Koe scanned the sky as he kept fit in weight workouts and found time for a spa and bar.
Wetzel depicted a character making the most of his last day of earth in his dynamic April Showers video that follows his fourth album Sellout.
Koe, who debuted on stage with his singer mum at the age of six, recently appeared on our show with his Drunk Driving and Good Die Young videos.
Wetzel was a linebacker at Tarleton State University in Stephenville , Texas , but pursued music instead.
His 2015 debut album Out On Parole was followed by Noise Complaint in 2016 and 2019 album Harold Saul High .
Further info - https://koewetzelmusic.com/
CHARLES WESLEY GODWIN FIGHTS FOR DISPLACED DENIZENS
West Virginian Charles Wesley Godwin illustrates an international epidemic - victims being evicted from their homes - in his Nu Country return.
He depicts three characters being forced onto the streets before they found solace at a Riverview Recovery Centre.
Godwin and his band also performed live at State Theatre in Uniontown, Philadelphia in his Strong video from his fourth album How The Mighty Fall
Charles previously appeared on our show with Lying Low after performing at his Morgantown home in iso during the pandemic with his wife and children.
The son of an Appalachian coal-miner father and teacher mother studied in Estonia after university graduation where he wrote songs and performed.
Further info - http://www.charleswgodwin.com/
MICHAEL MEEKING FLOATS ON NIGHT AIR
Northcote singer songwriter Michael Meeking finds night air on his Nu Country return.
Meeking paid homage to times when he and his friends escaped to a remote property in regional Victoria.
The singer depicts the days when they would set up camp by the river, wait for night to fall and the party to begin in his video for Night Air - title track of his fifth album released this year.
Michael released his fourth album November 72 in 2018.
He previously appeared on our show with his Lonesome, Good Times Will Come Again and Where You Going To videos.
Meeking grew up in Upper Beaconsfield before moving to London for six years in his late twenties and uses locales diverse as Mansfield, Lake Eildon , Sorrento back beach and Blairgowrie in his videos.
Further info - https://www.michaelmeeking.com/
JOSIE LAVER TANGLED UP IN CATTLE, SHEEP AND SONG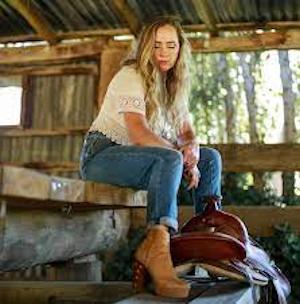 Josie Laver debuts with a song she wrote with expat Kiwi singer-songwriter Matt Joe Gow who hangs his hat in Melbourne.
By day Josie runs sheep and cattle on her family farm in the southern NSW high plains near Boorowa and night sings, plays guitar and writes songs of love and heartbreak.
They include Tangled she illustrates with her evocative video about feelings of low self-esteem, damage or trauma and pushing those feelings aside just for the night and enjoying the future.
The Andrew Barnes directed video in the high plains illustrates a highlight of her Gow produced debut album.
Josie has also released a video for Mustang - a tale about escaping on a shadow black mustang on the dangerous roads she calls home.
Further info - https://www.facebook.com/laverjosephine
WIN WAYLON, GEORGE JONES AND MERLE HAGGARD
Help us celebrate being Nu Country TV members and win albums by late Waylon Jennings, Merle Haggard, George Jones and Highwaymen by becoming a Nu Country member or renewing your membership.
George, Waylon, Merle and Willie Nelson were among country historian Barbara Dowling's favourite Texans.
The Waylon, Highwaymen , Merle and George discs were donated by Barbara who died at 77 in December, 2020.
She co-hosted Long In The Saddle in our Nu Country FM era and was pioneer Australian and Victorian country music awards judge.
Barbara was admired for rising above losing her sight as a young woman and her country passion with annual trips to Waylon's birthplace in Littlefield, West Texas.
Waylon died at 64 on February 13, 2002, and is survived by singing spouse Jessi, now 79, and son Shooter, 43.
WIN KEITH URBAN CDS ALSO
We have expatriate Australasian superstar Keith Urban's chart topping 12th album The Speed Of Now - Part 1.
Also BR5-49 CD Big Backyard Beat Show and Billy Ray Cyrus's historic 1992 album Some Gave All that features Achy Breaky Heart.
We have other CDS by major artists you can win by becoming a Nu Country TV member or renewing memberships.
They include Brad Paisley, Eric Church, Kip Moore and late larrikin legend A.P. Johnson.
CLICK HERE for our Membership Page for details.