DAVE'S DIARY - 13/8/2022 - PREVIEWOF EPISODE 11 - SERIES 52
PRISCILLA BLOCK HEADLINES NU COUNTRY TV
North Carolina chanteuse Priscilla Block headlines Nu Country TV on Wednesday August 17 at 8 pm with some dietary advice.
Fellow North Carolina star Eric Church and Missouri minstrel Chris Janson boomerang to the show repeated Tuesday at 8 am and Saturdays - 11.30 pm.
Texan troubadour Allora Leonard debuts on the program filmed and edited by our multi-talented lockdown producer-host Laith Graham.
Hunter Valley singer-songwriter Kirsty Lee Akers, Williamstown duo The Long And Short Of It and Grammy winning bluegrass star Billy Strings also return this week with vibrant videos.
Nu Country TV is a highlight of C 31 streaming list on Digital 44.
Further info - https://www.c31.org.au/
PRISCILLA PREFERS FRIES TO EXERCISE IN A GYM
Priscilla Block cherishes her buxom beauty in her headlining role after being rescued from the streets of Nashville by Taylor Swift on her arrival.
Priscilla, now 26, shows why she enjoys gym workouts with a difference as she leads other bucolic belles on the floor before finding the door.
She sings about how she prefers extra fries to exercise in her humorous homily.
Thick Thighs is on her debut album Welcome To The Block Party that follows two EPS.
She debuted on Nu Country with her My Bar video in a barn bar in Lebanon , Tennessee - not Beirut .
Further info - https://www.priscillablock.com/
ERIC AND CHRIS OZARKS MINI MOVIE
Chris Janson and Eric Church lead viewers to the water in an Ozarks style mini movie in their Nu Country TV return.
The cadaver dogs hunted for a body to shake an alibi.
It's a vast contrast to what Chris, 34, does on Nashville streets after dark.
The dad of four plays his grand piano on Lower Broadway to showcase his music.
Video pal Eric, now 45 and 2020 CMA entertainer of year, has cut 10 albums.
You, Me and The River is on Chris's self-produced fourth album All In.
CLICK HERE for an Eric Church CD review in The Diary on December 10, 2018.
CLICK HERE for a Chris Janson CD feature in The Diary on November 16, 2015.
ALLORA LEONARD HEADS TO SAN ANTONE
South Texas teenage troubadour Allora Leonard is high in the saddle as she debuts on Behind Bars.
The singer, just 17, is also a rodeo champ who took to the road and rodeos before she graduated from high school.
She wrote the biographical Leaving San Antone inspired by her high school graduation with Lance Carpenter for her second EP at Arlyn Studio in Austin, Texas.
Allora wrote all songs except one on her records.
She performed 150 concerts in 2021 and competes in reined cow horse and ranch horse versatility events when not in school.
In 2021 she was named National and Reserve World Champion and this year won the Fort Worth Stock show Championship.
She recorded her first EP Old Soul Girl in Nashville at the famed Dark Horse Studio in August 2020.
Allora collaborated with Grammy award winning producer, Casey Wasner and Show Dog recording artist, JT Hodges for the project.
Allora inspired by family member Royce Porter who wrote many hits for George Strait, Keith Whitley, Tanya Tucker, Reba McEntire and Kenny Chesney.
Further info - https://alloraleonardmusic.com/home
BILLY STRINGS FINDS A RED DAISY
Dual Grammy winning Michigan bluegrass star Billy Strings finds a Red Daisy in his live return to Behind Bars.
Billy, 29, appeared live on the 64th Grammys this year but was live on the popular Jimmy Kimmel TV show when he showcased new song.
Red Daisy is on Billy's fifth album Renewal.
Billy filmed a previous video Love And Regret at Dee's Lounge and Sacred Dog Farm, social comment video Watch It Fall from fourth album Home , In The Morning Light and Willie Nelson tribute Uncloudy Day.
On November 8 he donated 208 guitars to Twin Rivers Elementary School in Muir , Michigan , from his tour bus and U-Haul truck.
All 208 students received a Fender guitar.
Billy, aka William Apostol, attended Twin Rivers Elementary where his music teacher Mrs. Mercer still works.
String released his duet The Great Divide with North Carolina nouveau outlaw chart topper and 2021 CMA Entertainer Of Year Luke Combs.
Further info - https://www.billystrings.com/
KIRSTY LEE AKERS TIME TRAVEL
Hunter Valley singer-songwriter Kirsty Lee Akers reaches back to her Tamworth stage debut at the age of three on her Nu Country return.
Kirsty, now 33, even corrected her name for her Peel Street busker show host.
The Kurri Kurri star showcased time travel to adorn her Wild One video from her sixth album Wild on her own Rider Records.
The Wild One video chronicles Kirsty's journey from that little girl to country star - family footage from decades of events provides rare insight into Kirsty's journey to the top.
"This music video is the most special one I have ever created. It features over 30 years of footage of me, chasing a dream that I have had since I began to talk," Kirsty revealed.
"I live and breathe country music. I actually get a little choked up watching this and seeing how far I have come and how I have never given up on achieving what I set out to do as a young girl."
Written and recorded during various stages of the 2020-21 lockdown the album echoes sentiments experienced by many during that time.
From imagining overseas adventures long since cancelled, to freedoms previously taken for granted before COVID-19, and love that kept many homes together.
The project delves into many facets of life that humanity dealt with together during this unique time in history.
Kirsty's previous Nu Country videos include Falling, Wake Me Up When You Are Sober, Ain't That Kinda Girl, House Full of Flowers, Drive Till The Wheels Fall Off and That Ring Don't Fit My Hand and Under My Skin, Take Me Back, Leave It To Jesus, I Will and Outta Here .
CLICK HERE for a Kirsty interview in The Diary on August 6, 2018.
LONG AND SHORT OF IT ON THE DOCK OF THE BAY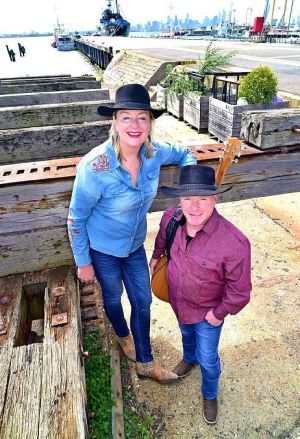 The Long & Short Of It live on the dock of the bay at Williamstown when not performing here and overseas.
Williamstown lawyer Patsy Toop, mother of four, and Yarraville singer-signwriter David Baird visited Wyoming and way beyond in their Nu Country return.
They keep Allora Leonard and Kirsty Lee Akers equine theme alive and kicking as they depict a cowboy missing his partner in the wilderness taking on a whole new level of loneliness, isolation and yearning.
This inspired Cowboy Lonesome produced by Kenneth Richard Royster producer and vocal coach for Luke Combs including first single Hurricane.
The Long and Short Of It exude harmonic bliss after meeting at a charity fundraiser a decade ago.
In 2013 they headed to Nashville to record and formed friendship with producer Royster who was impressed with their work and vocal blend he suggested co-writing, which has continued over the years.
The duo previously appeared on our show with Just Give It All You Got, Jesus Money, Gypsy White Moon, 50 Bucks And A Case Of Beer, 2,000 Years From Now and Kangaroo Rodeo.
Patsy was inducted onto Victorian Honour Roll of Women in recognition of her trailblazing litigation work and volunteering.
She was honoured for 34 years' legal work representing workers' human rights in cases of asbestos-related and chemical-induced illnesses and was founding board member and passionate volunteer for the Seaworks Foundation's restoration and preservation of Williamstown's maritime precinct.
Cowboy Lonesome is on their seventh album Midnight Choir released on July 1.
Click Here for a Long And Short Of It CD review in the Diary on August 28, 2017.
WIN WAYLON, GEORGE JONES AND MERLE HAGGARD
Help us celebrate being Nu Country TV members and win albums by late Waylon Jennings, Merle Haggard, George Jones and Highwaymen by becoming a Nu Country member or renewing your membership.
George, Waylon, Merle and Willie Nelson were among country historian Barbara Dowling's favourite Texans.
The Waylon, Highwaymen , Merle and George discs were donated by Barbara who died at 77 in December, 2020.
She co-hosted Long In The Saddle in our Nu Country FM era and was pioneer Australian and Victorian country music awards judge.
Barbara was admired for rising above losing her sight as a young woman and her country passion with annual trips to Waylon's birthplace in Littlefield, West Texas.
Waylon died at 64 on February 13, 2002, and is survived by singing spouse Jessi, now 79, and son Shooter, 43.
WIN KEITH URBAN CDS ALSO
We have expatriate Australasian superstar Keith Urban's chart topping 12th album The Speed Of Now - Part 1.
Also BR5-49 CD Big Backyard Beat Show and Billy Ray Cyrus's historic 1992 album Some Gave All that features Achy Breaky Heart.
We have other CDS by major artists you can win by becoming Nu Country TV members or renewing memberships.
They include Brad Paisley, Eric Church, Kip Moore and late larrikin legend A.P. Johnson.
CLICK HERE for our Membership Page for details.