DAVE'S DIARY - 20/4/2022 - PREVIEW OF EPISODE 8 - SERIES 51
BRAD PAISLEY HEADLINES NU COUNTRY TV
West Virginian born star Brad Paisley headlines Nu Country TV on Saturday April 23 at 9.30 pm on the eve of his debut Australian tour in September.
Expat Novocastrian fellow tourist Morgan Evans returns to the show repeated on Wednesday at 11.30 pm.
Kentucky coal-miner's son Chris Stapleton and Texan Dallas Moore boomerang to Behind Bars on the program filmed and edited by our multi-talented lockdown producer-host Laith Graham.
Sydney singer-songwriter Amber Lawrence and fellow NSW band Southbound also appear this week.
Nu Country TV is a highlight of C 31 streaming list on Digital 44.
Further info - https://www.c31.org.au/
MIRACLE FOR BRAD
Triple Grammy winning West Virginian born star Brad Paisley returns to Nu Country to promote his major role at the 15 th CMC Rocks Queensland festival from September 23-25 at Willowbank Raceway, Ipswich , Deni Ute Muster and Rod Laver Arena on September 29.
Brad, now 49, is well lubricated for his maiden Australian tour - he has his own bourbon America Highway Reserve.
Paisley also opened The Store - a nonprofit free-referral based grocery store he founded with actor wife Kimberly - with Belmont University support
This week Kimberley joins him in his My Miracle video that follows 14th album Love and War and precedes his City Of Music video .
Brad reached peers and fans in his joyous international zoom video filmed in lockdown.
Carrie Underwood, Darius Rucker, Tim McGraw, Lindsay Ell, Jimmie Allen and other artists joined with humour to quell isolation, loneliness and depression.
Guests from 39 countries and Sydney , Perth , Melbourne and Brisbane guested on his There's No I in Beer video.
The father of two sons - Huck and Jasper - features wife Kimberley in videos.
Paisley appeared on Nu Country with Darius Rucker on Mud On The Tyres.
He released his book Diary of a Player: How My Musical Heroes Made a Guitar Man Out of Me in 2011.
His Bucked Off and Heaven South videos followed huge selling Love And War album that featured John Fogerty, Mick Jagger and Whispering Bill Anderson.
Brad fronted Nu Country on Heaven South, Perfect Storm and River-Bank.
CLICK HERE for a Brad Paisley feature in the Diary on June 5, 2017.
MORGAN EVANS PROVES LOVE IS REAL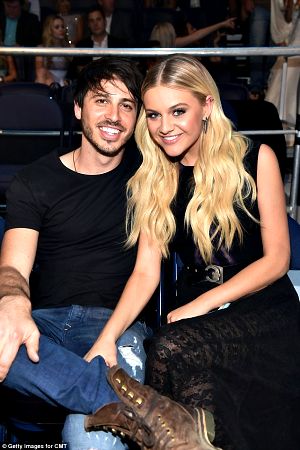 Expat Novocastrian Morgan Evans returns on the eve of his tour with Paisley and fellow CMC Rocks Queensland headliner Kane Brown.
Morgan celebrates his 37th birthday on April 25.
He performs Love Is Real from his fifth EP The Country and the Coast Side that follows his self-titled debut album and second LP Things That We Drink To.
Morgan proved his love was real as he wed Tennessean star Kelsea Ballerini, now 28, in 2017 after they met on a judging panel at 2016 CMC Rocks Queensland festival in Ipswich.
They were engaged on Christmas Day and wed on December 2, 2017, in Cabo San Lucas, Mexico.
Morgan took a road trip through the mountains with a blonde passenger in the video for Love Is Real that he wrote with Jordan Reynolds and Parker Welling
Evans played Melbourne Forum on his 2019 tour with Chris DeStefano and Corner Hotel, Richmond, in 2018 with Irish singer Catherine McGrath.
He joined Redneck Woman Gretchen Wilson on her 2014 tour and Georgian superstar Alan Jackson and Sara Evans on their 2013 visit.
CLICK HERE for the Forum concert review in The Diary on October 22, 2019.
CHRIS STAPLETON COLD AND LIVE
Kentuckian Chris Stapleton has never toured here but has high profile from his huge selling albums.
Chris, 44, fronted a hot band live on the 2021 CMA awards in Nashville with big hit Cold from his fourth solo album Starting Over that topped charts on debut.
Chris and singing spouse Morgane are busy as parents of 5 children including twins.
They performed on Nu Country with their live video Arkansas .
Chris and Miranda Lambert performed a tribute to his pet pooch who died after 16 years at the Stapleton home in recent video Maggie's Song - also on Starting Over.
Producer Dave Cobb guested on Chris videos for Shameless and Starting Over - title track of his album with 11 of his original songs and released on November 13, 2021.
CLICK HERE for a feature on Chris's debut solo album Traveller in the Diary on December 21, 2015.
DALLAS MOORE LOCKED DOWN AND LOADED
Ohio born latter day West Texan Dallas Moore returns live to Behind Bars with late guitarist Chuck Morpugo at the Quarantine sessions.
Sadly Chuck, who played with Dallas for 27 years, died in November.
They performed Locked Down And Loaded from Moore 's 10 th album The Rain.
Moore sings for his supper in bars on a journey with more than 300 gigs a year.
"I do most of my writing when I'm riding my Harley Davidson Road King or cutting grass," Moore revealed.
"Our tour schedule had been so heavy for the last several years that I hadn't been doing very much of either. All of a sudden I found plenty of time to ride my bike and write. I hadn't written a song in nearly two years. All of a sudden eleven songs poured out in a three-week span. That makes The Rain different from anything I've ever done after all these years of constant touring."
Dean Miller - son of the late Roger Miller - produced The Rain and other albums for Moore whose mother played in the Buck Eyed Belles band.
His long nights on the road ended in bliss when he returned to his wife and child in previous video Everything But You - second single from his ninth album Trying To Be A Blessing .
Further info - http://www.dallasmoore.com/
AMBER LAWRENCE HOME ON THE RANGE
Sydney singer-songwriter and former Qantas accountant Amber Lawrence grew up in Mascot but spent time overseas.
Amber, 34, is well qualified to perform her I'm Coming Home video from her seventh album.
She wrote it with Gunnedah born Katrina Burgoyne who now lives in Nashville
They dug deep into being far from home by combining travel videos from Thailand, France, Italy, UK and US with homecoming footage.
Amber, Fanny Lumsden and Catherine Britt teamed for previous video Cheers To The Girls from her fifth album Happy Ever After in 2017.
Cheers to the Girls supports and empowers women of all ages without resorting to man-bashing.
Amber won best female vocalist Golden Guitar at 43rd Australian Country Music Awards in 2015.
Her song The Lifesaver was based on her parents - the video and song tell the story of her life saver dad who died at 52 of leukemia in 2008.
He was orphaned at 10, left home at 15 and was homeless before he met her mum - Miss Maroubra Beach - at the famous surfing locale.
The Lifesaver is on her 2014 album Superheroes.
CLICK HERE for a review of Superheroes in The Diary on November 10, 2014.
SOUTHBOUND COMPOSURE
Fellow NSW world travellers Southbound have plenty of material from their journeys.
The band featured Sarah Bernardo, Missy Lancaster, Rachel Fahim and Andrea Krakovska and perform Composure from their debut album out in October.
Vocalist-bassist Bernardo says Composure's meaning evolved since being written.
"Originally, we wanted to write a catchy yea the girls kinda song which made sense being in an all-female band. We rely on each other constantly for support in all aspects of our life," Sarah revealed.
"We laugh together, cry together and support each other daily and we wanted to extend that love to our fans. But so much has changed since we wrote this song in January. From extended lockdowns in many parts of Australia , to us having more shows cancelled and changes in our band. But somehow we are managing to keep our Composure and we are excited about the future."
Southbound formed in 2019 and fronted Nu Country with fourth single This Is Us that followed Find Our Way with Shannon Noll, Drink and Get Drunk On Me .
Further info – https://www.southboundofficial.com/
WIN WAYLON, GEORGE JONES AND MERLE HAGGARD
Help us celebrate being Nu Country TV members and win albums by late Waylon Jennings, Merle Haggard, George Jones and Highwaymen by becoming a Nu Country member or renewing your membership.
George, Waylon, Merle and Willie Nelson were among country historian Barbara Dowling's favourite Texans.
The Waylon, Highwaymen , Merle and George discs were donated by Barbara who died at 77 in December, 2020.
She co-hosted Long In The Saddle in our Nu Country FM era and was pioneer Australian and Victorian country music awards judge.
Barbara was admired for rising above losing her sight as a young woman and her country passion with annual trips to Waylon's birthplace in Littlefield, West Texas.
Waylon died at 64 on February 13, 2002, and is survived by singing spouse Jessi, now 78, and son Shooter, 42.
WIN KEITH URBAN CDS ALSO
We have expatriate Australasian superstar Keith Urban's chart topping 12th album The Speed Of Now - Part 1.
Also BR5-49 CD Big Backyard Beat Show and Billy Ray Cyrus's historic 1992 album Some Gave All that features Achy Breaky Heart.
Join Watling & Bates as members and win their 13 track CD Small Town Tale.
We have other CDS by major artists you can win by becoming a Nu Country TV member or renewing your membership.
They include Brad Paisley, Carrie Underwood, Eric Church, Kip Moore and late larrikin legend A.P. Johnson.
CLICK HERE for our Membership Page for details.