DAVE'S DIARY - 2 MAY 2022 - PREVIEW OF EPISODE 10 - SERIES 51
DOLLY PARTON AND TIM MCGRAW HEADLINE NU COUNTRY TV
Singing stars and actors Dolly Parton and Tim McGraw headline Nu Country TV on Saturday May 7 at 9.30 pm.
Iowa born Hailey Whitters and Texan Parker McCollum return to the show repeated on Wednesday at 11.30 pm.
Bendigo born Georgia Delves and Adelaide export Melody Moko boomerang to the program filmed and edited by our multi-talented lockdown producer-host Laith Graham.
Nu Country TV is a highlight of C 31 streaming list on Digital 44.
Further info - https://www.c31.org.au/
DOLLY ROSES AND RICHES
Dynamic diva Dolly Parton cemented her rich career as an author as she shares her humanity with peers and fans.
Dolly, now 76, released new album Run, Rose, Run that shares its name with a best-selling book she wrote with famed author James Patterson and features Ben Haggard and Joe Nichols as guests.
Parton teamed with Jeni's Splendid Ice Creams for second run of her Dolly's Strawberry Pretzel Pie ice cream to promote her album on her Butterfly label.
Portion of proceeds from flavor's sales go to Parton's beloved literacy program, The Imagination Library.
Parton contributed $1 million to funding of COVID-19 vaccine, fronted Time 100 and People of the Year honours and raised $700,000 for Tennessee flood relief.
She also released Dolly Parton's Baking Collection that includes her Southern Style Coconut Flavored Cake Mix, Southern Style Banana Flavored Cake Mix, Creamy Buttercream Frosting, Chocolate Buttercream Frosting and a collectible tea towel and spatula.
Dolly revisited her early career this week with her Silver & Gold video from one of her 50 plus albums.
CLICK HERE for a Dolly feature in The Diary on June 17, 2019.
TIM MCGRAW MAY DAY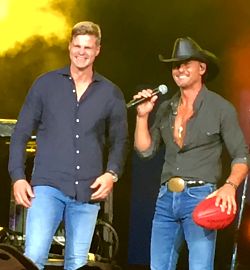 Louisiana
born Tim McGraw celebrated his 55 th birthday on May day with singing spouse Faith Hill and their three daughters.
They last toured here in 2019 when Tim followed the punting lead of former St Kilda captain Nick Riewoldt by kicking footballs into the Rod Laver Arena concert audience.
Tim and Faith have many homes include their ownership of Goat-Cay-island in the Bahamas.
Tim plays the role of James Dutton and Faith plays Margaret Dutton in Yellowstone prequel 1883 that follows a family's journey west by wagon train from Texas to Montana where they establish the Dutton Yellowstone Ranch.
The prequel featured Sam Elliott, Billy Bob Thornton and Kevin Costner.
This week Tim, Faith and one of their daughters - Audrey - perform his 7500 OBO video from his 16th album Here On Earth.
CLICK HERE for a McGraw feature in The Diary on April 29, 2019.
HAILEY WHITTERS TASTES AN OLD COW PIE
Iowa hit writer Hailey Whitters was just 17 when she left hometown Shueyville for Nashville.
Hailey, now 32, was belle of her own ball at Cowpie High when she returned as homecoming queen in her latest video.
The prolific singer-songwriter showed why she was a winner in Everything She Ain't on her third album Raised.
Hailey has written hits for artists diverse as Georgian superstar Alan Jackson, Chris Stapleton and Little Big Town.
She appeared on Nu Country with her video for 10 Year Town - penned with Grammy winner Brandy Clark - graphically depicted her music city journey
Hailey also reflected female survivors in Janice At The Hotel Bar that she wrote with Lori McKenna - a mother of five - on second album Living The Dream that follows 2015 debut Black Sheep.
Further info - https://haileywhitters.com/
PARKER MCCOLLUM HIGHWAY LOVE
Texan Parker McCollum, just 29, became a prolific singer-songwriter after growing up in Conroe near Houston.
At 13 he began playing guitar and writing songs at school.
Parker took to the stage and highway to drive home his message in his video for To Be Loved By You from his third album Gold Chain Cowboy.
Parker and Koe Wetzel previously appeared on Nu Country in Granger Smith's video for You Are In It on his ninth album When The Good Guys Win.
Further info - https://www.parkermccollum.com/
GEORGIA DELVES INTO WIMMERA
Bendigo born Georgia Delves and her band Georgia State Line proved why they were a highlight of the seventh Out On The Weekend festival on the dock of the bay at Williamstown in her latest video.
Georgia took viewers on a scenic rural road trip in her sports car.
She avoided being blown off the road by Wimmera wind turbines to illustrate her ruptured romance requiem.
Every Time is one of her 11 original songs on Georgia State Line debut Cheating Hearts label album In Colour she recorded in Macedon after her 2017 EP Heaven Knows.
Georgia regaled new and old fans with her tales from the lost highway at the Out On The Weekend festival.
"I slept in a van when I first toured," she revealed as she showcased her 11 original songs.
She credited her grandparents for her love of Americana roots music when she sang in Catholic school choirs by day and local pubs at night.
Delves song titles Dry My Tears, From Down Here, The Ones We Love and The Losing Game paint poignant pictures of her sources that veer with vivacity from melancholia to mirth.
Georgia 's long and open road travels with drummer-partner Patrick Wilson fuel upbeat tunes Best Is Yet To Come, Bluebird, joyous One Of The Boys, Jackson and the rollicking title track finale.
She explained Jackson was not about Jackson Browne but revived some of his imagery.
Further info - http://www.georgiastateline.com/
MELODY MOKO CLEANS UP LAUNDROMAT
Brisbane singer-songwriter Melody Moko chose walking not driving when she strolled the mean streets to a laundromat in her latest video.
Melody performs Coming Up Roses from her Golden Guitar winning second album 2 Kids And A Radio.
Adelaide born Melody, 33 and mother of three children joined collaborator Catherine Britt during her time in Newcastle.
The toured together and co-wrote the title track of Catherine's ninth album Home Truths.
The 2021 best new talent Golden Guitarist then headed north to Brisbane with producer husband Michael Muchow.
She co-wrote a previous single Last Cigarette with Britt and celebrated maternity with her growing family in her Mama video - third single on second album Two Kids And A Radio , produced by Muchow.
Muchow and Britt produced Moko's debut album The Wreckage that followed EP Walk That Wire.
Melody's U.S. tours included concerts at Bluebird Café and Tootsie's Orchid lounge in Nashville and Continental Club in Austin , Texas .
Further info - https://www.melodymoko.com/
WIN WAYLON, GEORGE JONES AND MERLE HAGGARD
Help us celebrate being Nu Country TV members and win albums by late Waylon Jennings, Merle Haggard, George Jones and Highwaymen by becoming a Nu Country member or renewing your membership.
George, Waylon, Merle and Willie Nelson were among country historian Barbara Dowling's favourite Texans.
The Waylon, Highwaymen , Merle and George discs were donated by Barbara who died at 77 in December, 2020.
She co-hosted Long In The Saddle in our Nu Country FM era and was pioneer Australian and Victorian country music awards judge.
Barbara was admired for rising above losing her sight as a young woman and her country passion with annual trips to Waylon's birthplace in Littlefield, West Texas.
Waylon died at 64 on February 13, 2002, and is survived by singing spouse Jessi, now 78, and son Shooter, 42.
WIN KEITH URBAN CDS ALSO
We have expatriate Australasian superstar Keith Urban's chart topping 12th album The Speed Of Now - Part 1.
Also BR5-49 CD Big Backyard Beat Show and Billy Ray Cyrus's historic 1992 album Some Gave All that features Achy Breaky Heart.
Join Watling & Bates as members and win their 13 track CD Small Town Tales.
We have other CDS by major artists you can win by becoming a Nu Country TV member or renewing your membership.
They include Brad Paisley, Carrie Underwood, Eric Church, Kip Moore and late larrikin legend A.P. Johnson.
CLICK HERE for our Membership Page for details.