DAVE'S DIARY - 31/1/2022 - PREVIEW OF EPISODE 10 - SERIES 50
ANGUS GILL HEADLINES NU COUNTRY TV
Award winning NSW singer-songwriter Angus Gill headlines Nu Country TV on Saturday February 5 at 9.30 pm.
Fellow NSW singers Hayley Jensen and James Johnston also appear on the show repeated Wednesday at 11.30 pm.
Texan rodeo rider Grant Gillispie and Chattanooga country legend Larry Fleet appear in Behind Bars on the program filmed and edited by our multi-talented lockdown producer Laith Graham.
Fellow Texans James Cook and Sarah Hobbs also boomerang this week.
Nu Country TV is a highlight of C 31 streaming list on Digital 44.
Further info - https://www.c31.org.au/
GILL REAPS HAY AND BLUEGRASS
Wauchope raised singer-songwriter Angus Gill returns to where he was raised on his family farm.
Angus, now 23, showed how hay and horses enriched his rural childhood.
It was a fertile font for Gill - one of youngest Australians to appear on Grand Ole Opry in Nashville in November 2019.
Angus performs Origins from his 2019 second album Welcome to My Heart.
Jim Lauderdale is on his fourth album The Scrapbook - a bluegrass disc released last year.
He wrote all 11 songs on the album that topped Australian country charts and reached 19 on ARIA Top 50 Albums Chart.
Angus started playing guitar at 6 and debuted live at Hastings Country Music Association at 7.
Gill attended Wauchope Public School and formed his band, Angus Gill and the Wild Turkeys.
At school he honed his craft with regular gigs at Wauchope heritage theme park Timbertown and hosted his radio show on Wauchope community station 2WAY FM.
Gill received a scholarship to CMAA Academy of Country Music in Tamworth in 2012 and released debut EP Livewire in 2014.
He released his self-produced debut album Nomad on September 15, 2017.
It featured collaborations with Adam Harvey, Gina Jeffreys, Kevin Bennett, Luke O'Shea, Bill Chambers, Drew McAlister, Troy Kemp, Mike Carr and Amos Morris.
Gill collaborated with Paul Kelly's band for third album 3 Minute Movies as Angus Gill & Seasons of Change in September 2020.
The album features a duet with six times wed Texan singer-songwriter Steve Earle.
Further info - https://angusgill.com.au/
HAYLEY JENSEN AND DAN DAVIDSON
Albury born Hayley Jensen and Canadian Dan Davidson return with an iso video.
Dan, 38, filmed from hometown St Albert in Alberta where he took antique furniture into his paddock living room and sang to Hayley.
Hayley, 39, was home in Australia and sang to him from a retro TV set on their Really Shouldn't Drink Around You video on Dan's third album Six Songs To Midnight.
"I've shot music videos all over the world, everywhere from Japan to California to France and finally I got to shoot one in my own back yard," Dan revealed.
"It isn't easy shooting a video for a song that's been done with someone halfway around the world, but my director and I came up with something cool and very country that worked out perfectly! Typically my music videos haven't reflected a very "country music" visual - this time around I figured I would utilize the open fields, endless sky, and sleepy backroads that the Canadian prairies have to offer."
Hayley also wrote and recorded new songs including her third album title track Breaking Hearts in the wild west of Canada before the pandemic with Canadians Troy Kokol and Chris O'Neil.
Further info - https://www.dandavidsonmusic.com/
Further info - https://www.hayleyjensen.net/
JAMES JOHNSTON MANNING RIVER BOY
James Johnston shared rural roots with Gill in his debut single video Raised Like That.
Johnston, 31, was joined by a vast cast who sent him their cameos.
James told how he was raised on a forty acre farm at Wingham near the Manning River on New South Wales north coast.
He travelled with his dad as a tractor salesman-mechanic and debuted on stage at just four with a Garth Brooks song
He came third on The Voice in 2008 before hitting our music road in his van and then Nashville
James has written more than 200 songs and played Today shows, rodeos and festivals.
Further info - https://jamesjohnston.com/
JAMES COOK AND SARAH HOBBS
Wichita Falls singer-songwriter James Cook and fellow Texan Sarah Hobbs duet with a live video depicting pages from Cook's drama filled life.
Cook says he was saved by his wife Stacie in We Both Know Better from his third album The Other Side Of Hell.
Hobbs hails from Jefferson in north-east Texas and helped Cook illustrate his tale.
Cook said his savior, wife Stacie Cook, allowed him to emerge from darkness to where he is now.
He recorded his concept album with 10 original songs at North Texas studio Fort Worth Sound with producer Bart Rose.
Longview born Sarah comes from a family of musicians dating back to the early 1900s, released debut album Back Porch Country in 2016 and was voted best female Texas vocalist in 2019.
Further info - https://jamescookmakesmusic.com/
Further info - https://www.sarahhobbsmusic.com/
GRANT GILLISPIE SURREAL COWBOY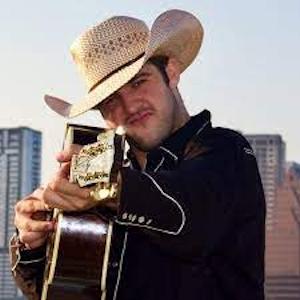 West Texas cowboy Grant Gillispie debuts in Behind Bars with a humorous homily.
Amateur Amarillo equestrian Grant parodies his rodeo riding with the aid of a mechanical bull, dogs and spectators.
He drives a 1960 Chevvy but learns that his real bucks come from playing guitar and singing - not riding the range.
I'm A Real Cowboy is his latest single.
Further info – https://www.facebook.com/grantgillispiemusic/
LARRY FLEET DIFFERENT SHADE OF RED
Chattanooga singer-songwriter Larry Fleet takes viewers on the road in his return.
Larry, now 35, performs Different Shade Of Red - one of 14 songs he wrote for his second album Stack Of Records.
He also appeared on Nu Country with No Filter, Mix Them With Whiskey and Where I Find God from his debut album Working Hard .
Fleet, who was working as a stone mason, was discovered in 2017 by Floridian Jake Owen who took him on tours that landed him support roles with Willie Nelson.
Further info - Further info - https://larryfleet.com/
WIN WAYLON, GEORGE JONES AND MERLE HAGGARD
Stay tuned and help us celebrate being Nu Country TV members and win albums by the late Waylon Jennings, Merle Haggard, George Jones and Highwaymen by becoming a Nu Country member or renewing your membership.
George, Waylon, Merle and Willie Nelson were among country historian Barbara Dowling's favourite Texans.
The Waylon, Highwaymen , Merle and George discs were donated by Barbara who died at 77 in December, 2020.
She co-hosted Long In The Saddle in our Nu Country FM era and was pioneer Australian and Victorian country music awards judge.
Barbara was admired for rising above losing her sight as a young woman and her country passion with annual trips to Waylon's birthplace in Littlefield, West Texas.
Waylon died at 64 on February 13, 2002, and is survived by singing spouse Jessi, now 78, and son Shooter, 42.
WIN KEITH URBAN CDS ALSO
We have expatriate Australasian superstar Keith Urban's chart topping 12th album The Speed Of Now - Part 1.
Also BR5-49 CD Big Backyard Beat Show and Billy Ray Cyrus's historic 1992 album Some Gave All that features Achy Breaky Heart.
Join Watling & Bates as members and win their 13 track CD Small Town Tales.
We have other CDS by major artists you can win by becoming a Nu Country TV member or renewing your membership.
They include Brad Paisley, Carrie Underwood, Eric Church, Kip Moore and late larrikin legend A.P. Johnson.
CLICK HERE for our Membership Page for details.